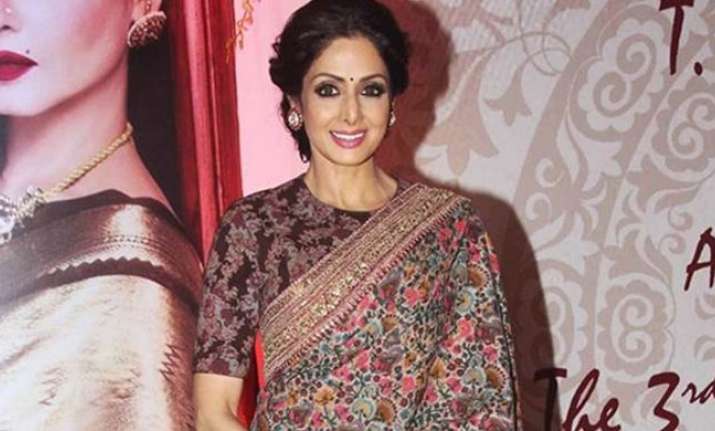 Legendary Bollywood actress Sridevi died of accidental drowning, the Dubai-based Gulf News reported today. The report, thus, ruled out the possibility of cardia arrest behind death. 
According to the report, traces of alcohol were also found in the actress' blood. It added that the actress lost her balance under the influence of alcohol, after which she drowned in the bathtub of the hotel in Dubai. 
The report has now been handed over to the Indian embassy in Dubai and also to the actress' family, and the body has been released for embalming process. The funeral may get further delayed as the mortal remains are yet to be handed over to the family by Dubai-based Rashid Hospital. 
A copy of the forensic report, attached with the post, has a stamp of the "Ministry of Health UAE" and the director of preventive medicine, Dubai, Dr Sami Wadie. 
The veteran actress passed away at 54 in Dubai after a cardiac arrest late on Saturday night. Sridevi was there to attend the marriage function of actress Sonam Kapoor's cousin Mohit Marwah, along with husband Boney Kapoor and younger daughter Khushi.
The actress was to be cremated at Pawan Hans Crematorium grounds in Mumbai's Vila Parle West today.
Also read | Sridevi's last moment in Dubai hotel room: Actress was getting ready for a dream date with hubby Boney Kapoor
As it happened:
08:57 pm: Body not being embalmed today, says Khaleej Times
08:28 pm: Dubai Police begins investigation into the death case. It is scanning the CCTV footage of the hotel and is also questioning its staff. 
06:44 pm: Further delay in return of mortal remains of Sridevi expected, Dubai police which earlier gave clearance now awaits clearance from Prosecution magistrate. Police reportedly informed Indian authorities the body can only be handed over after nod from prosecution magistrate: Sources
06:42 pm: Our embassy and consulate are working closely with local authorities to expedite the return of mortal remains of Sridevi and also keeping Kapoor family apprised, it is our endeavor to send mortal remains at earliest: Indian Envoy to UAE Navdeep Suri
06:33 pm: 
#News:

Following the completion of post-mortem analysis, #DubaiPolice today stated that the death of Indian actress #Sridevi occurred due to drowning in her hotel apartment's bathtub following loss of consciousness.

1/2 pic.twitter.com/xqKQu3WzAd

— Dubai Policeشرطة دبي (@DubaiPoliceHQ) February 26, 2018
06:26 pm: Sridevi ji did not drink hard liquor,she used to have wine sometimes like me& like many others in public life.I have talked to Abu Dhabi's Sheikh Al Nahyan, he assured me that all formalities and reports are complete. Her mortal remains should reach India by midnight: Amar Singh
06:23 pm: Sources said that Boney Kapoor may be questioned by the police.  
06:22 pm: More delay is expected in the arrival of mortal remains to Mumbai as the death certificate is yet to be issued. 
05:34 pm: Following completion of post-mortem analysis, Dubai Police HQ today stated that the death of Indian actress Sridevi occurred due to drowning in her hotel apartment's bathtub following loss of consciousness: Govt of Dubai Media Office
04:51 pm: Under the influence of alcohol, Sridevi lost her balance, fell into the bathtub and drowned, reports UAE's Gulf News
04:48 pm: If media reports are to be believed, the initial assumption of cardiac arrest behind the actress' death can now be ruled out. 'Accidental drowning' indicates that there was no foul play behind the tragic incident.  
04:40 pm: Forensic reports shows traces of alcohol found in Sridevi's body, reports UAE's Gulf News.
04:35 pm: 
#FLASH Forensic report says, #Sridevi died from accidental drowning (Source: UAE's Gulf News) pic.twitter.com/eWXdw1p1ZL

— ANI (@ANI) February 26, 2018
04:31 pm: Gulf News says forensic report reveals that cause of death is accidental drowning in bathtub.  
04:08 pm: According to sources, the death certificate is yet to be issued. Once it is issued, the body will be flown back to India in two to three hours. 
03:52 pm: Forensic report has been handed over to Indian Officials & family. It will be handed over to police and then formalities to follow. No foul play as per police and government sources. May take two to three hours more for formalities.
Also read | Sridevi's demise: Nation mourns cine icon's death, mortal remains to arrive in Mumbai today
03:32 pm: Sources said Indian embassy in Dubai received Sridevi's autopsy report. Meanwhile, the death certificate has also been issued. (The two procedures are necessary for the repatriation process). The mortal remains are likely to reach Mumbai tonight.  
02:37 pm: The toxicology reports of tests done on blood and organs of Sridevi are expected to reveal the exact cause of her death. If the reports do not conclusively confirm a natural cause such as the reported heart attack, there will be further investigations which would mean even more delays for sending her body home, sources told Gulf News.
02:11 pm: 
Actress @MadhuriDixit arrives at the residence of Anil Kapoor in Mumbai #Sridevi pic.twitter.com/zHrJm2pMXK

— India TV (@indiatvnews) February 26, 2018
01:30 pm: 
#RIPSridevi : 36 hours after demise of legendary actor, fans start gathering outside forensics office in Dubai to catch a glimpsehttps://t.co/IH9Vm8e58V pic.twitter.com/tq41bWRa3h

— India TV (@indiatvnews) February 26, 2018
01:30 pm: Forensic Report still pending. Will take another hour, the authorities are saying. The report will be handed over to Dubai Police, who will decide on the next course of action. If the report is all good, body of Sridevi will be released: Sources
12:29 pm: Dubai police yet to confirm the cause fo Sridevi's death: Sources
12:12 pm: 
#Mumbai: Actor Farhan Akhtar and his mother Honey Irani arrive at the residence of Anil Kapoor #Sridevi pic.twitter.com/zcK4Ah9sTc

— ANI (@ANI) February 26, 2018
12:10 pm: 
I still can't believe it. We can't believe it. We all loved her. I can't say anything else: Choreographer Saroj Khan on #Sridevi pic.twitter.com/R0DUbt4E20

— ANI (@ANI) February 26, 2018
12:00 pm: Bollywood cancels Holi party as a mark of respect to Sridevi
​11:30 am: 
Farah Khan and Tabu arrive at residence of Anil Kapoor in Mumbai. #Sridevi pic.twitter.com/aQIg7bkYnJ

— ANI (@ANI) February 26, 2018
11:13 am: The body will be ready for repatriation by 1 to 2 pm, Dubai time, Khaleej Times reported. Indian Consulate officials reveal that after receiving the Police Clearance and forensic report, the other procedures including, immigration and embalming would be completed in the next 3 to 4 hours, a source told the publication.
11:06 am: Forensic report delayed, mortal remains may reach Mumbai later in the afternoon
11:09 am: Before the mortal remains can be handed over, a police report and an authority report still required: Govt Sources
11:02 am: Postmortem Report expected by 12:00 pm -01:00 pm UAE time, only then it will be clear when will they handover body: Sources
10:30 am: Dubai police took different tests of blood samples of the super-fit star who, according to their close relatives, have never had a cardiac problem in the past. According to the hospital sources, the police forensic laboratory conducted the "blood level test" to scrutinize alcohol levels and any other toxic substance in the blood. Doctors believe that the reports of the blood test will come by Monday. 
10:00 am:  As per sources, she would take her last journey in a truck covered with white flowers. Sources say that Sridevi had always wanted that 'everything should be white when she dies'. Her family is trying its best to fulfil her last wish.
09:09 am: 
Mumbai: Latest visuals from outside the residence of #Sridevi; her mortal remains will be brought to India from Dubai today. pic.twitter.com/pAz2Xav4lG

— ANI (@ANI) February 26, 2018
08:21 am: Sridevi will always remain alive in my memory. It feels awkward to speak of her in the past tense. We have lost the biggest star of our country. I still cannot believe it. It will take many years to register what has actually happened: Anupam Kher in Mumbai
07:30 am: 
Early morning visuals from outside #Sridevi's residence in Mumbai's Andheri. Her mortal remains to be brought back to India today. pic.twitter.com/1xCCXWXBOu

— ANI (@ANI) February 26, 2018
06:35 am: With tears in their eyes, flowers in their hands, her fans had also flocked to her residence here to bid farewell to their Chandni while police officers tried to control the frenzy.
06:30 am: There was a delay in flying mortal remains of Sridevi back home due to a prolonged autopsy procedure conducted by Dubai-based Rashid Hospital, where the actress was declared dead. The family is yet to see the autopsy report. 
06:15 am: A pall of gloom descended on fans and celebrities alike across India after the demise of the legendary actress. From Indian stars to Indian political personalities to Pakistani icons, her fans and admirers expressed shock and disbelief. 
Also read | Sridevi's demise: Indian consulate in Dubai working to bring body back
06:00 am: Kapoor family's spokesperson on Sunday issued a statement on behalf of the grieving family, which read: "Boney Kapoor, Jhanvi Kapoor, Khushi Kapoor and the entire Kapoor, Ayyappan and Marwah family is deeply bereaved and shocked with the untimely loss of Sridevi Kapoor." They thanked the entire media for their prayers, support and sensitivity during their time of grief. "Request you to kindly reach out to us on everything related to this and we urge you to please not call the family for information on the same," he said. 
04:00 am: 
Karan Johar at the residence of actor Anil Kapoor in Mumbai's Juhu #Sridevi. pic.twitter.com/kTY8jhFrG6

— ANI (@ANI) February 25, 2018
Watch video: Sridevi's demise leaves India stunned