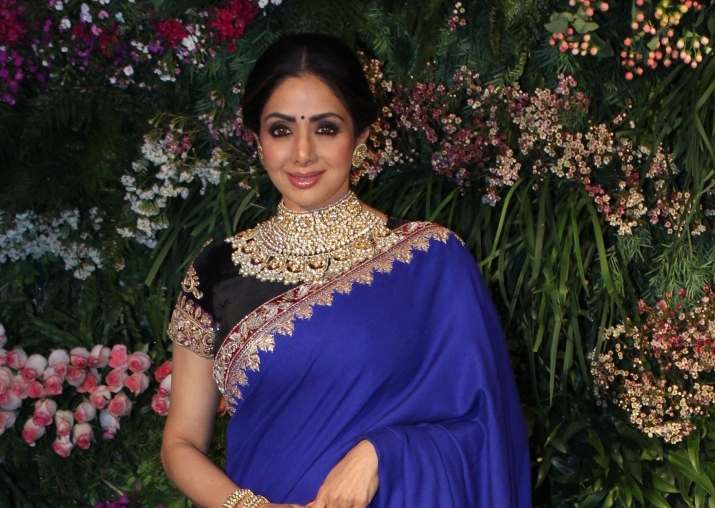 The body of Bollywood icon Sridevi, whose sudden death triggered a frenzy of grief, disbelief and searching questions, was flown back to Mumbai today after Dubai authorities determined that she had accidently drowned in her hotel bathtub.
Family members, including her film-maker husband Boney Kapoor and stepson Arjun Kapoor, brought her body in a private jet after three days of uncertainty over her unexpected death on Saturday in Dubai.
Earlier today, Dubai Public Prosecutor's Office put an end to speculation about the cause of her death, saying she accidentally drowned in the bathtub following loss of consciousness, and that the "case was now closed". It did not say what caused the 54-year-old superstar to lose consciousness.
The Embraer jet, owned by industrialist Anil Ambani, landed in Mumbai around 9.30 pm and the cremation is scheduled tomorrow around 3.30 pm.
Also read | Amitabh Bachchan, Vidya Balan and other celebs angry over 'sensational reporting' of Sridevi's death
As it happened on Tuesday:
Mumbai: #Sridevi's mortal remains brought to her Lokhandwala residence pic.twitter.com/2Q4HtLvvSV

— ANI (@ANI) February 27, 2018
10:40 pm: Sridevi's mortal remains reach Lokhandwala residence in Mumbai. Around 2,000 people are present outside Sridevi's residence.
Mumbai: #Sridevi's mortal remains being taken to her Lokhandwala residence pic.twitter.com/uQiLy5EZcv

— ANI (@ANI) February 27, 2018
# Sridevi's mortal remains being taken to her Lokhandwala residence
9:35 pm: Private chartered jet carrying Sridevi's body lands at Mumbai airport, three days after her death in Dubai.
# Private flight carrying Sridevi's mortal remains to reach Mumbai at 21:45 hours. There are 10 people on board (9 Indian nationals + 1 Australian national) including Boney Kapoor, Sanjay Kapoor, Arjun Kapoor, Reena Marwah, Sandeep Marwah. Family has taken special permission for exit from Gate No. 8, Kalina - General Aviation VIP Terminal.
7:30 pm: Special flight carrying Sridevi's mortal remains takes off from Dubai, to reach Mumbai at around 11pm
# Sridevi's last journey will commence at 2 pm from Celebration Sports Club to Vile Parle Seva Samaj Crematorium and Hindu Cemetery. The cremation will take place at around 3.30 pm.
6 pm: Sridevi's body will be kept at Celebration Sports Club in Lokhandwala tomorrow for people to pay their last respects before it is taken for cremation. Well-wishers can pay their condolences from 9.30 a.m. to 12.30 p.m. at Celebration Sports Club, Garden No 5, Lokhandwala Complex, Andheri West.
"On behalf of Khushi, Janhvi, Boney Kapoor, the entire Kapoor and Ayyappan families, a sincere thanks to the media for your continued sensitivity and support during this emotional moment," the family said in a statement.
# Mumbai-bound special flight (flight number - VT-OMM) expected to take off at 6 pm 
5 pm: Sridevi's body taken to the airport by her family. Her husband Boney, stepson Arjun present are with the corpse
Now that the Dubai Public Prosecution has completed all the formalities, I request my friends in media and my friend Subramanian Swamy to please stop making false allegations. #Sridevi Ji's body will arrive tonight & her last rites will be performed tomorrow afternoon: Amar Singh pic.twitter.com/W1plyn4BDd

— ANI (@ANI) February 27, 2018
Watch video: No injuries found on Sridevi's body, says forensic report
4:40 pm: Embalming of Sridevi's body over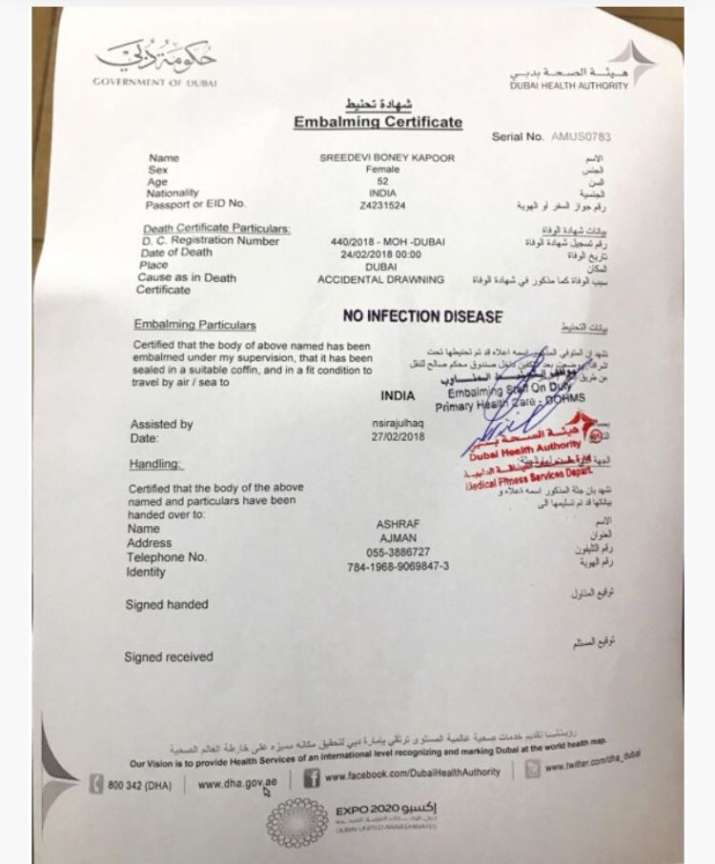 4:20 pm: Sridevi's funeral at 1 pm tomorrow 
# Embalming of Sridevi's body underway. Sridevi's body expected to reach Mumbai by 10 pm 
Tweet by Dubai Media Office - @DXBMediaOffice (Translated from Arabic)
1. The medical report showed that the death of Indian actress Sridevi Kapoor came as a result of her drowning in her hotel room after losing consciousness.
2. The Public Prosecutor's Office: The decision to release the body came after all the investigations and procedural matters followed in such incidents were completed, in order to determine all its circumstances and ensure that justice was done within the framework of the law.
3. The Public Prosecutor's Office of the Emirate of Dubai has decided to hand over the body of Indian actress Sridevi Kapoor to her relatives on Tuesday after the investigation of her death and the closure of the incident.
3:30 pm: Dubai Police files closure report. In a statement, the police termed Sridevi's death as an accident. 
02:46 pm: As per information provided by Indian Consulate in UAE yesterday, it would take another 3-4 hours in due process and embalming before mortal remains can be flown back to India.
2:38 pm: Dubai Police hands over letters for release of #Sridevi's mortal remains, to the Indian consulate and her family members, so that they can proceed for embalming. (Khaleej Times)
01:03 pm: Arjun Kapoor has gone to Dubai this morning to be with his father at the hotel while the formalities are being wrapped up and to oversee the return journey. We will keep you posted with further updates when we receive more information from the family: Yash Raj's PRO
12:25 pm: Mortal remains likely to be handed over to the family within 2-3 hours, investigation to continue: India TV sources
12:14 pm: 
Veteran actor Waheeda Rehman arrives at the residence of Anil Kapoor in Mumbai. #Sridevi pic.twitter.com/A4gckWchfQ

— ANI (@ANI) February 27, 2018
11:47 am: Forensic Science Laboratory of Dubai Police tells India TV:
#No signs of injury on Sridevi's body 
#22nd floor of Emirates Tower hotel, where Sridevi passed away, has been sealed off. 
#Hotel staff on duty of the 22nd floor has been interrogated twice by the Dubai authorities
#Prosector's office checking CCTV footage frame by frame multiple times. 
10:50 am: Let's wait for prosecution to pronounce it. Facts in media doesn't appear to be consistent. She never drank hard liquor, how did it enter her system? What happened to CCTV? Doctors suddenly appeared before media & said she died of heart failure: Subramanian Swamy 
10:18 am: Questions asked by the public prosecutor to Boney Kapoor include: 
#What did you talk to Sridevi about when you met her? 
#What did you doubt when Sridevi did not come out of the bathroom? 
#What did you do when she took time to come out of the bathroom? 
#What did you see in the hotel bathroom? 
#What did you do when you found her unconscious? 
#Who did you call first? 
#Who called the hotel medical team? 
#Why was the police not informed of the incident immediately? 
10:10 am: Dubai public prosecution interrogates Boney Kapoor, asks 10 questions on his last minutes with Sridevi
09:04 am: Investigators demand medical records of Sridevi for due process. 
09:00 am: India TV sources confirm Boney Kapoor was not interrogated by Dubai Police. Nothing beyond usual questions necessary in the process, say sources. 
08:50 am: Confusion over Boney Kapoor's interrogation as Gulf News reports Dubai Police asked Sridevi's husband probing questions, while Khaleej Times says police sources have debunked such reports. 
Gulf News report says Dubai Police asked Boney Kapoor about his whereabouts during the incident if he heard anything while Sridevi was in the bathroom, did he get a hint that there was something wrong with Sridevi while she was in the restroom, etc. 
While Khaleej Times says as per standard police investigation procedures, director and husband of the late Sridevi, Boney Kapoor, only provided his testimony on Sunday morning. 
"The conversation between police and the director took place when her body was discovered at Jumeirah Emirates Tower Hotel on the night of her death. However, he was not called by the police on Monday for further interrogation. All media reports regarding further questioning are baseless, according to sources in the Dubai Police. Khaleej Times has confirmed reports on this matter."
08:00 am: Investigators in Dubai examining the circumstances of actor Sridevi's death questioned hotel staff and those accompanying her including her husband on Monday, local media reports. They were to recreate the sequence of events leading to the discovery of her body in room number 2201 at Jumeirah Emirates Towers, the reports said.
7:53 am: Dubai Police begins checking CCTV footage around Sridevi's room in Hotel Emirates Tower.
07:40 am: Police record statement by Mohit Marwah and his family, say sources. Sridevi and her family were in Dubai to attend wedding of her nephew Mohit Marwah.
7:10 AM: 
#Mumbai: Latest visuals from outside Anil Kapoor's residence; mortals remains of #Sridevi yet to be brought from Dubai to Mumbai. pic.twitter.com/JY6ETvWI7v

— ANI (@ANI) February 27, 2018
6:30 AM: Dubai Prosecution is expected to conduct an investigation into Sridevi's demise.
6:15 AM: Sources told Gulf News that Dubai Police called in Sridevi's husband Boney Kapoor to Bur Dubai police station for investigation. Police recorded his statement after which he was allowed to go back to his hotel room. 
6:00 AM: Sridevi's mortal remains likely to be embalmed today.
What happened that night
Sridevi, Boney, and their younger daughter Khushi Kapoor were in Ras Al Khaimah, another part of UAE, last week to celebrate the wedding of her actor-nephew Mohit Marwah. 
Boney flew to Dubai from Mumbai and went to her room at the Jumeirah Emirates Towers Hotel at around 5.30 p.m on Saturday to "surprise" her with the dinner, a source close to the family told the Khaleej Times.
He woke her up and the couple chatted for about 15 minutes before he invited her for dinner. The "Mom" star then went to the washroom. After 15 minutes had passed and Sridevi did not come out, Boney knocked on the door to check on her. When he got no response, he forced open the door to find the actor lying motionless in the bathtub full of water, the source said. 
"He tried to revive her and when he could not, he called a friend of his. After that, he informed the police at 9 p.m," he added.
The police and paramedics rushed to the site, but she was pronounced dead. Her body was taken to the General Department of Forensic Medicine for an autopsy.