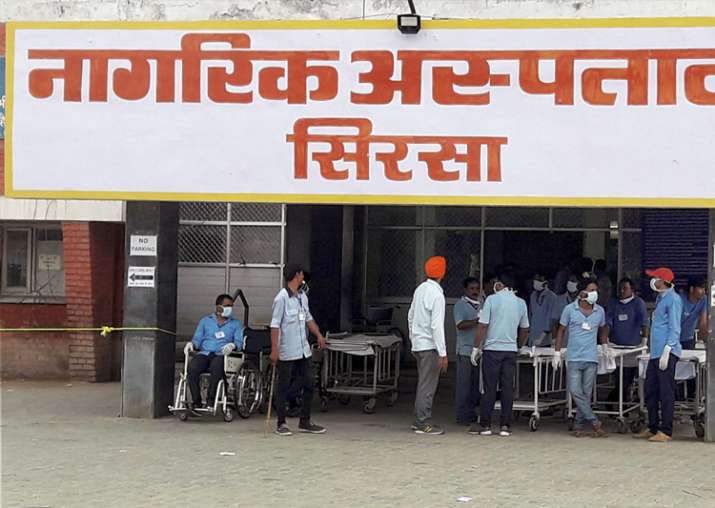 The conviction of self-styled godman Gurmeet Ram Rahim Singh, the Dera Sacha Sauda chief, in a rape case by the Panchkula CBI court on Friday triggered widespread violence and arson in many parts of Haryana in which 31 people were killed and more than 250 were injured. The quantum of punishment to the Dera chief will be pronounced on August 28. Curfew has been imposed in many districts of Haryana and Punjab and high alert has been issued in six states including Delhi, UP and Rajasthan. Army has been deployed in Sirsa, the headquarters of Dera Sacha Sauda. 
Gurmeet Ram Rahim has been lodged in the Rohtak jail and he is reportedly being given VIP facilities in the prison. He has been allotted an AC room with an assistant accompanying him in the prison. He has been given permission to wear his own clothes.  According to Northern Railway, the violence that erupted after the conviction of the Dera chief has affected the running of 485 trains out of which 445 trains have been cancelled.
Also Read- As it happened on Aug 25: 30 dead in violence post Dera chief Ram Rahim conviction in rape case
Highlights: 
# According to feedback from different police districts, no areas are affected and the situation has been normal with day-to-day life being unaffected: DCP Madhur Verma, PRO, Delhi Police
# Sirsa district administration has decided to give a relaxation in the curfew from 6 AM to 11 AM on August 27 after no violence was reported by Dera followers in the area on Saturday.
# We have recovered one AK 47 rifle and one Mauser (rifle) from the vehicle of a Dera follower and two rifles and five pistols from another vehicle during the operations: Haryana DGP B S Sandhu
# Haryana DGP B S Sandhu says the death toll in violence in Panchkula and Sirsa rises to 36. 
# Unfortunately, the prime minister is more interested in protecting and sub serving the interests of his close friend Khattar. Unfortunately, the home minister can do no more than be a mute spectator: Congress spokesperson Abhishek Singhvi
# Ten companies of paramilitary forces were today deployed in Haryana's Rohtak district and 18 columns of the Army requisitioned. A paramilitary company comprises around 100 troops, while an Army column consists of 80-100 soldiers. Check posts have been set up at borders of the district and duty magistrate has also been deputed. 
# Peace is prevailing throughout the state and no incident has occurred anywhere after 6.30 pm yesterday: Haryana Chief Secretary DS Dhesi
​
# Two more deaths were reported from Sirsa today, taking the toll of those killed following Gurmeet Ram Rahim's conviction in a rape case to 33.
# The moment he was arrested yesterday, his 'Z plus' security cover stood automatically withdrawn: Haryana Chief Secretary DS Dhesi
# Army has no immediate plan to enter the Dera campus. There is some confusion that the Army is going inside the Dera campus. At the moment there is no such plan: Major General Rajpal Punia 
# The sentencing will either be done through video conferencing or, if required, the court will be held there (Rohtak prison): Haryana Director General of Police (DGP) BS Sandhu 
# No special treatment is being given to him (Ram Rahim). He is being treated like any other ordinary prisoner. An ordinary prisoner sleeps on floor and he, too, is doing the same: Haryana DGP (Jails) KP Singh
02:10pm- Two sedition cases registered against Dera followers: Haryana Chief Secretary Depinder Singh
01:54pm- People who died were Dera supporters. 36 Dera Ashrams sealed & Dera at Sirsa is being vacated: Anil Jain, Haryana BJP Incharge 
01:45pm- Congress demands imposition of President's rule in Haryana
01:25pm- 14 Dera followers arrested in Kurukshetra
12:58pm- Manohar Lal Khattar to continue as Haryana Chief Minister: Sources
12:45pm- Search of all 'congregation centres' of Dera Sacha Sauda in Haryana ordered, says Additional Chief Secretary (Home) Ram Niwas: PTI 
12:35pm- Why Haryana DGP should not be suspended, asks High Court
12:30pm- Punjab and Haryana High Court slams Haryana government, says towns were allowed to burn for political benefit. It seems the government has surrendered, remarked the High Court
12:00pm- Panchkula DCP Ashok Kumar suspended by Haryana govt
# Army to surround the headquarters of the Dera Sacha Sauda (DSS) near Sirsa town in Haryana
​11:25am- Union Home Minister Rajnath Singh holding meeting with top officials to discuss law and order in Haryana and Punjab. NSA Ajit Doval, Home secretary, IB chief present in the meeting.
11.15am- Delhi-Lahore bus service stopped in view of violence by Dera followers
10:37am- Two ashrams of Dera Sacha Sauda sealed in Haryana's Kurukshetra 
10:30am- Police arrested 4 Dera followers from the sect's ashram im Ambala Friday evening. Bottles of petrol recovered from them. They were allegedly trying to put circle office on fire.
10:00am- Police detain 15 Dera followers from Sirsa headquarters of the sect.
09:55am- Haryana Police denies reports of "VIP treatment" to Ram Rahim
09:44am- Punjab & Haryana High Court to seek details of law and order in the states of Haryana and Punjab from the respectives governments at 11am
8:45am- In view of prevailing law & order situation in Punjab and Haryana,Western Railways cancels 6 trains and partially cancels 2 trains
08:15am- Curfew relaxed by 1 hour (From 10-11am) in Moga, Punjab 
08:05am- Death toll mounts to 31 as one person who was injured in Sirsa yesterday, succumbs to injuries, reports ANI.
07:35am- The Dera chief has been given permission to wear his own clothes in the jail
07:30am- Ram Rahim has been given an AC room and he is being accompanied by an assistant
07:00am- According to reports, Gurmeet Ram Rahim is being given VIP facilities in the Rohtak jail where he is lodged
05:00am- Prohibitory imposed in Shamli district of Uttar Pradesh
02:30am – Baghpat district administration orders schools to remain closed on Saturday
02:00am- Curfew imposed in Sangrur district of Punjab after violent protests by Dera followers
00:15am- 485 train services have been affected (due to the violence). Of these, 445 stood cancelled: Neeraj Sharma, spokesperson, Northern Railway
00:10am- 445 trains cancelled due to deteriorating law and order situation in Punjab and Haryana after Dera chief's conviction
00.05am- Prohibitory orders issued in many districts of Delhi, UP and Rajasthan