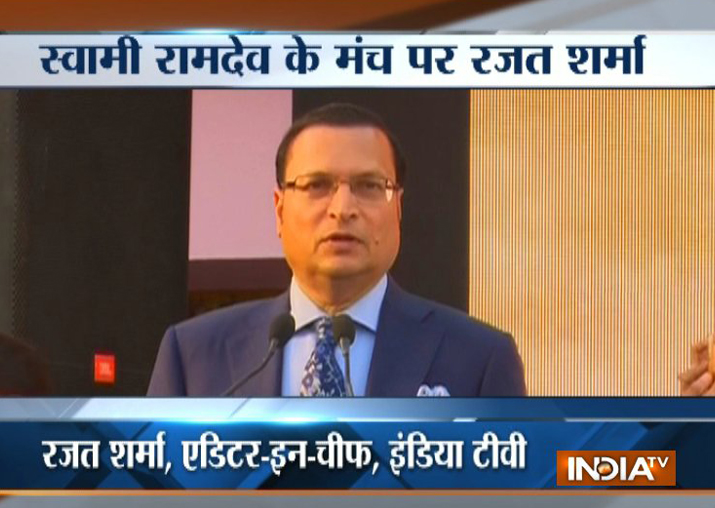 India TV Chairman and Editor-In-Chief Rajat Sharma today heaped praise on yoga guru Baba Ramdev for his social works.
At the premier of TV serial "Swami Ramdev: Ek Sangharsh", Rajat Sharma said that people who struggle, have aspirations but serving people was only motive behind Baba Ramdev's struggle. 
Recalling the yoga guru's first appearance 15 years ago in his famous TV show Aap Ki Adalat, Rajat Sharma said that the show was a super hit and the then prime minister Atal Bihari Vajpayee had called him to enquire about his guest.
"I had first met Baba Ramdev on the sets of Aap Ki Adalat. After the show was broadcast, a strange incident had happened. When the show was over, the  then PM Atal Bihari Vajpayee called me and asked me about him. Vajpayee noted that usually people clapped when I asked questions but for the first time they were clapping to someone's answers," the veteran journalist said.
The event was also attended by BJP president Amit Shah, Finance Minister Arun Jaitley and Union Minister Harsh Vardhan.
Shah said that Baba Ramdev has revived the yoga and aayurveda in a very short span of time. 
"Baba Ramdev has in a very short span of his life, has revived ayurveda and yoga, helping the country and world to realise the importance of these things," he said.
Speaking on the occasion, Jaitley lambasted the erstwhile UPA regime for misusing laws to crush Baba Ramdev's voice against injustice.
"Swamiji is not just a yoga guru but a social worker as well. We have seen Swamiji leading movements also… the previous regime had misused laws against him to crush his voice. But his struggle to eradicate sins from the society created a movement across the nation, amassing lakhs of people," he said.
The Minister also noted that despite getting fame, the yoga guru kept himself away from politics.
Produced by Ajay Devgn FFilms and Watergate Production, "Swami Ramdev: Ek Sangharsh" is a scripted biopic series tracing Baba Ramdev's journey from a life of anonymity to a renowned yoga guru, business leader and national icon. The show will go on air on February 12 on Discovery JEET.