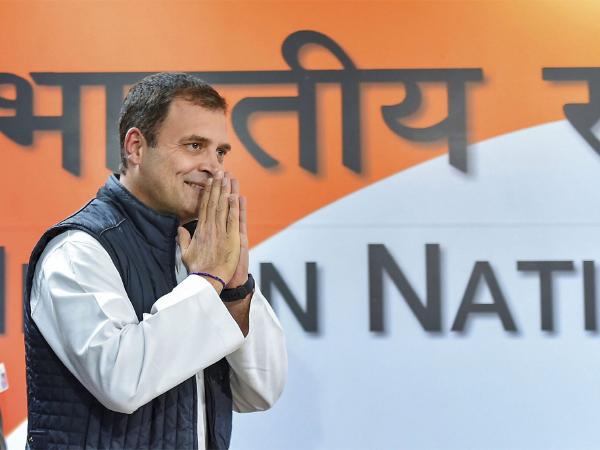 The Congress party on Tuesday proposed a separate kisan budget in its manifesto for the upcoming Lok Sabha polls with its president Rahul Gandhi describing it as the "voice of people". 
Rahul Gandhi, while addressing mediapersons in New Delhi, added the loan default by farmers would not be considered as a criminal offence, if the Congress is voted into power.
"It will only be a civil offence," Rahul added.
The Congress made a slew of promises, including giving Rs 72,000 each to 5 crore poor families under the 'Nyay' scheme, filling up 22 lakh government vacancies, bringing a separate budget for farmers and fixing a single moderate GST rate.
The 55-page document titled 'Hum Nibhayenge' [We will deliver] focussed on addressing the issues of joblessness, farm distress, safety of women and boosting the rural economy, with stress on building a narrative on "real issues" faced by people.
The manifesto was released by party president Rahul Gandhi, former prime minister Manmohan Singh, UPA chairperson Sonia Gandhi and senior leader P Chidambaram among others.
Senior party leader P Chidambaram said "wealth and welfare" was the manifesto's central theme. He said the real issues in the country were unemployment, farmer distress and women's safety among others and accused the ruling BJP of trying to take narrative to hyper nationalism.
Manmohan Singh said the manifesto's purpose was to spell out the vision for the country to move towards forward-looking and inclusive economy and polity.
For farmers, Congress promised to put them on the path from "Karz Maafi" (loan waiver), to "Karz Mukti" (freedom from loans).
This will be done through remunerative prices, lower input costs, and assured access to institutional credit, the party said, adding it would present a separate "Kisan Budget" every year, if voted to power.
The party also promised to enact the Right to Healthcare Act and guarantee every citizen free diagnostics, out-patient care, free medicines and hospitalisation, through a network of public hospitals and enlisted private hospitals. 
Rahul Gandhi added if Congress was elected to power, its government would spend 6 per cent of the GDP on education. His party would work to unite the people, he said, accusing the Modi government of dividing the society and spreading hatred