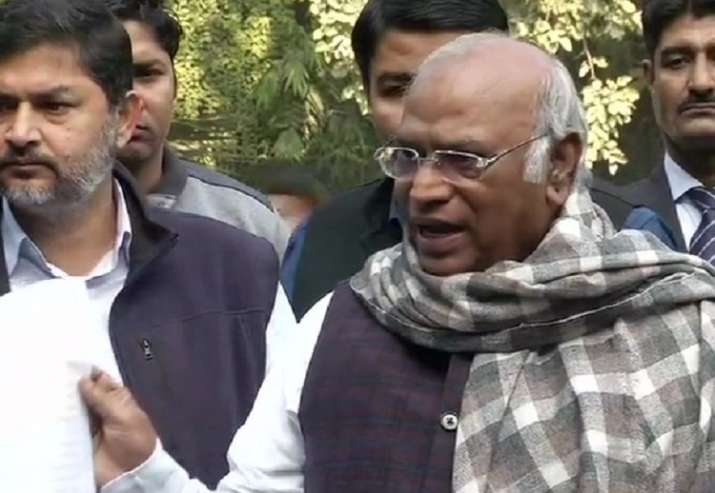 Accusing the Modi government of misleading the Supreme Court over Rafale fighter jet deal issue, senior Congress leader Mallikarjun Kharge on Saturday said that the government should apologise for falsely claiming that CAG report on the Rafale deal was tabled in Parliament and Public Accounts Committee (PAC). 
Rafale Deal Controversy: A Timeline
Speaking to reporters in New Delhi, Kharge, who is the chairman of PAC, said he will request all members of the panel to summon the Attorney General and the CAG to ask them when was the public auditor's report tabled in Parliament. 
"I will request the PAC members to call the Attorney General (AG) and the Comptroller and Auditor General to ask them when was the CAG report on the Rafale deal tabled in Parliament," he told reporters. 
Mallikarjun Kharge: Govt lied in SC that the CAG report was presented in the house and in PAC and PAC has probed it. Govt said in SC it is in public domain. Where is it? Have you seen it? I am going to take this up with other members of PAC. We will summon AG and CAG. #Rafale pic.twitter.com/IccrwaZxx1

— ANI (@ANI) December 15, 2018
Kharge also cited the Supreme Court judgement that stated that the CAG report on Rafale pricing had been tabled in Parliament and discussed in the PAC.
"When has the CAG discussed the PAC report. It has not been table so far. Wrong information is being feeded in the Supreme Court, it is a matter of shock...Government should apologise for misleading SC by presenting wrong facts on CAG report before Supreme Court,"Kharge said.
Former Union Minister and senior Congress leader Kapil Sibal also lashed out at the the government over giving wrong facts to the Supreme Court. "I think the Attorney General should be called before the PAC and be asked why wrong facts were presented. This is a very serious matter," Sibal said.
Supreme Court verdict
A bench headed by Chief Justice Ranjan Gogoi dealt with "three broad areas of concern" raised in the petitions - the decision­making process, pricing and the choice of Indian offset partners (IOP) - and said there was no reason for intervention by the court on the 'sensitive issue' of purchase of 36 jets.