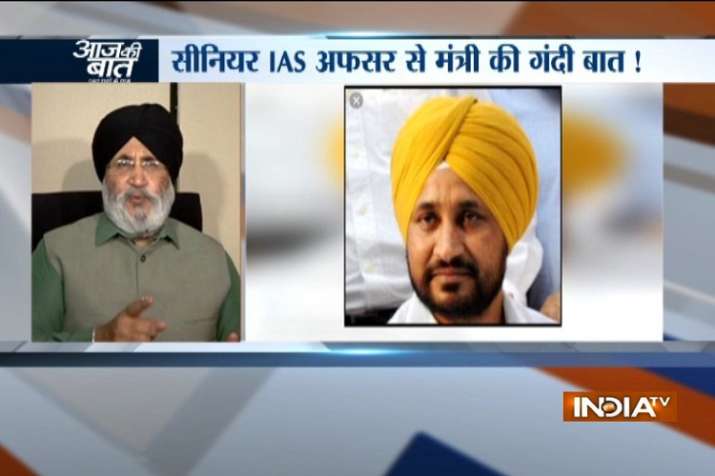 Amid the demand from oppposition parties for sacking of a Punjab minister for allegedly sending lewd messages to a woman officer, Chief Minister Amarinder Singh on Wednesday said the matter has been "resolved" to the victim's satisfaction.
In a statement, Singh said he had taken up the matter "very seriously" and asked the minister to apologise.
According to media report, a Cabinet minister would harrass the officer by sending obscene messages. He stopped for a while upon receiving warning from the officer but again started texting her over a month ago.
Unable to tolerate the harrassment by the minister, she reportedly complained about the matter.
"The matter was brought to my notice some weeks ago and I had asked the minister to apologise and sort it out with the lady officer," Singh, who is on an official trip to Israel, said.
"I understand he had done so to the satisfaction of the officer and thus the matter was resolved," his statement added.
Singh's reaction came in response to the allegations from the opposition that Congress-led government had kept mum on the issue
The Shiromani Akali Dal (SAD) and the Aam Aadmi Party (AAP) demanded that the minister be sacked.
SAD chief Sukhbir Singh Badal asked the chief minister to "unmask" his cabinet colleague.
Hitting out at Congress president Rahul Gandhi, Badal said despite being apprised of the complaint he is silent on the matter.
"Rahul Gandhi should explain whether he is complicit in this cover-up exercise by the Punjab chief minister? There is no way a minister accused of such abhorrent behaviour can sit in the Cabinet, where decisions regarding safety of women have to be taken," Badal said.
"If he is not removed immediately, it will be perceived as the Congress leadership's lack of seriousness about protecting the honour of women," he said in a statement.
The SAD leader said the woman official should be encouraged to lodge a formal complaint.
The AAP also sought action against the minister.
"A proper probe should be initiated into this incident and the minister should resign from the cabinet," said AAP MLA Kanwar Sandhu, who belongs to the party's rebel faction led by Sukhpal Singh Khaira.
AAP's women's wing chief Raj Lali Gill also asked Amarinder Singh to take action against the minister. 
Watch: Punjab Cabinet Minister sends lewd text to female IAS officer
( With inputs from PTI )