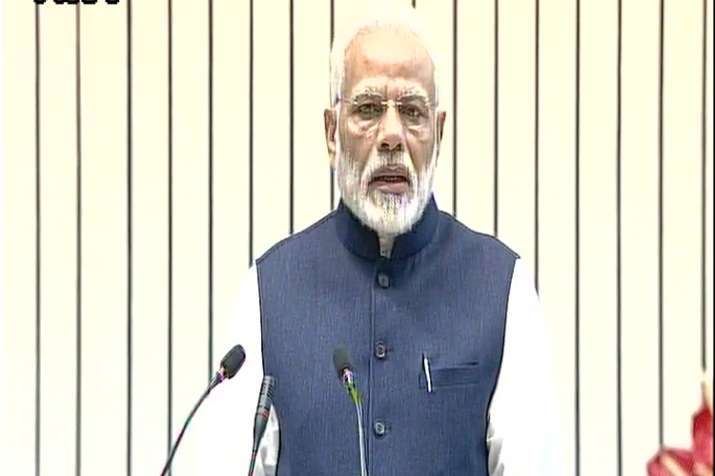 Prime Minister Narendra Modi is addressing a valedictory event in New Delhi on the occasion of National Law Day, which was instituted in 2015 to commemorate the 125th birth anniversary of Dr BR Ambedkar.
Earlier in the day, Chief Justice of India (CJI) Dipak Misra, while responding to the assertion of Union Law Minister Ravi Shankar Prasad that governance "must remain" with those elected to govern, said that there can be no compromise on a citizen's fundamental rights.
On Prasad's remark that "PILs cannot become a substitute for governance", the CJI said the Supreme Court believed in and practised "constitutional sovereignty". 
"The fundamental rights are in the core value and the bedrock of the Constitution. An independent judiciary with the power of judicial review has been conferred with the power of the ultimate guardian of the Constitution to strike a balance ... to ensure that respective governments are functioning as provided by the law within their respective domains," he said.
There can be no compromise with the citizen's fundamental rights, he said at a function organised by the apex court to celebrate Constitution Day. 
Here are the highlights: 
# There are nations where date of election is fixed. People know when will it be held. This is beneficial, the country does not always stay in election mode, policy planning process & its implementation are more efficient & nation's resources do not face unnecessary burden: PM Modi
# 
विश्व भारत की ओर उम्मीदों से देख रहा है। कितनी ही चुनौतियों का हल उन देशों को भारत में ही दिख रहा है। कितने ही देश भारत के विकास में कंधे से कंधा मिलाकर चलना चाहते हैं। Legislature, Executive और Judiciary को संविधान द्वारा तय की मर्यादाओं को ध्यान में रखते हुए आगे बढ़ना होगा: PM

— PMO India (@PMOIndia) November 26, 2017
# 
न्यायपालिका, विधायिका और कार्यपालिका के बीच संतुलन हमारे संविधान की BackBone रहा है। इसी संतुलन की वजह से हमारा देश इमरजेंसी के दौरान लोकतंत्र की राह से भटकाए जाने की तमाम कोशिशों को खारिज कर सका था: PM @narendramodi

— PMO India (@PMOIndia) November 26, 2017
# PM says that conducting the election at every 4-6 months in different states is very hectic and costly, there needs to be a wider debate on conducting the election at one time throughout the country.
# PM Modi says that there needs to be a discussion on the unfied election at one time throughout the country
# Around Rs 1100 crore was spent in 2009 Lok Sabha polls, whereas Rs 4000 crore were spent in 2014 Lok Sabha polls: PM Modi
# On National Law Day, I would like to congratulate the youth who will get the Right to Vote from January 1, 2018 onwards. We are responsible to provide the youth with a strong administration: PM Modi
# I liked the innovative idea of Justice Clock. This clock has been installed in the Department of Justice, and it gives all the information about the top performing district courts. In a way, Justice Clock gives rankings to the courts: PM Modi
# If we think that coming generations will take all risks and work, then history will not forgive us. We will have to start working now. We may or may not be there but the system which will be brought here will stay: PM Modi
# If we think that coming generations will take all risks and work, then history will not forgive us. We will have to start working now. We may or may not be there but the system which will be brought here will stay, says PM Modi
​# Unfortunately we have not been able to remove our internal weaknesses, so many years after independence. We need to think about it at all levels: PM Narendra Modi on National Law Day
# As members of the same family are we working together to strengthen one another, in support of each other?:  PM Narendra Modi on National Law Day
# India is a young nation. To strengthen it, all the constitutional bodies will have to come together and work towards it: PM Modi