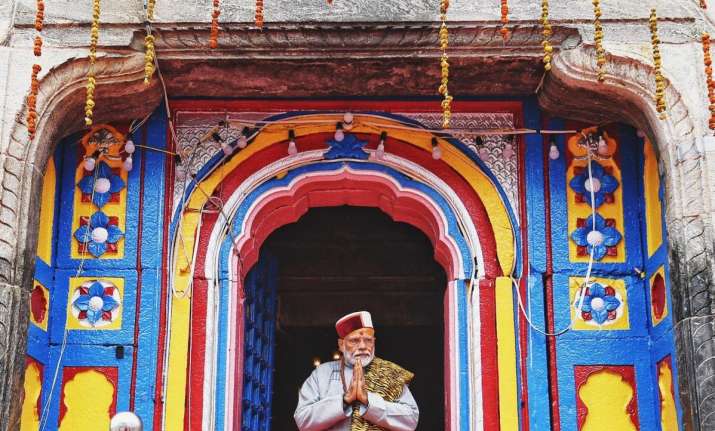 Prime Minister Narendra Modi on Saturday offered prayers at the Himalayan shrine of Kedarnath, a day after campaigning for the general election came to a close.
Prayed at the Kedarnath Temple. Har Har Mahadev! pic.twitter.com/ox7LMCZmfi

— Chowkidar Narendra Modi (@narendramodi) May 18, 2019
PM Modi arrived at Dehradun's Jolly Grant airport and took a helicopter to Kedarnath.
Taking on to twitter, PM Modi also shared some photographs of snow-covered mountains and the lesser Himalayas in Uttarakhand on his way to the temple shrine.
Majestic mountains! Clicked these pictures while on the way to Kedarnath. pic.twitter.com/Jpcq6n52sr

— Chowkidar Narendra Modi (@narendramodi) May 18, 2019
This is Modi's second visit to the temple in the last two years.
Wearing a grey robe with a pahari cap and a saffron gamchha around his waist, the Prime Minister trekked for almost two kilometers to a holy cave near revered Kedarnath shrine to meditate.
Prime Minister Narendra Modi meditates at a holy cave near Kedarnath Shrine in Uttarakhand. pic.twitter.com/KbiDTqtwwE

— ANI (@ANI) May 18, 2019
He will, reportedly, meditate till tomorrow morning, and no media personal will be allowed in the vicinity of the cave during this period.
PM Narendra Modi  also reviewed the development work that is being carried out in Kedarnath.
Reviewing aspects of the ongoing Kedarnath Development Project. pic.twitter.com/bVOFnCozug

— Chowkidar Narendra Modi (@narendramodi) May 18, 2019
Modi will also offer prayers at Badrinath on Sunday.
The portals of the both the shrines were reopened for devotees after winter break early this month.
The campaigning for the seventh and the last phase of the general election ended Friday evening. The Election Commission gave its nod to the visit while "reminding" the prime minister's office that the model code of conduct is still in force.