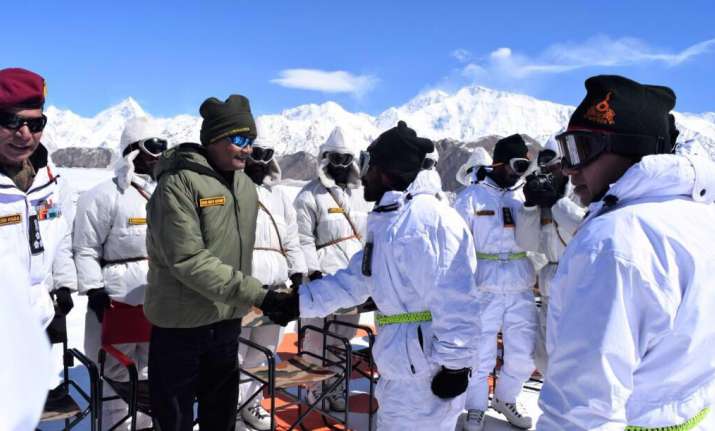 President Ram Nath Kovind on Thrusday flew to the world's highest battle field to address soldiers posted at the Siachen glacier, sometimes also referred to as the "Third Pole" where temperatures can dip to minus 50 degrees Celsius.
Kovind, also the Supreme Commander of Indian armed forces, addressed the soldiers at the nearly 6,000-metre high mountain glacier where the Line of Control (LoC) -- the de facto border -- between India and Pakistan ends. He was accompanied by Army Chief General Bipin Rawat and Lt.Gen. D. Anbu, who heads the army's Northern Command.
The bravery and valour of soldiers deployed in Siachen over the past 34 years, the president said, had given every Indian the confidence that the borders were safe and secure. 
Kovind said he had come to Siachen to iterate to the troops posted here that all citizens of India and Government of India were always with them and supportive of their families. 
Addressing the soldiers, he said as the supreme commander of the armed forces and as the president of India, he had come to them carrying the gratitude of the entire country. 
The president said Siachen was the world's highest battlefield and it was difficult to live even a normal life in the extreme climate. 
"In such a situation, it is extraordinary for soldiers to stay in a state of constant mobilisation and combat readiness. Their determination and dedication is worthy of the highest praise - and their allegiance to the defence of India is an ideal for all our fellow citizens," Kovind said. 
The president also visited the Kumar Post. 
आज मैं आप सबको यह विश्वास दिलाने के लिए आया हूं कि हमारा हर देशवासी आपके परिवार-जनों की प्रार्थनाओं में, उनके कुशल-क्षेम और बेहतर भविष्य के लिए सदैव उनके साथ खड़ा है — राष्ट्रपति कोविन्द pic.twitter.com/JofB6SgTEf

— President of India (@rashtrapatibhvn) May 10, 2018
Kovind is the second president to visit Siachen. The previous visit was undertaken by former president A P J Abdul Kalam in April 2004.
 
This makes Kovind the first president to travel to Siachen in 14 years.
 
He also asked soldiers posted at Siachen to visit the Rashtrapati Bhavan when they get time to visit Delhi. 
The president paid his respects at the Siachen war memorial, a symbol of the sacrifice of 11,000 soldiers and officers who have been killed since the Indian Army began Operation Meghdoot on the Siachen glacier on April 13, 1984. 
Some of the posts on Siachen were located at an altitude of more than 20,000 feet where the temperature dropped upto minus 52 degrees Celsius, making it the toughest war field for the soldiers guarding it.
As the Supreme Commander of our Armed Forces and as the President of India, I have come here to convey the gratitude of the entire nation pic.twitter.com/BgepfYB7TJ

— President of India (@rashtrapatibhvn) May 10, 2018