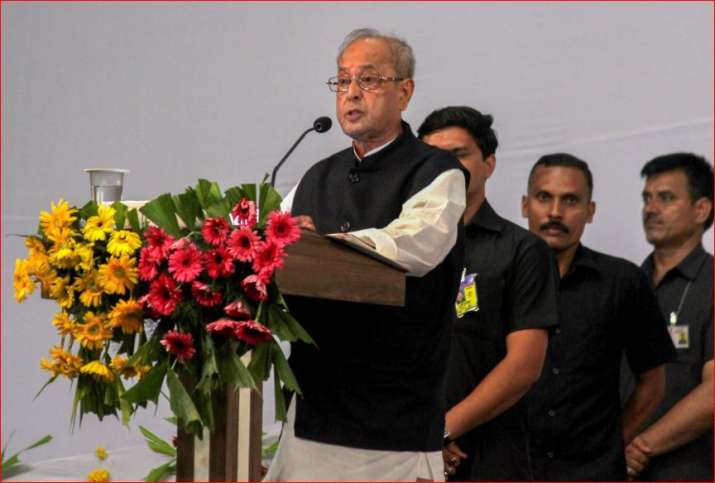 Former President Pranab Mukherjee on Thursday praised RSS founder KB Hedgewar as a "great son of Mother India" but quoted Gandhi, Nehru and Patel to underline the importance of unity in diversity for a country like India.
"Today I came here to pay my respect and homage to a great son of Mother India," the former President wrote in a visitor's book at Hedgewar's birthplace ahead of his valedictory speech at the RSS headquarters. 
Later on, addressing the RSS cadres at the conclusion of "Tritiya Varsh Sangh Siksha Varg" event, Pranab Mukherjee said that he was attending the event to share with them his understanding of the concepts of nation, nationalism and patriotism in the context of India.
Cautioning against hatred and intolerance, Mukherjee said that any attempt at defining our nationhood in these terms will lead to the dilution of our identity.
"Our national identity has emerged after a long drawn process of confluence and assimilation, the multiple cultures and faiths make us special and tolerant," he added.
Quoting Jawaharlal Nehru, Mukherjee said that it was this very nationalism that the former prime minister so vividly expressed in the book 'Discovery of India'.
"I am convinced that nationalism can only come out of the ideological fusion of Hindu, Muslims, Sikhs and other groups in India," Pranab quoted Nehru from 'Discovery of India'.
He also added that as Gandhi ji explained Indian nationalism was not exclusive nor aggressive nor destructive.
Recalling the contribution of Sardar Patel, the former President said that he played an important role in consolidation of India.
Watch Video: Pranab Mukherjee remembers Pandit Nehru, Sardar Patel during RSS Tritiya Varsh event