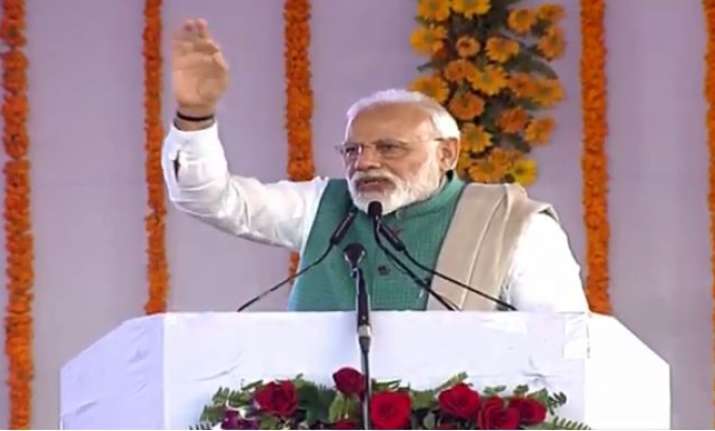 Prime Minister Narendra Modi addressed a public rally in Uttar Pradesh's Amethi, the parliamentary constituency of Congress president Rahul Gandhi. UP CM Yogi Adityanath, Union Ministers Nirmala Sitharaman and Smriti Irani were also present at the rally.
The constituency was being given a saffron hue ahead of the visit, during which the prime minister launched several projects in the constituency which has remained loyal to the Gandhi family for long.
This was Modi's first visit to Amethi after coming to power in 2014. Earlier in December, he had visited the neighbouring Rae Bareli constituency, represented in Lok Sabha by UPA chairperson Sonia Gandhi.
Modi addressed a public meeting in Kauhar area of Gauriganj and launched some projects besides laying the foundation stone of a new unit of the Munshiganj Ordnance Factory, where assault rifles will be made in collaboration with Russia.
Modi previously visited Amethi on May 5, 2014 and the BJP, which had fielded party leader Smriti Irani against Gandhi in 2014 general election, had managed three lakh votes.
Irani has been nurturing the constituency since and is expected to contest again in the coming poll, expected to be held in April-May.
State BJP general secretary Govind Narain Shukla was the convenor of the prime minister's public meeting.
HIGHLIGHTS:
05:23 pm: Rest of the farmeers who haven't received the money in account will soon get it: PM Modi in Amethi
05:20 pm: Now India is known for the constant decrease in poverty: PM Modi in Amethi
05:18 pm: When one starts favouring one's own family, then they become selfish and forget the society: PM Modi in Amethi
05:15 pm: PM Modi in Amethi rally: During 2014 we had said - 'Sabka Sath, Sabka Vikas', Amethi is a good example of our that motto.
05:13 pm: Our brave security personnel were made to face the enemy without bulletproof jackets. The previous govts made our forces wait for modern ammunition and fighter aircraft: PM Modi in Amethi
05:11 pm: Congress befooled people by giving false promises of employment to 1500 people: PM Modi at Amethi rally
05:10 pm: PM Modi at Amethi rally: This Ordnance Factory will provide numerous job opprtunities to the people of Amethi.
05:06 pm: I extend my heartfelt thanks to Vladimir Putin for the joint venture which was made possible in such a short time by his support.: PM Modi at Amethi rally
05:05 pm: Now Amethi will be known for AK-203 rifles made here, which is one the most advanced rifles in the world: PM Modi at Amethi rally
04:55 pm: Prime Minister Narendra Modi launches several development projects in Amethi.
04:35 pm: Uttar Pradesh Chief Minister Yogi Adityanath in Amethi rally: When 7,50,000 AK-203 rifles made here will be in the hands of our jawans, the condition of the enemies will be the same as it was after Air strikes and  Surgical strike.
04:25 pm: Praising PM Modi for his works, UP CM Yogi Adityanath said, "Modi hai to mumkin hai"
04:23 pm: Defence Minister Nirmala Sitharaman in Amethi: Those who should have been concerned about Amethi did not do anything. With efforts of PM Modi, now AK-203 modern rifles will be made at Korwa, Amethi. This is the fruit of the Prime Minister's efforts since the last one year.
04:20 pm: Nirmala Sitharaman also addresses the rally in Amethi followed by Smriti Irani.
04:17 pm: Rahul Gandhi did not have time for the people of Pipri village where floods displaced villagersso people of Pipri village decided not to vote in 2014 elections but the MP from Amethi paid no attention: Union Minister Smriti Irani at Amethi rally
04:15 pm: Union minister Smriti Irani addresses public gathering in Amethi and talks about various developmental projects.