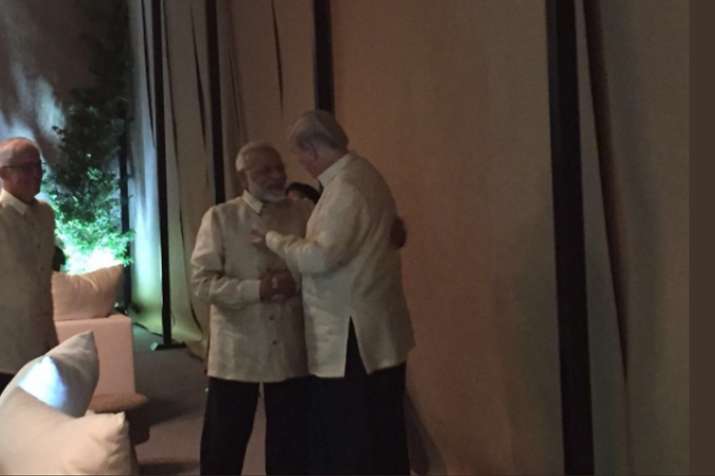 Prime Minister Narendra Modi on Sunday met US President Donald Trump on the sidelines of the 15th ASEAN-India Summit in Manila, Philippines. The two will hold a bilateral meeting at 1 pm on Monday.  
Earlier today, the two leaders arrived at Manila to attend the India-Asean and the East Asia summits. 
Modi will attend the 15th ASEAN-India summit and 12th East Asia summit on November 14. The Prime Minister is also scheduled to hold talks with Philippines President Rodrigo Duterte. 
"Embarking on tour of constructive engagements. PM Narendra Modi departs for Philippines to attend the @ASEAN and East Asia Summits in Manila," MEA spokesperson Raveesh Kumar tweeted. 
Modi is expected to meet many other leaders, including US President Donald Trump. 
Trump is scheduled to reach Manila as part of his five-nation Asia tour of Japan, South Korea, China, Vietnam, and the Philippines. 
Official sources said the meeting between Modi and Trump is likely to take place on Monday. 
It will be the first meeting between the two leaders following a proposal to have a quadrilateral alliance among India, the US, Japan, and Australia. 
In their meeting, Modi and Trump are likely to discuss a host of key issues of mutual interest including the security scenario in the region. 
Trump on Friday praised India's "astounding" growth after it opened up its economy and also lauded Modi, saying he has been working successfully to bring the vast country and its people together. 
Speaking at a gathering of CEOs on the sidelines of the annual Asia-Pacific Economic Cooperation (APEC) summit in the Vietnamese city of Danang, Trump cited India as one of the countries in the Indo-Pacific region making strides. 
He praised India as a sovereign democracy with a population of over 1 billion as well as the largest democracy in the world. 
In a statement on Saturday, Modi said it will be his first bilateral visit to the ASEAN member state.
The ASEAN comprises Brunei, Cambodia, Indonesia, Laos, Malaysia, Myanmar, the Philippines, Singapore, Thailand and Vietnam.
He said his participation in the two summits symbolises India's commitment to continue deepening relationship with ASEAN member states, in particular, and with the Indo-Pacific region, in general, within the framework of the government's Act East Policy.
Modi's other important engagements include Special Celebrations of the 50th anniversary of ASEAN, Regional Comprehensive Economic Partnership (RCEP) Leaders' Meeting and ASEAN Business and Investment Summit, the statement said. 
The RCEP, comprising the 10-member ASEAN bloc and six other countries -- India, China, Japan, South Korea, Australia and New Zealand, is engaged in negotiations for a free trade pact. 
In his maiden visit to the Philippines as prime minister, Modi will also interact with the Indian Community and visit the International Rice Research Institute (IRRI) and the Mahavir Philippines Foundation.
(With agencies)