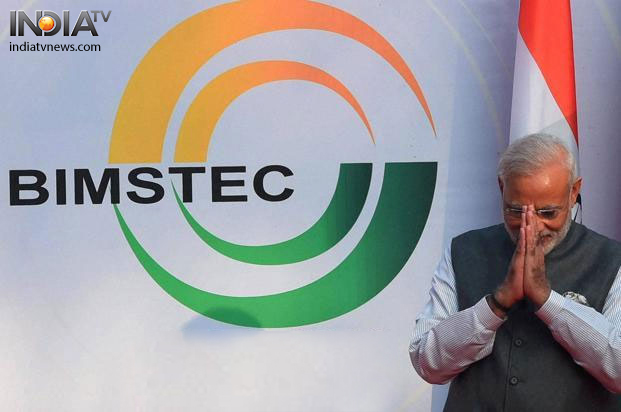 Like 2014, this time too Prime Minister-elect Narendra Modi's May 30 swearing-in ceremony will be no less of a global event with invitation extended to BIMSTEC leaders. Kyrgyzstan President Sooronbay Jeenbekov, who is the current chair of the Shanghai Cooperation Organization, and Mauritius Prime Minister Pravind Jugnauth, who was the Chief Guest at this year's Pravasi Bhartiya Divas, have also been invited.
BIMSTEC, or Bay of Bengal Initiative for Multi-Sectoral Technical and Economic Cooperation, has Bangladesh, Myanmar, Sri Lanka, Thailand, Nepal, Bhutan and India as its member states. All member states of BIMSTEC are from South and Southeast Asia. They are located in littoral and adjacent areas of Bay of Bengal. The Ministry of External Affairs said the invitation was in line with the government's focus on 'Neighbourhood First' policy. 
In 2014, Modi had invited all SAARC leaders for his swearing-in ceremony. Its member states include Afghanistan, Bangladesh, Bhutan, India, Nepal, Maldives, Sri Lanka and interestingly Pakistan, which has been axed out this time around for all the right reasons. This comes as a snub to Pakistan Prime Minister Imran Khan, who called up Modi on Sunday to congratulate him on the historic victory in the Lok Sabha election. Khan had said he looked forward to working with PM Modi to advance peace in the region. 
The prime minister has time and again reiterated that there would be no friendship with Pakistan until it stops terrorism, especially in the wake of recent tensions between the two neighbouring nations. 
In the last five years, India has renewed its focus on the two-decade-old BIMSTEC which accounts for 22 per cent of the world's population and have a combined Gross Domestic Product of nearly $2.7 trillion. 
President Ram Nath Kovind will administer the oath of office and secrecy to Modi and other members of the Union Council of Ministers during a ceremony at the Rashtrapati Bhavan at 7 pm on Thursday.
Modi is the first BJP leader who has been elected for a second term after completion of his five-year tenure, a feat so far achieved only by three Congress leaders -- Jawaharlal Nehru, Indira Gandhi and Manmohan Singh. 
ALSO READ | BIMSTEC leaders invited to attend PM Narendra Modi's swearing-in ceremony on May 30
ALSO READ | So what exactly is BIMSTEC?
FULL VIDEO: