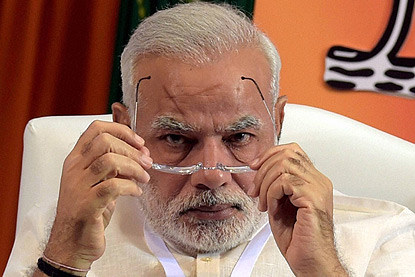 In a warning to Pakistan over the Pulwama terror attack, Prime Minister Narendra Modi has assured people saying that each drop of tear would be avenged. 
In one of the deadliest terror attacks in Jammu and Kashmir's three decades of militancy, a suicide bomber rammed an explosive-laden vehicle into a CRPF bus in Pulwama district, killing at least 40 personnel and leaving many critically wounded, on Thursday. The Pakistan-based terror outfit Jaish-e-Mohammad claimed responsibility for the attack. 
"Each drop of tear after Pulwama terror attack will be avenged," Modi said during an event in Maharashtra's Dhule district.
"This is time of mourning and to show restrain and sensitivity, he added.
On Friday, Modi had asserted that the security forces have been given permission to choose the timing, place and nature of their response to the Pulwama terror attack. 
Without naming Pakistan, he told a public meeting that the attack was an outcome of the neighbouring country's desperation as it is in a bad shape and has been forced to go to different countries with a "begging bowl" to meet even its daily expenses.
The prime minister was in the Uttar Pradesh town to lay the foundation stone of a defence corridor in the Bundelkhand region.
Pakistan thinks that it can force India into a bad shape as well, he said, asserting that it has been left behind in development due to policies it has adopted while India has been progressing day and night due to the path it had chosen.
FULL VIDEO: