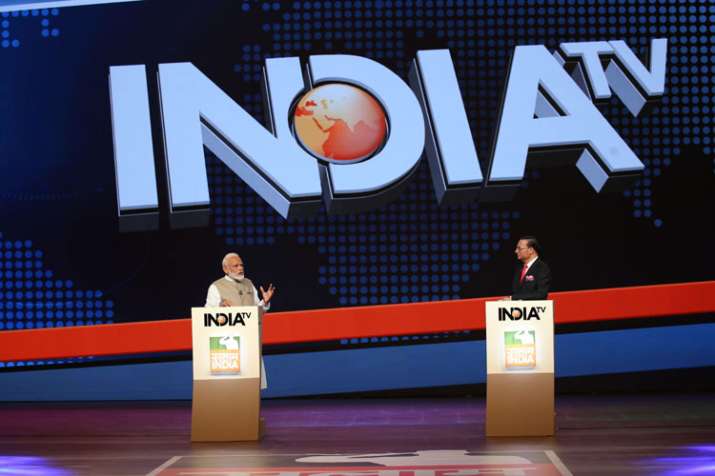 Jaish-e-Mohammed (JeM) chief Masood Azhar was only a few days back designated a 'global terrorist' in United Nations sanctions list -- leading to the Opposition questioning the timing of the event.
Four phases of the ongoing Lok Sabha polls have gone by and with three to go, the much-awaited move by the UN can sway the vote banks into the Bharatiya Janata Party's (BJP) favour. Azhar's Jaish had claimed the responsibility of February 14 Pulwama terror attack that took the lives of as many as 40 CRPF personnel.
But, Prime Minister Narendra Modi begs to differ.
In a historically exclusive interaction with Rajat Sharma, editor-in-chief and chairman, India TV, PM Modi accredited China giving up on the technical hold on Azhar ban decision to his foreign policy. He added there was no chance he could influence the UN into advancing its decision.
"They [the Opposition] asked why Masood Azhar was declared a global terrorist in the middle of Lok Sabha polls. Abb kya Election Commission notice bhejta kya unhein?" PM Modi said.
He added, "Years ago, Russia was the only nation that supported us when it came to Pakistan issue. But now, especially for these five years, the whole world, except China, had been with us. This was a sea change. The narrative has changed from Kashmir issue to terrorism when it comes to Pakistan. Terrorism is a threat to not only one country but the entire mankind. And India has been able to convince people of the same. A lot of it depends of what has happened till now. And that is why China gave in on Masood Azhar issue."
PM Modi also quoted China President Xi Jinping's 2014 visit to India and said the interaction between the two nations has only increased since then. "When I became the prime minister, I got courtesy calls from my counterparts. So when China President Xi Jinping called me, he invited me to his country; and I invited him to India. He told me he wanted to visit Vadnagar, my paternal village. He knew the pronunciation too. 
"He told me the famous Chinese philosopher, Xuan Zang had stayed in Vadnagar when he visited India about a thousand years ago. And he stayed in President Xi's village when he was in China. So we have a connection. So he decided to visit India on my birthday. And since then, the interaction between China and India has only increased."
PM Modi further said if he could influence such a big global power, then the 130 crore people should only choose him.
"The United Nations took such a big decision yesterday [May 2]. And I am surprised by their [the Opposition's] reaction. But I ask them if you think I have the power to sway the UN and make it change its decision or maybe time it according to the Lok Sabha polls in India, then I am the most powerful person on the planet. The 130 crore people of India deserve a powerful prime minister anyway," he quipped.
In the historic interaction with India TV, PM Modi also spoke about the IAF airstrike in Pakistan's Balakot, Congress chief Rahul Gandhi and West Bengal Chief Minister Mamata Banerjee.