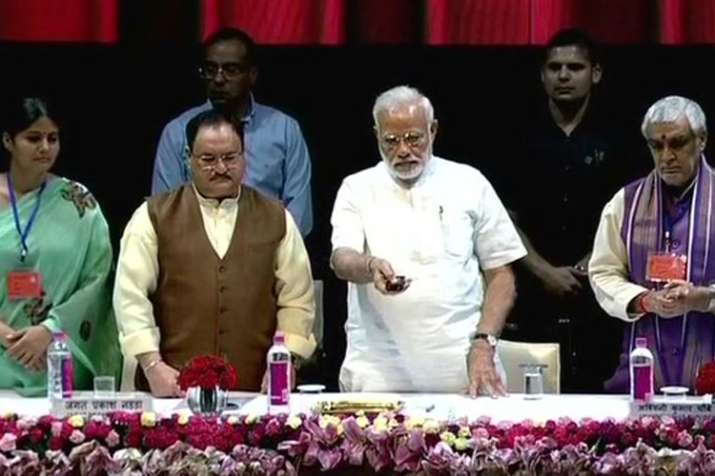 Prime Minister Narendra Modi on Friday inaugurated various projects and laid foundation stone of few others at New Delhi's  All India Institute of Medical Sciences (AIIMS). Speaking at the event, PM Modi said that the Centre along with the state governments is trying to build infrastructure for modern healthcare to benefit the poor and the middle class of the country. 
After laying the foundation stone for the National Centre for Ageing at the AIIMS, Modi said that in the last four years, the Centre has given priority to the health sector to provide modern healthcare to the people. "Along with state governments, the Centre is trying to build infrastructure for modern healthcare all over the country," he said. 
PM Modi said the government is committed to develop medical infrastructure in the country for which it has approved setting up of 23 new medical colleges.
Highlights of PM Modi's speech at AIIMS:
11:44 am: 
मैंने देश के डॉक्टरों से आग्रह किया था कि महीने में एक बार क्या वो गर्भवती महिलाओं की मुफ्त जांच कर सकते हैं ?

हजारों डॉक्टर इस कार्य के लिए आगे आए।

अब तक देश में गर्भवती महिलाओं की 1.25 करोड़ जांच की जा चुकी है।

मैं इस अभियान में हर मेडिकल प्रोफेशनल की प्रशंसा करता हूं: PM

— PMO India (@PMOIndia) June 29, 2018
11:42 am: We aim to make India a TB-free country by 2025 while other countries have decided to do so by 2030. The whole world is watching us whether we will be able to achieve it. I am hopeful that our medical sector will be able to complete the challenge, says PM Modi.
11:30 am: It is very important to control the spread of diseases and illness. Keeping this in mind, we are working on the Swachh Bharat Abhiyan and have also reduced the cost of medicines, says PM Modi at AIIMS.
11:27 am: Our government has approved upgradation of 58 district hospitals to medical colleges. The government has also decided to set up 24 new medical colleges across the country and allocated funds for it in the Union budget. it will also open up new means of employment for lakh of people, says PM Modi
​
New India के लिए एक ऐसी स्वास्थ्य व्यवस्था का निर्माण किया जा रहा है जहां उत्तम अस्पताल हों, ज्यादा बेड हों,बेहतर सुविधाएं हों, उत्कृष्ट डॉक्टर हों

हमारी सरकार 58 जिला अस्पतालों को मेडिकल कॉलेज के तौर पर अपग्रेड कर रही है

इस बजट में 24 नए मेडिकल कॉलेज बनाने का ऐलान किया है: PM

— PMO India (@PMOIndia) June 29, 2018
11:20 am: In the last 4 years, healthcare has been given priority and a new directive has been given to provide modern health care to the people of the country, says PM Modi. 
11:14 am: 
AIIMS पर बढ़ते दबाव को देखते हुए दिल्ली में इसके सभी कैंपसों की क्षमता को बढ़ाया जा रहा है। आज 300 करोड़ रुपए से अधिक की लागत से बनने वाले नेशनल सेंटर फॉर एजिंग का शिलान्यास हुआ है। ये सेंटर 200 Beds का होगा: PM

— PMO India (@PMOIndia) June 29, 2018
Prime Minister Narendra Modi inaugurated a super speciality and an emergency block at Safdarjung Hospital. He also laid the foundation stone of the National Centre for Aging at AIIMS. It will provide the elderly population with multi-speciality healthcare. The planned facility will have 200 general ward beds.
At the event held at AIIMS, he PM Modi inaugurates a 555-bed Super Speciality Block in Safdarjung Hospital and also dedicates a 500-bed New Emergency Block there.
The PM also dedicated a 300-bed Power Grid Vishram Sadan in AIIMS and a 'connection motorable tunnel' between AIIMS, Ansari Nagar and the Trauma Centre.
WATCH: What all PM Modi said at AIIMS