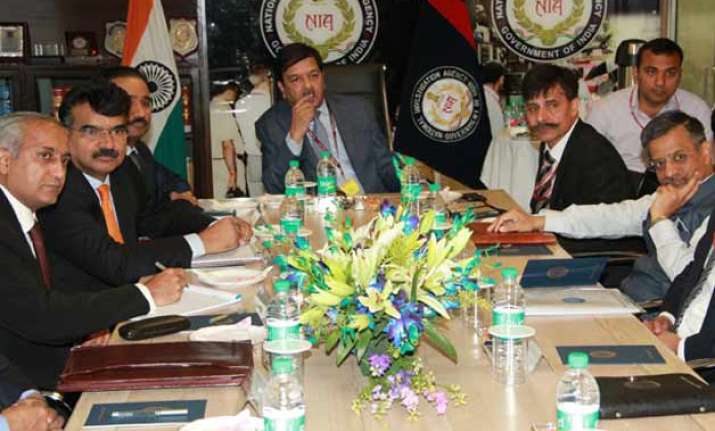 New Delhi: The five member Joint Investigation Team (JIT) from Pakistan, which arrived here yesterday to probe the deadly terrorist attack on the Pathankot Air Force Base, has asked for the call details of SP Salwinder Singh.
The team, according to sources, also want to question some Airforce officials.
The investigating team visited the National Investigation Agency (NIA) headquarter on Monday.
The team, which was received by officials of the NIA and Pakistan High Commission, will on Tuesday visit Pathankot for the probe into the attack at the Indian Air Force base carried out by Pakistan-based Jaish-e-Mohammed(JeM) terror group on January 2. It flew in here by a special flight from Pakistan.
The team is headed by Chief of Punjab's Counter Terrorism Department (CTD) Muhammad Tahir Rai and comprises Lahore's Deputy Director General Intelligence Bureau Mohammad Azim Arshad, Inter-Services Intelligence (ISI) official Lt Col Tanvir Ahmed, Military Intelligence official Lt Col Irfan Mirza and Gujaranwala CTD Investigating Officer Shahid Tanveer.
During 26/11 Mumbai attack case, Pakistan had sent a judicial commission to cross-examine some of the witnesses in the case.
The team would be going to the NIA headquarters tomorrow morning where they would be given a 90-minute presentation by NIA team about the probe conducted so far and evidences that show that the terror attack was planned from across the border in Pakistan, official sources said. Seven security personnel were killed in the attack.
In the post-lunch session, the Pakistani team would be raising their set of questions to the NIA investigators to clear doubts, if any, before they fly to Pathankot in a special plane on Tuesday morning, the sources said.
The IAF airbase will be visually barricaded by NIA to prevent any view of its critical areas and NIA team would show some of the areas where the Jaish-e-Mohammed terrorists were engaged in an 80-hour-long gun battle with security personnel.
India plans to provide the probe team from Pakistan access to all witnesses in the Pathankot terror attack case but not security personnel from National Security Guard or the BSF.