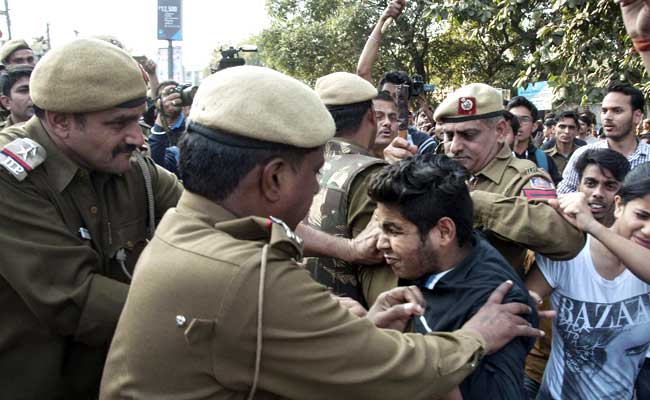 The Delhi Police today informed the Delhi High Court that it has constituted a three-member panel to look into the incident of violence at the Ramjas College where students and scribes were allegedly assaulted by cops last month.
In a statement issued by the city police to division bench of Justice G. Rohini and Justice Sangita Dhingra Sehgal, it was mentioned that Delhi Commissioner of Police has constituted a three member committee of Joint Commissioner of Police (Crime), Deputy Commissioner of Police, Vigilance and DCP, Women-child to look into the matter.
The police informed that the panel of senior cops was set up after the National Human Rights Commission (NHRC) sought the agency's response regarding the alleged assault on a complaint filed before it. It however granted liberty to the petitioners to approach it again if said committee does not submit its report to the NHRC in four weeks.
The court was hearing a plea of two Delhi University final-year law students Tarun Narang and Deepak Joshi who sought directions for setting up an independent committee to probe alleged misbehaviour and beating of women students by police during Ramjas College violence last week.
The students also urged the court to issue guidelines to law enforcement agencies while dealing with students and media on university campuses.
The plea said the tension between the opposing groups of students increased despite police presence, after which the situation turned violent and police used excessive force to bring the situation under control.
In their complaint the two petitioners accused police of threatening and misbehaving with reporters, who were present for the spot coverage of the protest march. The also said that police misbehaved with media camera persons and even broke their equipment.
On February 21, the Akhil Bharatiya Vidyarathi Parishad activists allegedly forced the Ramjas College to cancel a seminar in which Jawaharlal Nehru University student Umar Khalid, charged with sedition last year, was scheduled to participate.
The next day, ABVP activists were accused of attacking students, teachers and journalists during a protest march outside the Ramjas College.