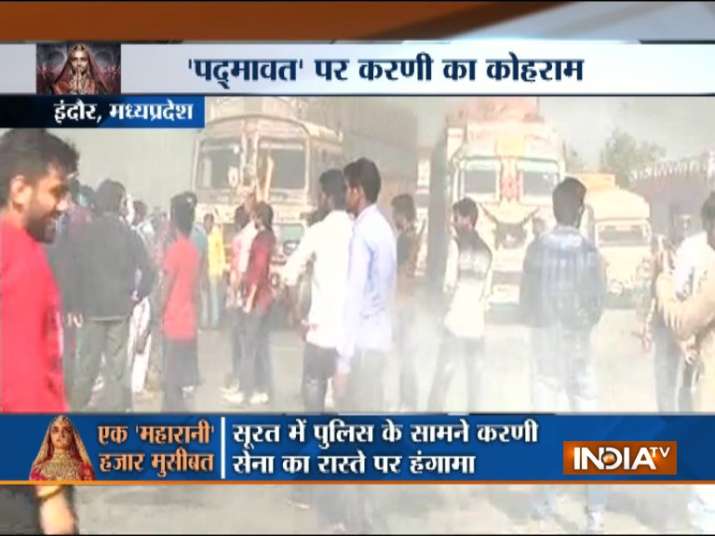 Refusing to back down, Rajput Karni Sena chief Lokendra Singh Kalvi on Monday said he would not allow Sanjay Leela Bhansali's film Padmaavat to be released "at any cost".
"If cinema halls go ahead with the January 25 release, it will lead to an enormous outburst of people," Kalvi threatened. 
Opposing the release of Sanjay Leela Bhansali film on January 25, members of the Karni Sena and other Rajput organisations have fast-paced their protests, whose fire reached the Delhi-NCR region on Sunday. The agitators set ablaze a barrier and damaged DND flyover toll plaza counters. 
SP City Arun Kumar Singh said that around a dozen protesters were detained and a case lodged after examining CCTV footage.
The protesters were from the Karni Sena, Rajput Uthan Samiti, Kshatriya Sabha among others from Gautam Buddha Nagar, Ghaziabad, Bulandshahar, Hapur and nearby areas, he said.
Protests were carried out across Madhya Pradesh with agitators setting fire to tyres that led to massive traffic jam on the roads.
As it Happened:
07:20 pm: Rajasthan: Youth who climbed a 350 feet tall mobile tower with a bottle of petrol in Bhilwara protesting against Padmaavat got down from the tower after local administration gave him assurance that no case will be registered against him.
06:30 pm: Rajput Karni Sena chief Lokendra Singh Kalvi meets UP CM Yogi Aadityanath and agreed to watch Padmaavat with historians and journalists but continues to demand ban on the film
04:00 pm: Karni Sena resorted to vandalism, set ablaze vehicles and tyres in Madhya Pradesh's Indore 
12:22 pm: 
A youth has climbed a 350 feet tall mobile tower with a bottle of petrol in Bhilwara; the protester is saying 'will come down only when #Padmaavat is banned in the country' #Rajasthan pic.twitter.com/h65ctfbWq1

— ANI (@ANI) January 22, 2018
12:20 pm: 
Rajput Karni Sena staged protest in Jaipur against screening of #Padmaavat, say ' We are confident that no cinema hall will screen the film & if someone does they should be ready to bear the consequences. Consider it a warning or request'. #Rajasthan pic.twitter.com/IJosg8jQo7

— ANI (@ANI) January 22, 2018
11:41 am: If someone decides not to screen the film it will be good but if someone screens the film, they will be provided security. It is our duty to comply with Supreme Court's order: Haryana CM Manohar Lal Khattar
11:36 am: 
A mall in #Haryana's Kurukshetra vandalised by 20-22 miscreants allegedly in protest against #Padmaavat; eye-witnesses alleged a group of people opened fire & attacked the place with hammers & swords (21.01.18) pic.twitter.com/qN1Dh1As6n

— ANI (@ANI) January 22, 2018
The protesters, armed with lathis, also blocked busy roads in Gurgaon, and attacked public and private vehicles in Surat and other parts of Gujarat. 
Following incidents of protesters damaging and setting buses on fire, the police issued a stern warning and deployed more personnel in the affected areas. The Gujarat State Road Transport Corporation (GSRTC) also suspended its services in northern parts of the state. 
Interestingly, senior state minister Bhupendrasinh Chudasama said such protests were "natural" and that the government was looking for a legal opinion following the Supreme Court's order.
Protests were held at some places in Gandhinagar, Kheda Banaskantha and Surat by members of the Rajput community, with agitating groups setting on fire a GRTC bus on the Ahmedabad-Kheda highway this afternoon. 
Stones were also hurled at another bus at Unava village near Gandhinagar.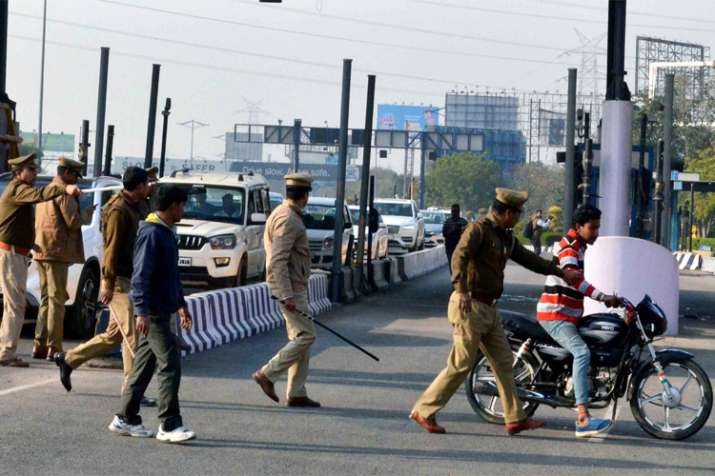 Protesters blocked several roads such as the Ahmedabad-Indore Highway and a road connecting Banaskantha to Rajasthan, police officials said. 
In Surat, members of the Shri Rajput Karni Sena and some other groups took to streets in the Katargam, Kapodra and Puna areas, police said.
Meanwhile, more than 500 Rajput women, waiving swords and raising slogans like 'Jai Jouhar, Jai Bhawani', marched from Jauhar Sthal at Chittorgarh fort to Jyoti Temple at Jauhar Smriti Sansthan. 
The women had originally planned to set themselves on fire, but dropped the plan on January 24. They will now file a petition, seeking to commit mass suicide, at the Supreme Court.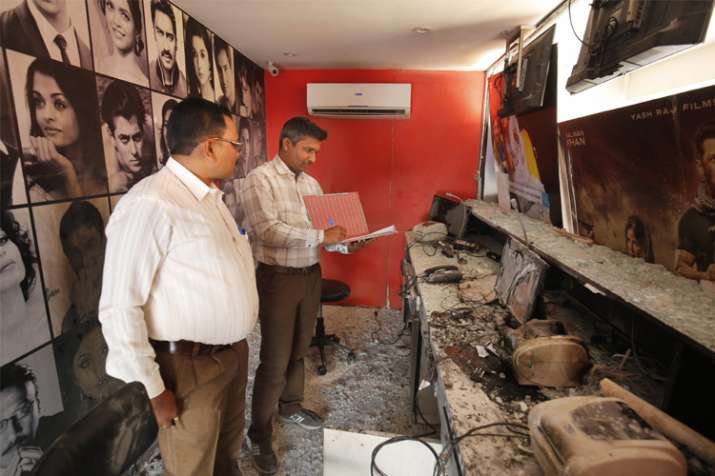 The Supreme Court on January 18 had paved the way for the film's nationwide release on January 25 by lifting the ban on its screening in BJP-ruled states Gujarat and Rajasthan.
While lifting the ban, the court had stayed the orders and notifications issued by the Rajasthan and Gujarat governments prohibiting the screening of "Padmaavat", starring Deepika Padukone, Ranveer Singh and Shahid Kapoor.