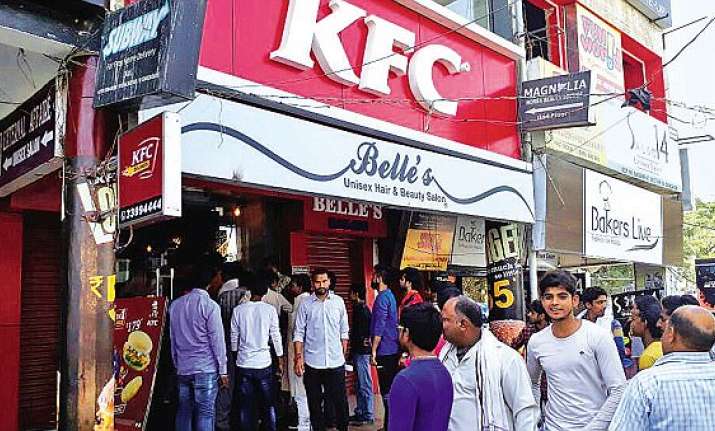 The crackdown on illegal slaughterhouses kicked off by Yogi Adityanath in Uttar Pradesh now seems to be expanding its footprints throughout the country. 
While the governments in Jharkhand, Rajasthan, Uttarakhand, Chhattisgarh and Madhya Pradesh have also jumped into action, Gurugram is the latest to follow the trend – though not from official quarters. 
Around 200 men, allegedly belonging to the Shiv Sena forced shut as many as 500 meat shops, including a KFC outlet, in old Gurgaon for nine days on account of Navratri. 
The Shiv Sainiks reportedly forced the closure of meat shops in Palam Vihar, Surat Nagar, Ashok Vihar, Sector 5, 9, Pataudi Chowk, Jacobpura, Sadar Bazaar, Khandsa Anaj Mandi and in Sector 14 market.
They also threatened the shop owners yesterday to shut their establishments on every Tuesday. 
"We have served notices to meat shop owners, including KFC, and other fast food outlets to shut their shops till Navratri ends and on every Tuesday," Gautam Saini, the president of Shiv Sena, Gurgaon, told PTI. 
The Sena workers assembled at Palam Vihar yesterday and forced the closure of meat market and dhabas such as Bismillah Khan eatery in others areas too. 
However, ACP-PRO of Gurgaon Police Manish Sehgal said some meats shops were shut down but they were later opened. 
These shops have commercial licence to sell meat. Strict action will be taken against those forcing closure of shops illegally. 
In Uttar Pradesh, the crackdown by the government against illegal slaughterhouses has caused a meat shortage leading to the industry going on a state-wide strike. 
Also, an incident of three meat shops being burned down by unidentified assailants in Hathras district was reported.