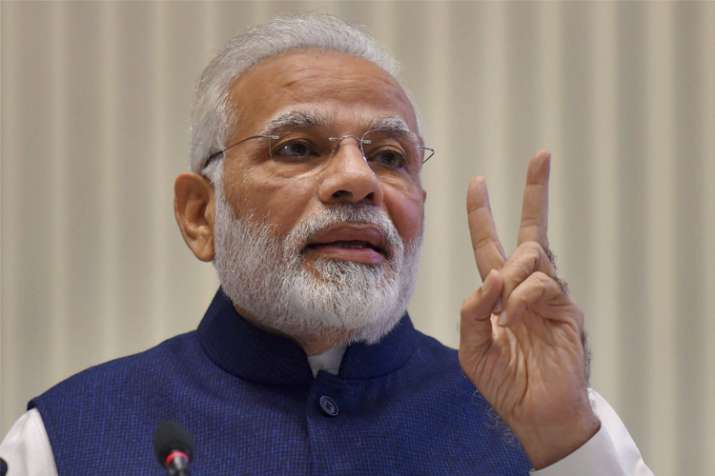 Prime Minister Narendra Modi on Sunday called for a wider discussion on unified election at one time throughout the nation, asserting that single election ensures policy planning and implementation and reduces pressure on resources. 
"If we talk about 2009 elections, Rs 1,100 crore were spent on the process. In 2014, it was Rs 4,000 crore. Governments also face issues in taking decisions with the model code of conduct being in effect," said PM Modi at the National Law Day celebrations in New Delhi. 
PM Modi said that conducting the election at every 4-6 months in different states is very hectic and costly.
"There are nations where date of election is fixed. People know when will it be held. This is beneficial, the country does not always stay in election mode, policy planning process and its implementation are more efficient, and nation's resources do not face unnecessary burden," he said.
Govt, judiciary, bureaucracy must work for new India: PM Modi
PM Modi also stressed on the need for the three pillars of the Indian democracy – government, judiciary and bureaucracy – to strengthen each other and work together for a new India.
The three pillars of democracy are all members of one family and should work together to strengthen one another, Modi said.
There is a need for them to brainstorm on how to move forward in the present scenario, he said.
PM Modi said instead of pointing at each other's weakness, the three pillars of democracy should work together for a new India. 
He also emphasised on the Indian Constitution's important role in the country's overall development after independence and said it has withstood the test of time.
Constitution has tied whole nation together, says PM Modi
PM Modi lauded the Constitution and said that it was the only document which has tied the whole nation with immense diversity together. 
"It was not easy to make a historical document (Constitution) which binds a country which has more than a dozen sects, more than 100 languages and more than 1700 dialects and people living in places with various beliefs," he said. 
The prime minister also remembered country's first President Rajendra Prasad on the occasion.
He said the Constitution was not just a book but also contains social philosophy.
"On this day, 68 years ago, we decided the direction in which our country will move, those rules and laws were given by the Constitution and it is a day to remember those people who formed these epic documents," he added.