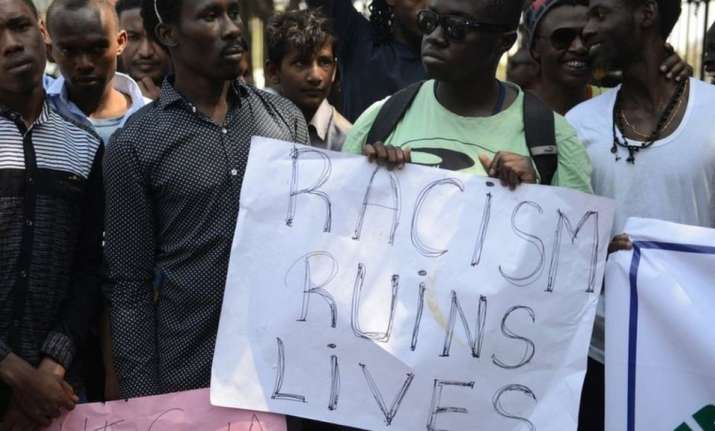 If the disturbing videos of a mob mercilessly beating a Nigerian student left you wondering about the state of law and order, another attack on a female African student in Greater Noida poses some serious questions. 
The incident comes a day after five Nigerian students, including a female, were brutally beaten up by a mob in Greater Noida. The videos that went viral on social media created a huge row, pushing the Yogi Adityanath-led government in Uttar Pradesh into action.
The Centre sought a report from the state government and promised action against those responsible. A flag march was conducted by the UP police in the vicinity in a bid to instil a sense of security among the African students community.
However, today's incident almost makes a mockery of the entire exercise. A group of unidentified men thrashed a Kenyan student Knowledge Park in Greater Noida today. 
The female student was reportedly inside an auto-rickshaw when some unidentified men pulled her out and started misbehaving with her. When she tried to shout for help, they started beating her up. 
The victim student belongs to Kenya and has been discharged from the hospital after being given first-aid. 
Earlier this week, a mob thrashed four Nigerian nationals following the death of a teenager named Manish Khari. Local residents claimed that the 19-year-old  Manish Khari died of drug overdose and was seen last with a group of Nigerians.
The Greater Noida police have booked over 1000 people and arrested five in connection with the case on Tuesday. 
External Affairs Minister Sushma Swaraj spoke to Uttar Pradesh Chief Minister Yogi Adityanath who assured her of a "fair and impartial" probe into Monday's incident.
"I have spoken to Yogi Adityanath ji Chief Minister of Uttar Pradesh about attack on African students in Greater Noida. He has assured that there will be a fair and impartial investigation into this unfortunate incident," Swaraj said.  
The attack on Africans in Greater Noida is not an isolated case. There have been several incidents of Africans being targeted in Delhi over the last few years.