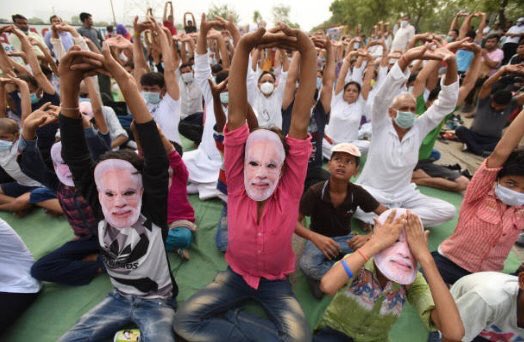 Finally, there is some relief for the residents of Noida Sector 123 as Uttar Pradesh Chief Minister Yogi Adityanath has directed the authorities to find an alternative piece of land for the proposed waste disposal plant. Following  the CM's directives, the construction work at the dumping yard site in Sector 123 has been put on hold by the Noida Authority. 
Hundreds of people had performed yoga on June 21 as part of 'International Yoga Day' wearing masks of PM Modi in protest.   
A group of residents of Noida Sector 123 had met CM Adityanath on June 18 to discuss their problem. They were assured by Adityanath that the dumping ground would be moved away and that the new site would not be built within 2-km radius of the human population.
However, the authorities tried to persuade the residents by saying that NGT was binding them and the site falls under their master plan 2031 but the resident didn't gave in and continued their protest.
"If the Authority does not acknowledge the chief minister who said the landfill site at Sector 123 should be 2km away from residential areas in the presence of his MP and MLA, what hope can we have from it on this matter? There is no authority above the chief minister of the state in these matters," said Sukhveer Pahalwan, one of the residents who met the chief minister.
The dump yard in Sector 123 is about 1.5 kms away from residential society and less than a km from the other side of Garhi Chaukhandi village.