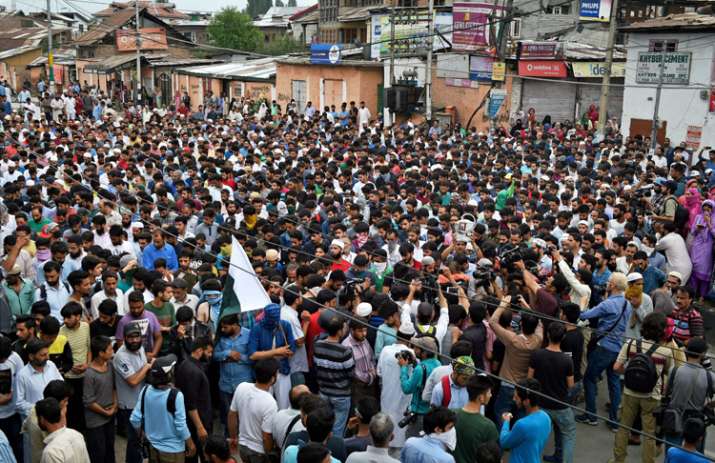 A crowd that had gathered during the funeral processions of the militants killed in an overnight encounter in Budgam district yesterday were stopped from raising pro-azadi and pro-Pakistan slogans by armed militants claiming to be followers of former Hizbul Mujahideen commander Zakir Musa. 
Three terrorists, Sajjad Ahmad Gilkar, Aaquib Gul and Javaid Ahmad were killed in an overnight gunbattle with security forces in Redbugh area of Budgam district on Wednesday morning.
According to a report in the Times of India, Kashmiri youth claiming to be followers of Musa stopped the crowd from draping the bodies of three terrorists in Pakistani flags. The armed militants also prohibited the crowds from shouting pro-azadi and pro-Pakistan slogans.
The report quoted a photo journalist covering the funeral of Gilkar saying that the youth proclaimed that they subscribed to the views of Zakir Musa . The report said that people compiled with the directives issued by armed youth.
In April also, two masked gunmen appeared at the funeral of a Hizbul Mujahideen terrorist in Pulwama during which they asked the gathering to follow the rules laid down by the Taliban and the Islamic State, and not support or raise slogans in favour of Pakistan. 
Musa was Hizbul Mujahideen's chief in Kashmir until May. He "quit" the outfit after the group refused to back his statement warning that Hurriyat leaders would be beheaded for calling the Kashmir issue "political". Unlike other militant outfits in Kashmir that say they are fighting for "freedom" of Kashmir, Musa subscribes to Islamist version and says he wants to establish a caliphate in Jammu and Kashmir along the lines of the rule established by Islamic State in parts of Syria and Iraq. 
In an audio message threatening separatists in May, Musa had said, "We are fighting for 'Azadi baraye Islam (Freedom for the sake of Islam)', I am fighting for freedom for the sake of Islam. My blood will spill for Islam and not for a secular state."
"I am warning all those hypocrite Hurriyat leaders. They must not interfere in our Islamic struggle. If they do, we will cut their heads and hang them in Lal Chowk," he was heard saying in the audio clip. 
Hundreds of people on Wednesday defied restrictions to take part in funeral processions of the slain militants and clashed with the security forces. While Gilkar was from Malarata in downtown Srinagar, Gul and were from Goripura in Rawalpora and Beerwah Churpora respectively.