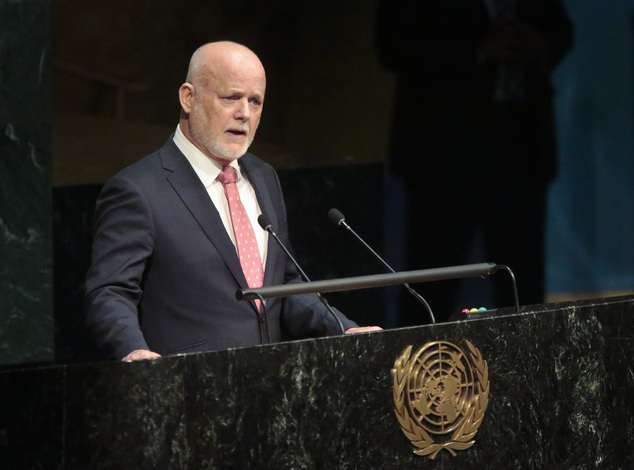 The newly elected UN General Assembly President Peter Thomson will be arriving in India tomorrow and his agenda also includes discussion on UN Security Council reforms with Indian leadership.
He will also hold discussions with Indian leaders on issues like combating terrorism and implementation of the ambitious Sustainable Development Goals.
Peter Thomson is presently visiting China and he will land in India from Beijing. He was elected in June as President of the UNGA's upcoming 71st session.
Peter Thomson is scheduled to meet a host of Indian leaders including PM Modi, Prime Minister Narendra Modi, External Affairs Minister Sushma Swaraj, Secretary for External Relations Sujata Mehta and Vice Chairman of NITI Aayog Arvind Panagariya as well as other senior Indian officials in New Delhi on August 29.
India's Permanent Representative to the UN Ambassador Syed Akbaruddin told PTI here that UNSC reforms, terrorism and SDGs will be high on the agenda for discussions between Thomson and the Indian leadership.
"Our approach to Security Council reform is that we see this as an opportunity where a re-emergent India will find its place on the global high table," Akbaruddin said adding that India's focus on UNSC reform is to put in place a process towards achieving the long-pending reforms.
New Delhi has been leading efforts for early completion of the long-pending reforms of the powerful UN body. In July, the 193-member General Assembly rolled over discussions on reforming the world body's top organ to its 71st session, which will be presided over by Thomson as its President.
Akbaruddin said that while some progress has been made on two of the five key issues pertaining to the reform process, "our hope" is that going forward, the UN member states will focus on the remaining areas. UNSC reform is not only about expansion, which is just one area, but also encompasses other issues of veto and improvement in working methods, he said.
"The progress is always incremental, from one year to another," he said. Discussions will also centre around terrorism and global efforts to combat the growing scourge, Akbaruddin said. "The issue of terrorism has crept up the international agenda this year as compared to a few years ago. It is an issue that requires priority attention because the number of terrorist incidents have gone up dramatically and also because it is impinging in a tangible manner on the lives of ordinary people," Akbaruddin said citing the growing terror attacks from Afghanistan to Turkey.
The third focus area of discussions between Thomson and Indian leaders will be implementation of the SDGs,  exploring possibilities of building coalitions and looking for more innovative financing to help nations achieve the goals and targets.
"Thomson's main idea is to look at innovative means of promoting the SDGs," the Indian envoy said. Thomson's visit to India comes just weeks before Swaraj will be in the city for the annual General Debate in September. Swaraj had extended an invitation to Thomson after he got elected as President of the 71st session, Akbaruddin said adding that India and Fiji have had very good relations historically also.
India has also been supportive in helping the President of the General Assembly's office with resources, recently providing assistance of 250,000 dollars. In China, Thomson is expected to meet with Premier Li Keqiang, State Councillor Yang Jiechi and Minister of Foreign Affairs Wang Yi, a press release from the office of the President of the UN General Assembly had said.
"Coming from the Asia-Pacific nation of Fiji, I am pleased to have this opportunity to visit the two biggest countries in the regional group to which I belong," Thomson had said adding that he looks forward to the "high-level" talks he will be having with the Governments of China and India.
"My main interest will be to discuss how the United Nations can assist and accelerate the implementation of the 2030 Agenda for Sustainable Development," he added. Thomson will replace current General Assembly President Mogens Lykketoft.
(With PTI inputs)