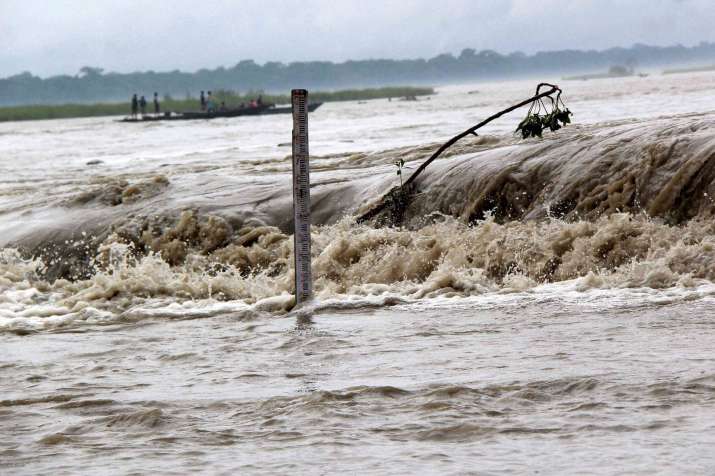 Around 12.5 lakh people in Assam are hit by devastating flood triggered by rainfall, forcing the Brahmaputra River to overflow in several districts, submerging houses and agricultural fields and inundating the Kaziranga National Park.
The Brahmaputra and its tributaries are overflowing in 18 districts of the state, flooding Rhino homelands in Kaziranga National Park and Pobitora Wild Life Sanctuary.
The flood-hit districts, where the swollen Brahmaputra and its tributaries are flowing above the danger level, are Lakhimpur, Golaghat, Bongaigaon, Jorhat, Dhemaji, Sivasagar, Barpeta, Kokrajhar, Nagaon, Dibrugarh, Chirang, Goalpara, Tinsukia, Dhubri, Morigaon, Sonitpur, Biswanath and Darrang districts, the ASDMA said.
Assam State Disaster Management Authority (ASDMA) said that the deluge has taken away chunks of main roads in Morigaon, Jorhat and Dibrugarh districts, snapping road communications and breaching river embankments in Kokrajhar, Jorhat, Bongaigaon, Dibrugarh and Golaghat districts that had caused water to rush into vast tracks of human habitation.
The army has also swung into action to rescue people and transport them to safer places in the flood-hit areas of Assam.
Officials on Monday said 200 people were rescued in Chirang district, while in Bongaigaon 150 people were saved from drowning.
The army also conducted a medical camp in Kokrajhar, attending to 100 patients.
The army, SDRF and NDRF are assisting the district administrations in evacuating the affected population to safer places, the authority said.
An adult male rhino was drowned in a river in Kaziranga National Park (KNP) due to the floods and its carcass with its horn intact was recovered on Monday near Siga camp under Agoratoli camp, close on the heels of another such dead rhino which was found there two days ago, Forest Department officials said.
Five hog deer were killed by speeding vehicles at Panbari in KNP area when they were crossing NH-37 from the Park towards highlands of Karbi Anglong district this afternoon, officials said.
There are 16 animal corridors on the NH-37 through which various types of animals from the Park side cross over to Karbi Anglong hills during floods, they said.
With PTI Inputs