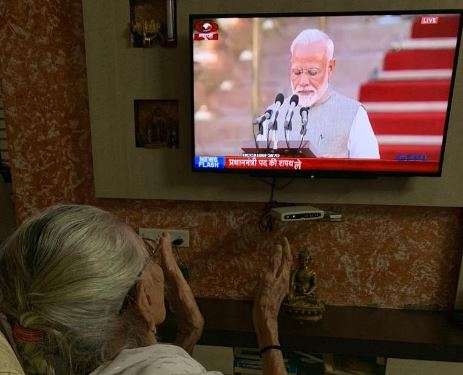 Hiraben, Prime Minister Narendra Modi's mother clapped in happiness as she saw her son take oath as PM for his second tenure. Prime Minister Narendra Modi had met her and taken her blessings during and after the election campaign.
After Lok Sabha election 2019 results, as the mandate was clear for PM Modi to become prime minister again, he went to his home to see his mother Hiraben.
During the meet, PM Narendra Modi bowed and touched feet of his mother to seek her blessings.
The swearing-in ceremony was a grand affair with more than 6,000 guests, including leaders from the BIMSTEC countries, opposition leaders Rahul Gandhi and Sonia Gandhi, chief ministers, corporate honchos and film stars in attendance as President Ram Nath Kovind administered the oath of office and secrecy to 68-year-old Modi and his ministerial colleagues.
PM Modi and Bharatiya Janata Party (BJP) chief Amit Shah held several rounds of discussions in the last two days ahead of government formation. Other senior party leaders such as Rajnath Singh, Nitin Gadkari, Nirmala Sitharaman, Piyush Goyal, Narendra Singh Tomar, Prakash Javadekar, Ravi Shankar Prasad, Dharmendra Pradhan and Smriti Irani also joined the second Modi government after being its members in its first avatar.
Also Read | Modi Sarkar 2.0: List of ministers in the new Union Cabinet
Watch | Watch | Narendra Modi takes oath as the Prime Minister of India for a second term