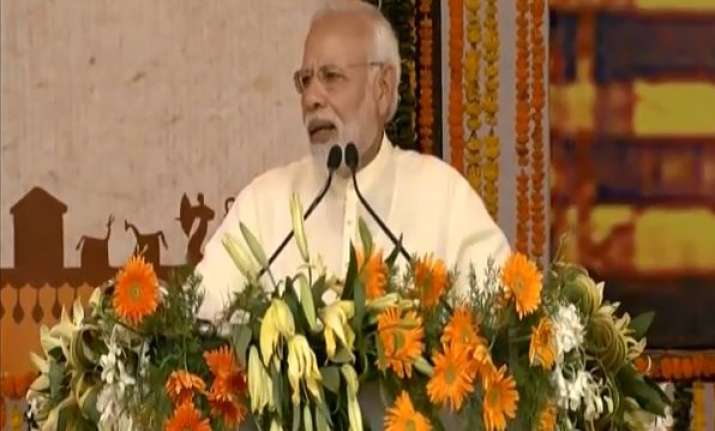 Prime Minister Narendra Modi visited Chhattisgarh on Thursday to dedicate the modernised and expanded Bhilai Steel Plant to the nation. On the occasion, the PM also addressed a public meeting. During the same event, Narendra Modi laid the foundation stone for the permanent campus of IIT Bhilai. He also unveiled a plaque to mark the commencement of phase-2 of BharatNet. The BharatNet project envisages connecting Gram Panchayats with underground optical fibre network. Before arriving in Bhilai, the PM visited Naya Raipur Smart City, where he inaugurated the Integrated Command and Control Centre for the city.
Highlights of PM Modi's Chhattisgarh visit:
02:18 pm Chhattisgarh welcomed me with open heart: Modi
02:14 pm Bank accounts of lakhs of people have been opened in #Chhattisgarh, lakhs of toilets have been constructed which is marking a new era of development in the state: PM
02:11 pm Earlier where there were no roads, now airports are being constructed along with roads: PM Narendra Modi
02:10 pm Solution to every problem is development: Modi
02:07 pm In last four years, a record number of youths became part of development process: Modi 
02:05 pm Bhilai did not only make steel, but also lives and society and the country. This new modern steel plant will now help develop new India: PM Narendra Modi
02:00 pm I have today distributed laptops to some youths of the state. I am happy that I have today made an effort to connect people with Digital India through this initiative: PM Modi
01:57 pm I have always stayed connected with this state, I have visited almost all districts of the state and have felt the love of the people for me: PM Narendra Modi
01:54 pm I am handing over a development project of approximately Rs 22,000 crore to the people of the state, which will bring in progress in Chhattisgarh: PM Narendra Modi
01:51 pm We have taken the vision of Atal ji forward: Modi 
01:50 pm We are moving ahead taking the state of Chhattisgarh forward on the path of development: PM Narendra Modi
01:46 pm Modi inaugurates Jagdalpur airport 
01:35 pm Modi inaugurates upgraded Bhilai Steel Plant
Prime Minister Narendra Modi visits Bhilai Steel Plant in #Chhattisgarh. pic.twitter.com/tk06otAKHX

— ANI (@ANI) June 14, 2018
01:25 pm PM Modi helped in the development of Chhattisgarh: CM Raman Singh
12:20 pm: Prime Minister Narendra Modi has reached Bhilai where he will inaugurate the upgraded steel plant. PM Modi meets people during a short roadshow on way to Bhilai Steel Plant.
11:50 am: The Integrated Command and Control Centre set up at Naya Raipur - the upcoming capital city of Chhattisgarh. The centre will control and monitor online water and power supply, sanitation, traffic movement, integrated building management, city connectivity and Internet infrastructure (data centre), under one roof. 
#Chhattisgarh: Prime Minister Narendra Modi inaugurated the Integrated Command and Control Centre in Naya Raipur pic.twitter.com/fVjSr5p6Zx

— ANI (@ANI) June 14, 2018
11:04 am Modi inaugurated the Integrated Command and Control Centre in Naya Raipur
​10:30 am Prime Minister Narendra Modi arrives in Chhattisgarh's Raipur, received by CM Raman Singh
The modernisation of the Bhilai Steel Plant includes installation of cutting-edge technologies for improvement in productivity, yield, quality, cost competitiveness, energy efficiency and environmental protection.
The prime minister also inaugurated air services between Jagdalpur and Raipur. He also distribute laptops, certificates and cheques etc. to beneficiaries under various schemes.
WATCH VIDEO: PM Modi dedicates multiple projects in Bhilai, Chhattisgarh