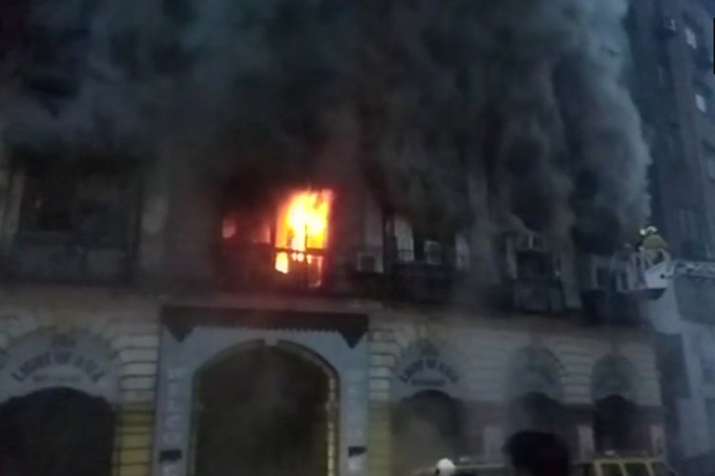 A massive fire engulfed a commercial building in Mumbai Fort area on Saturday morning. Several fire fighting teams were rushed are present at the spot to bring the fire under control. Two fire officials were injured as a part of the building, which was said to unoccupied for the past nearly five years, collapsed. 
The fire broke out at about 4 am on the ground floor and quickly spread all over the 5-storey Kothari building, also known as the Light of Asia. Thick black smoke could be seen emanating from the building from far off. Other nearby buildings were evacuated.
The cause of the fire could not be immediately known. Mumbai has been receiving incessant rains since last night and speculations are that there could have been a short circuit due to the rain.
#UPDATE: Visuals of Level-3 fire, which broke out inside Patel Chambers in Mumbai's Fort area. 12 Fire tenders present at the spot. No casualty reported. pic.twitter.com/NqB5z2gYQz

— ANI (@ANI) June 9, 2018
"Two fire fighters had minor injuries, rest everybody is safe. We deployed 16 fire engines, 11 tankers and 150 fire officers, situation is under control. Cause of fire is matter of investigation as building was completely vacant," Mumbai's chief fire officer told the media.
This is the second major fire incident in less than a week in Mumbai. Earlier this week, fire teams had a difficult time rescuing five persons trapped inside Scindia House near Income Tax office in city's Ballard estate. It took fire fighting officials several house to overcome the massive fire.
WATCH: Massive fire at Mumbai building
More details are awaited.