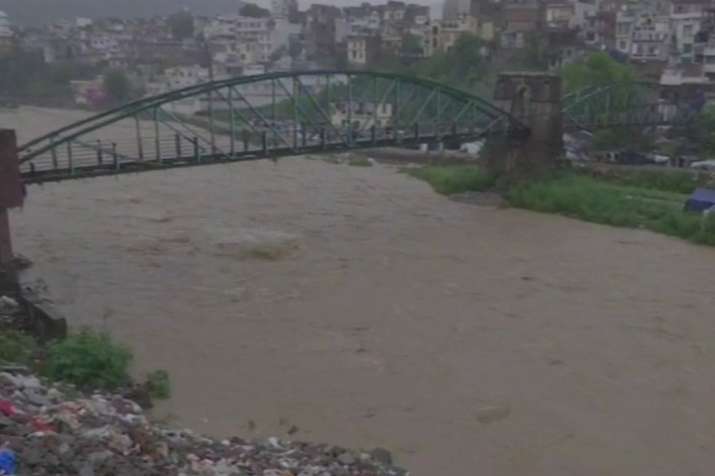 Heavy rains over the past couple of days in Jammu and Kashmir and Himachal Pradesh have forced the state authorities to sound a flood alert as several rivers were flowing above the danger-level mark. Authorities have sounded a flood alert as Jhelum river crossed the critical 21 feet mark at Sangam in south Kashmir's Anantnag district.
People living in areas along the embankments of Jhelum, other streams and in low lying areas have been advised to remain vigilant.
Several areas in Kulgam and Shopian are facing a flood-like situation. Relief and rescue teams are already on the ground helping the affected ones. All schools in Kashmir division will remain closed today due to inclement weather conditions. "In view of the incessant rains, inclement weather and as a precautionary measure, all schools in Kashmir division to remain closed today," Syed Abid Shah, Srinagar Deputy Commissioner said.
 The Kashmir Valley have been experiencing severe rainfall over the past couple of days. An official of the MET office said south Kashmir's Kokernag, in Anantnag district, received the highest rainfall of 63.4 mm till 8:30 am on Friday, while the neighbouring Qazigund received 58.6 mm of rainfall. 
Srinagar, the summer capital of Jammu and Kashmir, recorded 12.6 mm rainfall till 8:30 am but the intensity increased after that, the official said.
Jammu and Kashmir: Darhali river in Rajouri is overflowing due to heavy rainfall. Officials have alerted the locals living around that area. (29.06.18) pic.twitter.com/yWVg5U2hmg

— ANI (@ANI) June 30, 2018
Amarnath Yatra suspended due to heavy rains
The annual Amarnath Yatra has been also been suspended due to inclement weather. No pilgrim was allowed to move towards the cave shrine from either the Baltal base camp in north Kashmir or Pahalgam base camp in south Kashmir. The Kulgam Police has established a 24X7 helpline center in wake of the flood-like situation in the region. The numbers are: 01931260486 or 7051510660. 
— J&K Police (@JmuKmrPolice) June 29, 2018
Authorities said all pilgrims are safely lodged inside the two base camps. Pahalgam, one of the base camps for the Amarnath Yatra, received 27.8 mm of rains on Friday. 
Heavy rains in Himachal, Manali-Leh highway shut
The Manali-Leh National Highway-3 has been blocked after heavy rainfall triggered landslide in Himachal Pradesh's Kullu district. Landslide reportedly occurred due to heavy rains in Marhi shutting down the major highway. 
Over 2000 vehicles are reportedly stuck on either side of the blocked road at Chumbak morh in Marhi. 
Meanwhile, rains continued to occur at most places of the state as monsoon became vigorous during the last 24 hours. Heavy to very heavy rainfall occurred at isolated places in Una distruct, whereas Chamba and Kangra districts witnessed heavy rainfall. 
The weather department has predicted that rains will continue to lash the region for the next few days.
Watch: Heavy rains in J&K, Himachal trigger flood alert
(With inputs from agencies)