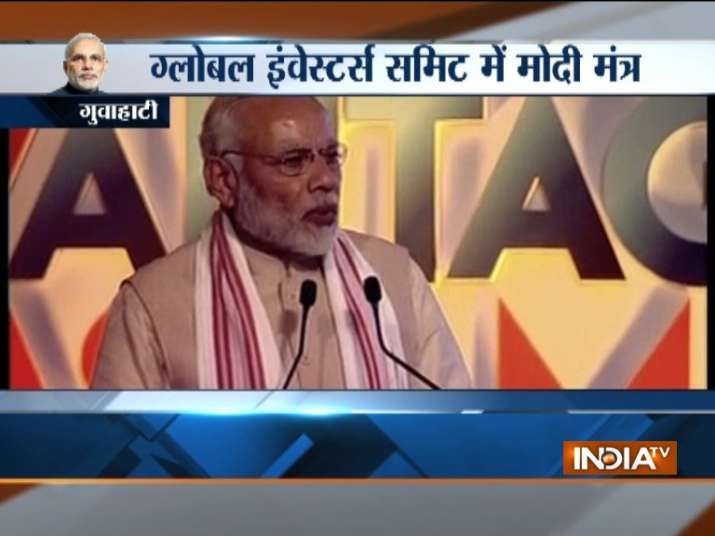 PM Narendra Modi on Saturday said the Northeast is at the heart of India's 'Act East Policy' for connecting to Southeast Asia and build trade and people-to-people ties with the Asean bloc.
Addressing the Global Investors Summit, Modi said the tagline of the meet - 'Advantage Assam: India's expressway to ASEAN' - is very appropriate and not just a statement but it is a "comprehensive vision".
"We created the Act East Policy and the Northeast is at the heart of it. The Act East Policy requires increased people to people contact, trade ties and other relations with countries on India's east, particularly Asean countries," Modi said. 
"Our vision is development of the eastern part of India, as the country's fast pace of development will only be effective when the people living in the northeast develop," he said.
Modi said that roads and railways are being constructed at a faster pace in the northeast and electricity is being generated at a similar pace. 
PM MODI ADDRESSED GLOBAL INVESTORS SUMMIT: HERE ARE THE HIGHLIGHTS
1:55 pm: Many path breaking reforms have been taken in last three-and-a-half years by our government.
1:43 pm: Ayushman Bharat, health insurance scheme announced in budget, will benefit 45-50 crore people. It has enhanced possibilities of setting up hospitals in tier 2 and 3 cities
1:40 pm: Assam is ranked first among the North Eastern States in the Ease of Doing Business report. With present leadership of the state government, Assam is going to further improve its current position to emerge as one of the most sought after states for investment.
1:37 pm: Government in budget announced Ayushman Bharat Yojana, this is one of its kind, biggest programme in the world. Someone who has lived in poverty, who had endured pains of poverty and moved forward, that person always realises that the biggest concern of poor is treatment of diseases.
#WATCH PM Modi addresses the inaugural session of Advantage Assam-Global Investors Summit in Guwahati https://t.co/mjh3hQZnxT

— ANI (@ANI) February 3, 2018
1:20 pm: Tagline of this summit is very appropriate and gives a big message. 'Advantage Assam: India's Expressway to ASEAN' is not just a statement but it is a comprehensive vision, says PM Narendra Modi at the inaugural session of Advantage Assam-Global Investors Summit.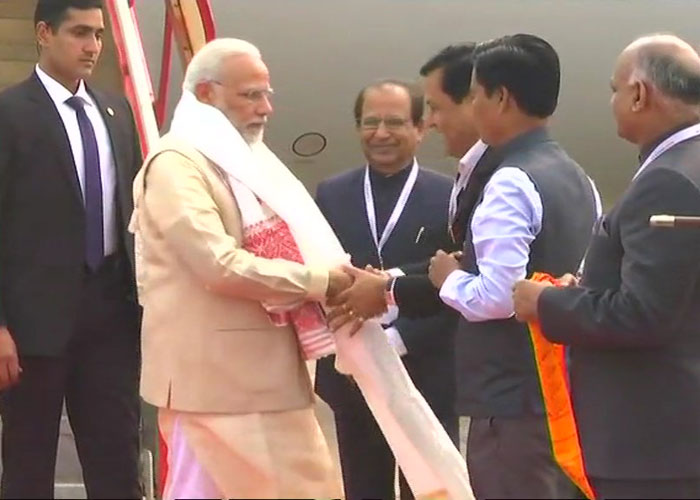 India's growth story will pick up more speed when people living in North East region will see fast development in a balanced manner : PM Narendra Modi at the Advantage Assam-Global Investors Summit'18 in Guwahati pic.twitter.com/5uF46ePSDT

— ANI (@ANI) February 3, 2018
1:01 pm: Reliance Industries to invest Rs 2,500 crore in Assam in retail, petroleum, telecom, tourism and sports, says Mukesh Ambani at Global Investors Summit.
11:40 am: PM Narendra Modi visits an exhibition in Guwahati.
#Assam: PM Narendra Modi at Advantage Assam - Global Investors Summit 2018 in Guwahati. Bhutanese PM Tshering Tobgay also present. pic.twitter.com/Es6iPhjIWX

— ANI (@ANI) February 3, 2018
11:13 am: "So far, 4,500 delegates have registered for participation that include representatives from 16 countries. Prime Minister of Bhutan Tshering Tobgay has already arrived while industrialists like Mukesh Ambani and Ratan Tata are expected to attend the summit," Assam Chief Minister Sarbananda Sonowal.
Delhi: Prime Minister Narendra Modi's convoy seen at Sardar Patel Marg, earlier today, no traffic disruption as convoy passes through. pic.twitter.com/yj8hFtjxOd

— ANI (@ANI) February 3, 2018
11:02 am: The summit has been organised by the Assam Government, in association with the industry body the Federation of Indian Chambers of Commerce and Industry (FICCI), aiming to position the state as India's Expressway to Association of Southeast Asian Nations (ASEAN) countries.
10:45 am: There are number of focus sectors, identified by the state, which include agriculture and food processing, organic farming, bamboo, handloom, textile and handicrafts, inland water transport, river front development and logistics. 
10:40 am:The event will showcase the manufacturing prowess and the opportunities offered by Assam in terms of export-oriented manufacturing and services to growing economies such as the ASEAN and the Southeast Asian countries.
10:30 am: "The objective of the Summit is to position Assam as India's Expressway to ASEAN. Advantage Assam will be the largest ever investment promotion and facilitation initiative by the Government of Assam," said the summit's Nodal Officer AP Tiwari.