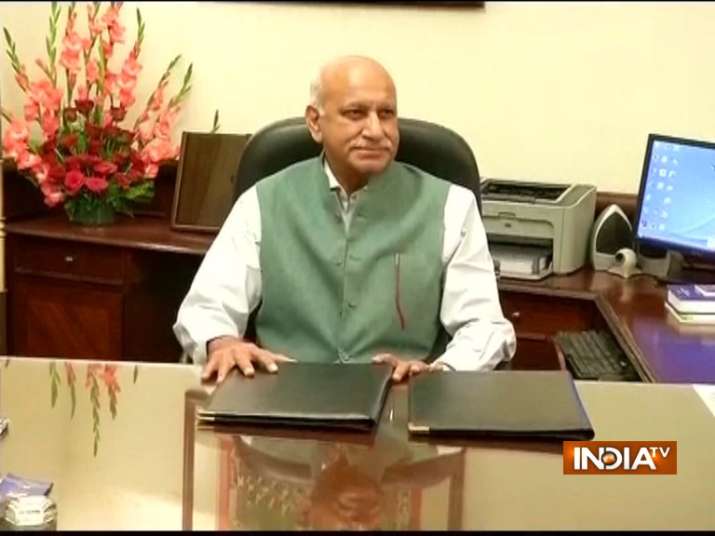 Minister of State for External Affairs MJ Akbar resigned  from his post on Wednesday evening in the wake of sexual harassment allegations levelled against him by several women amid the ongoing #MeToo movement. PM Narendra Modi forwarded MJ Akbar's resignation to President Ram Nath Kovind who accepted it later in the night.
In a brief statement, Akbar said he had decided to seek justice in a court of law in his personal capacity.
"I deem it appropriate to step down from office and challenge false accusations levied against me, also in a personal capacity. I have, therefore, tendered my resignation...," Akbar said.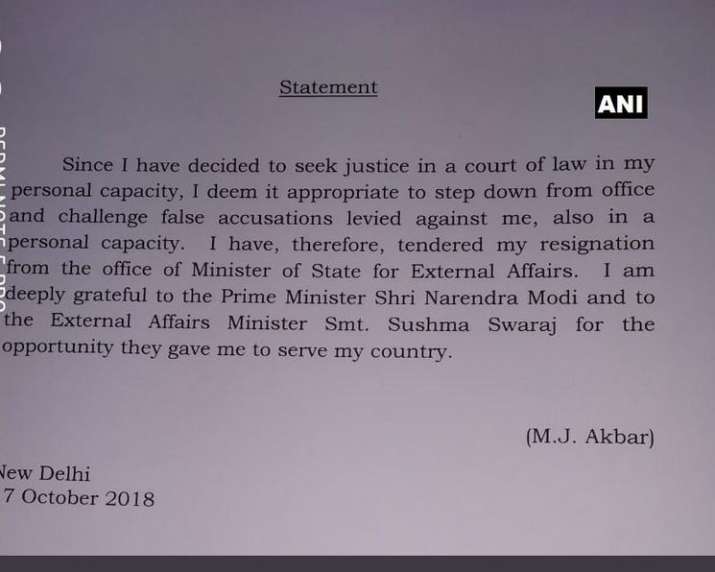 He also expressed gratitude to Prime Minister Narendra Modi and External Affairs Minister Sushma Swaraj for giving him the opportunity to serve the country. 
Sources said the Modi government has also set up Group of Ministers (GoM) to check the adequacy of sexual harassment cases under Vishakha Guidelines. Home Minister Rajnath Singh has been asked to head GoM which will also have Defence Minister Nirmala Sitharaman and Minister for Women and Child Development Menaka Gandhi in it.
ALSO READ: #MeToo movement completes one year: Top 10 facts
The Congress and the Left parties hailed the resignation of M J Akbar. The Congress termed the resignation as "victory of truth" and asked whether the prime minister will dare to speak up now.
Congress spokesperson Priyanka Chaturvedi said she saluted those women who stood on their charges against the minister bravely despite the "brazen" stance taken by the government.
"This resignation is a vindication of the power of truth. More strength to India's women," she said.
"The resignation of MoS External Affairs MJ Akbar after serious charges were levelled against him by senior women journalists who worked with him is a vindication of the power of truth even if it began with one brave person speaking up," she said.
Over the last fortnight, about 20 women have come forward to narrate their experiences of alleged sexual harassment at the hands of Akbar.
As the #MeToo movement gains ground, 17 women journalists who have worked with 'The Asian Age' newspaper, came out in support of their colleague Priya Ramani who had accused Union minister M J Akbar of sexual harassment.
The journalists have urged the court to hear their testimonies against Akbar, claiming that some of them suffered sexual harassment by the minister and others have been a witness to it.
"Ramani is not alone in her fight. We would request the honourable court hearing the defamation case to also consider the testimonies of sexual harassment of some of us at the hands of the petitioner, as also of the other signatories who bore witness to this harassment," the journalists said in the joint statement undersigned by them.
What MJ Akbar has said earlier:
"The allegations of misconduct made against me are false and fabricated, spiced up by innuendo and malice. I could not reply earlier as I was on an official tour abroad," he said. Stating that these allegations have caused irreparable damage to his reputation, the BJP Rajya Sabha MP said, "Whatever be the case, now that I have returned, my lawyers will look into these wild and baseless allegations in order to decide our future course of legal action."
Questioning the timing of the allegations, Akbar said why has the #MeToo storm risen a few months before the 2019 general elections and wondered if there was an agenda behind it. "Why has this storm risen a few months before a general election? Is there an agenda? You be the judge," he said. Terming the entire situation as distressing, he said, "Lies do not have legs, but they do contain poison, which can be whipped in to a frenzy."
WATCH VIDEO: Aaj Ki Baat with Rajat Sharma | October 17, 2018
WATCH: MJ Akbar resigns amid MeToo controversy
(With inputs from agencies)