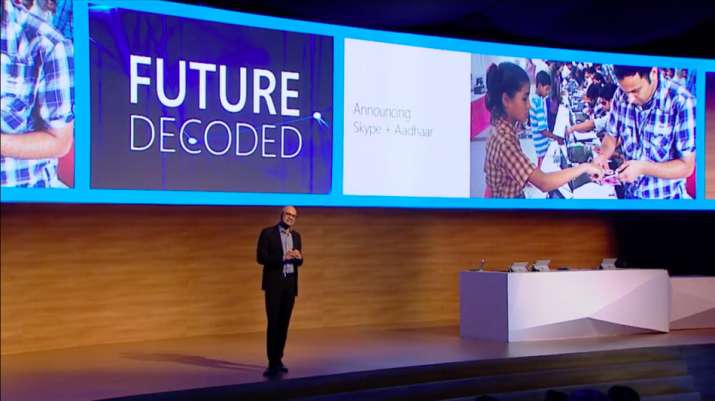 Microsoft today launched Skype Lite, an exclusive "Made for India" app to provide seamless experience in messaging, audio and video calling even at lower bandwidths.
Indian-born CEO of Microsoft , Satya Nadella told the media at the company's "Future Decoded" event that, packed in a 13MB file, the new app is available only for Android devices and was especially designed to save data.
Skype Lite app key features are –
1)       The lightweight app supports Indian languages including Gujarati, Bengali, Hindi, Marathi, Tamil and Telugu.
2)      For saving data, "Skype Lite" have data-friendly features such as "tracking data usage" which tells a user about how much data was used.
3)      It also have two sections for internet usage -- the amount of mobile data or Wifi used while using the app.
4)      With these new features, the app lets a user to share multimedia files without downloading them to the device.
5)      To save the eyes from strain for the users who work in the night, Microsoft also introduced a dark theme for the new app.
6)      "Skype Lite" is an all-in-one app and has functionalities such as integrated calling and SMS by which a user can make it the default calling and messaging app.
7)      To make it easier for a user to differentiate between important and junk SMSs, Microsoft has used the artificial intelligence (AI) that segregates normal text messages, Skype messages and promotional texts under three different categories.
8)      "Skype Lite" has an integrated camera app with it and added fun bots with a conversational interface that runs on Microsoft's AI technology.
9)      The bots, for example, can recognise a selfie and tell about a person's age and his/her character using the algorithms and artificial learning.
 "Future Decoded" -- Microsoft's two-day flagship technology and business conference -- is a platform that brings together 1,500 business and government decision-makers to engage in conversations on how technology will transform all aspects of our work and life.