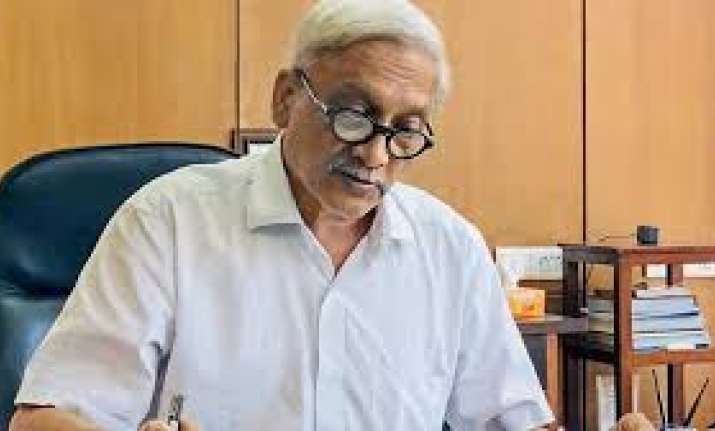 Goa Chief Minister Manohar Parrikar passed away at the age of 63 today. He was suffering from advanced pancreatic cancer since February last year.
Parrikar's wife passed away in 2001. He has left behind two sons - Utpal, who is an Electrical Engineering graduate from Michigan State University, and Abhijat, who is a local businessman.
Born on December 13 in the year 1955, Parrikar was the first IIT graduate to become the chief minister of any Indian state ever.
Manohar Parrikar was the leader of Bharatiya Janata Party and has been the Chief Minister of Goa since March 14, 2017. Before this, Parrikar had been Goa CM from 2000 to 2005 and from 2012 to 2014.
Early Life and Education
Born in Goa's Mapusa, Manohar Parrikar studied at Loyola High School in Margao. He completed his secondary education in Marathi. He graduated in metallurgical engineering from the Indian Institute of Technology, Bombay in 1978. He was awarded the Distinguished Alumnus award by the Indian Institute of Technology, Bombay in 2001.
Political career
Having joined the Rashtriya Swayamsevak Sangh (RSS) at a young age, Manohar Parrikar became a chief instructor in the final years of his schooling. He completed his IIT graduation, resumed RSS work in Mapusa while also maintaining a private business. At the age of 26, Parrikar became a sanghchalak.
Parrikar has often credited his discipline, progressiveness, nationalism and social responsibility to his RSS background.
After being seconded by RSS to the BJP, Parrikar was elected to the Legislative assembly of Goa in 1994. From June to November 1999, Manohar Parrikar was leader of the opposition.
Manohar Parrikar became the Chief Minister of Goa for the first time on October 24 in the year 2000, however, his tenure lasted only till February 27 in the year 2002. Later on June 5, 2002, Manohar Parrikar was re-elected and served another term as the Chief Minister of Goa.
It was on January 29, 2005 that four of BJP MLAs resigned from the house, reducing Manohar Parrikar's government to a minority in the assembly.
In 2014 general elections, BJP won both the Lok Sabha Sabha seats in Goa. Parrikar was then persuaded by PM Modi to join central leadership in Delhi. Laxmikant Parsekar succeeded him as the Goa CM.
In November 2014, Parrikar was made the Defence Minister in Government of India.
On March 14, 2017, Parrikar was sworn in as the Chief Minister of Goa again.
Awards:
In 2018, Manohar Parrikar was presented Dr. S P Mukherjee Award at 2018 Swarajya Awards.
In 2018 again, Parrikar was awarded Honorary Doctorate by National Institute of Technology Goa
In 2001, he was awarded Distinguished Alumnus Award IIT-MUMBAI