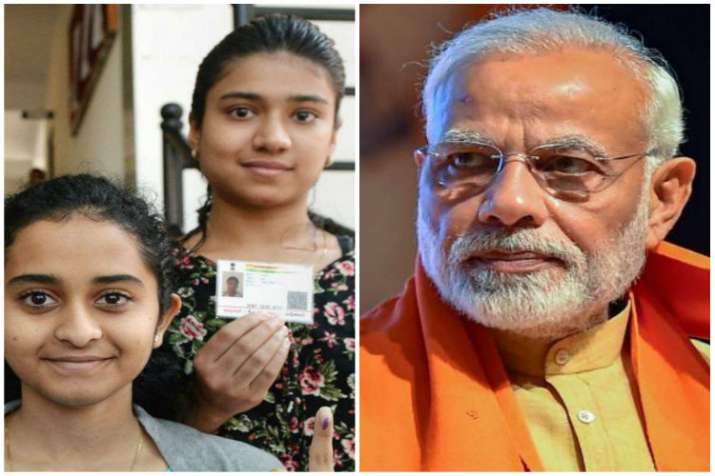 During the 2019 Lok Sabha poll season, all the leaders of every party had urged the first time voters to step out and vote for the nation. Now the outcome of various exit polls indicates that the first time voters of young India want to see NDA alliance to form the government for the 17th Lok Sabha. 
Around 52.6 million first-time voters had exercised their franchise in this Lok Sabha election. According to the India TV-CNX exit poll, the first time voters' wisdom and foresightedness are influenced by the 'Modi wave' and have voted for NDA in the majority. 
In Uttar Pradesh, more than half of young India seems to have voted for PM Modi with 55.27 per cent, whereas the Mahagathbandhan parties might stand as the second choice for the first time voters with 25.92 per cent. 
In Rajasthan, where BJP was clean swiped by Congress in the assembly election, 60.42 per cent of first-time voters seem to have chosen NDA and 31.54 per cent might have voted for UPA. Whereas, 08.04 per cent have voted for the other parties. 
Madhya Pradesh's first-time voters seem tentative as there is seen a tough fight between state ruling Congress party and the central ruling BJP. 51.40 per cent of the first voters had made their minds to chose NDA whereas 42.52 per cent might have voted for UPA. 
In Bihar, Gujarat, and Maharashtra, the first time voters' decision too will play a decisive role in the Indian polity as there might be a one-on-one battle in these states as young India has voted for both -- NDA and UPA in quite a good numbers. However, more than half of the first time voters in these three states might have been wooed with Modi wave.  
| | | | |
| --- | --- | --- | --- |
|  States | NDA | UPA | Others |
| Uttar Pradesh | 55.27 | 09.12 | 09.69 |
| Rajasthan | 60.42 | 31.54 | 08.04 |
| Madhya Pradesh | 51.40 | 42.52 | 06.08 |
| Bihar | 56.81 | 30.28 | 13.44 |
| Gujarat | 60.12 | 30.44 | 09.44 |
| Maharashtra | 50.44 | 35.61 | 19.35 |