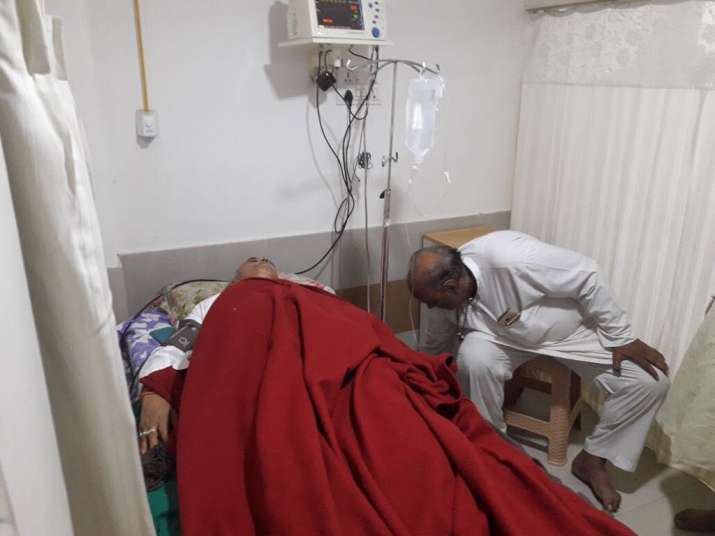 Vishwa Hindu Parishad international head Pravin Togadia, who had been missing since morning has been found unconscious on side of a road in Ahmedabad's Shahibagh area. According to early reports, he has been admitted to a Chandarmani Hospital.
"Pravin Togadia is a senior leader of VHP and we were all worried since he had gone missing. We all very glad that he has been found, but what were the circumstances of his absence will only be known after he wakes up," a VHP leader told India TV. 
Dr Roop Aggarwal, who is treating Togadia at Chandarmani Hospital told India TV that VHP leader was hypoglycemic, that is, his sugar level was low and he was treated accordingly. He was admitted around 9.15 pm in an unconscious condition, Dr Aggarwal said. His condition is now normal. 
The VHP had claimed its international working president Pravin Togadia was "missing" since morning and held a protest demanding that he be "traced". 
The VHP claimed Togadia (62) was detained by the Rajasthan Police in connection with a case, but the latter denied this.
According to latest information acquired by India TV, Togadia left VHP office at around 10.30 am in the morning in a rickshaw without his security aide.
The VHP leader has been given Z-plus security however, according to sources, he asked his security not to accompany him. His destination remains unknown. 
Local Sola police station officials said a team of Rajasthan Police visited them today to execute an arrest warrant against the Hindutva leader under section 188 (disobedience to order duly promulgated by public servant) of the IPC in an old case, but could not find him at his residence. 
VHP workers laid a siege to the Sola police station, shouted slogans, and blocked traffic on main Sarkehj- Gandhinagar highway demanding that the police immediately locate him. 
"Our International Working President Pravin Togadia is missing since 10 am today. The responsibility of his whereabouts and security lies with the administration," the VHP's Gujarat unit general secretary Ranchod Bharwad told reporters. 
He said it was not yet confirmed weather Togadia was arrested or not. 
VHP spokesperson Jay Shah, however, claimed that Togadia was detained by the Rajasthan Police in an old case.  "Our leader Pravin Togadia has been detained in an old case and was taken away by the Rajasthan Police from the VHP state headquarters in Paldi area of the city," he claimed.  However, the Rajasthan Police denied detention or arrest of Togadia.
 
"Togadia was not at all arrested by our team. As per my information, the police team of Gangapur (in Rajasthan) is returning without executing the arrest warrant, as he (Togadia) was not found in Ahmedabad. It is a rumour that Togadia is in our custody which is not true at all," said Inspector General of Police, Bharatpur range, Alok Kumar Vashishtha.
Gangapur town is in Sawai Madhopur district of Rajasthan and falls under the jurisdiction of Bharatpur range of the state police.
Sola police officials said the Rajasthan police had sought their help in executing the arrest warrant against Togadia.
"Rajasthan police today sought our help to execute the warrant against Pravin Togadia, as his residence falls in our area. The warrant, related to section 188 of the IPC, was issued by a sessions court in Gangapur. We took the Rajasthan Police to Togadia's residence but he was not found there," said Sola police station inspector J S Patel.  He said the team of the Rajasthan Police left after they could not find Togadia.
"It is not true that he is in our custody. We do not know his whereabouts," the inspector added.  At around 4 PM, a group of 40 workers of the VHP laid a siege to Sola police station and shouted slogans for the "release" their working president.
Later, another group of VHP workers blocked the busy Sarkhej-Gandhinagar highway, but police broke up the protest.
(With inputs from PTI)