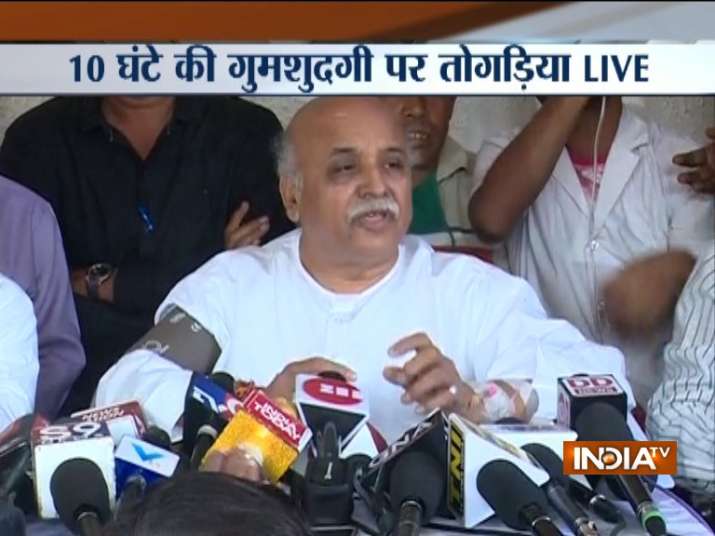 VHP leader Pravin Togadiya, who was found unconscious at a Ahmedabad hospital after going 'missing' for about 10 hours, addressed a press conference on Tuesday. 
Here the highlights:  
11:27 am: I had informed the security before leaving the office: Pravin Togadia
11:23 am: I had asked the police to come to my house at 02:30 pm
11:23 am: I have no complaints with either Gujarat Police or Rajasthan Police. 
11:22 am: I am being targeted for a decade old case, there is an attempt to suppress my voice. Rajasthan Police team came to arrest me. Someone told me plan was being made to kill me in an encounter: Pravin Togadia
11:20 am: I was told that Rajasthan Police has left for my encounter, and they have not carried a warrant: Pravin Togadia
11:19 am: I took an auto-rickshaw as I was not feeling well. I had asked the rickshaw driver to take me to Dhanwantri.
11:18 am: A man came to house and told me that police has left for your encounter. I immediately switched off my phone so that my location could not be traced. 
11:15 am: Conspiracies being hatched for my encounter: Pravin Togadia
11:14 am: Forces have been trying to suppress my voice: Pravin Togadia
Yesterday, the VHP leader, a Z-Plus category protectee, went "missing" after stepping out of the VHP headquarters in Paldi area of the city when a contingent of Rajasthan Police came to arrest him in an old case.
According to a statement issued by the VHP in Delhi, Togadia (62), who suffered from low blood sugar levels, was found in an unconscious state in Shahibaug and was taken to Chandramani Hospital located in the same area.
Gujarat VHP general secretary Ranchod Bharward said here that Togadia was traced, but didn't disclose where he was found. 
"Togadia was brought to the hospital by someone in the 108 ambulance service. He was in an unconscious state," said Dr. Rupkumar Agrawal at the hospital. 
He said Togadia became unconscious as his sugar level had dipped, but was stable now. 
The VHP had earlier claimed Togadia was detained by the Rajasthan Police in connection with the case, but the latter denied this. 
The mystery over Togadia's disappearance had deepened, with a senior police officer maintaining that neither the local Sola police nor the Rajasthan Police arrested him.