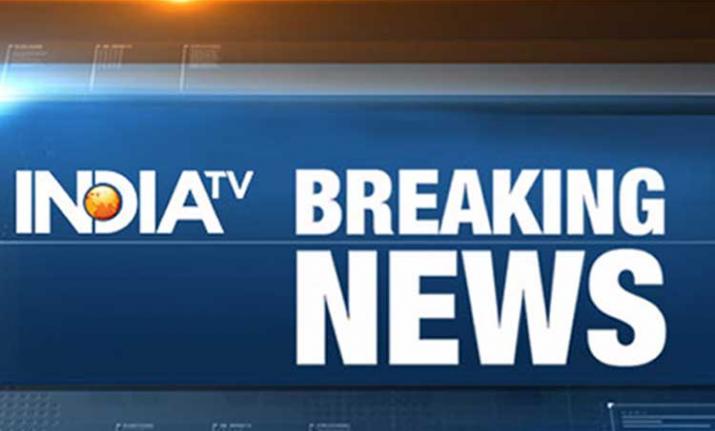 Daily dose of news plays very important role in our daily life. For some people, the morning is incomplete without knowing about what's happening across the world. Some digital-savy people have a habit of consuming news even when they are travelling or in their free time. In today's world, where people rely on news websites for everything that's happening around, IndiaTV News provides you all breaking news, latest news, breaking story videos, Live TV and top shows of IndiaTV, country's leading news channel on a single platform to ensure you don't miss anything important.
Internet, Twitter, Facebook are buzzing with breaking news and news alerts from India and rest of the world. You can find here the LIVE COVERAGE of all breaking news alerts and latest news updates on just one page. IndiaTV Digital covers all top news as and when it happens and ensures its readers don't miss anything important.
Live Breaking News January 7:
04:30 pm: Sensex climbs 155.06 points to close at 35,850.16; Nifty gains 44.45 points to 10,771.80.
03:50 pm: Awami League leader Sheikh Hasina takes oath as Bangladesh Prime Minister for third consecutive term.
03:00 pm: The Personal Laws (Amendment) Bill, 2018 has been passed by Lok Sabha .(ANI)
02:27 pm: Central government to increase reservations from 50% to 60%. Additional 10% to be given to Economically Backward class
02:21 pm: EVMs tamper-proof, their functioning being looked after by technical experts: Chief Election Commissioner Sunil Arora
02:16 pm: BJP is starting the new tradition, we have filed Prajapati ji's (Congress MLA) nomination. Let them do whatever they want to, it doesn't matter, everything will be proved tomorrow: MP CM Kamal Nath on BJP candidate filing nomination for speaker post (ANI)
01:57 pm: P Chidambaram being questioned By Enforcement Directorate (ED) in connection with INX media case
01:53 pm: Defence Minister had earlier said that Rs 1 lakh crore were given to HAL, we challenged that ,and today she said that Rs 26,570.80 crore were given to HAL, Nirmala Sitharaman Ji lied in the Parliament.: Congress President Rahul Gandhi
01:48 pm: Today Nirmal Sitharaman lied in parliament. I'm again requesting the Defence minister and PM Modi to answer "did Air Force and Defence ministry senior officers object to your interference in Rafael deal?" Please answer in a "Yes or No,": Rahul Gandhi
01:29 pm: Supreme Court issues notice to Centre and all state governments on a PIL seeking direction to start a project or programme to provide mental healthcare and treatment to persons with mental illness placed near or inside faith-based mental asylums
01:27 pm: Will meet NBFCs in Mumbai on Tuesday to understand liquidity issues: RBI Governor Shaktikanta Das
01:23 pm: Banks have been asked to look at viability of MSMEs before loan restructuring: RBI Guv Shaktikanta Das
01:14 pm: Met MSME associations to gauge current state of MSMEs, implementation of loan restructuring scheme: RBI Guv Shaktikanta Das
12:58 pm: Direct Tax Collections for FY 2018-19 up to December 2018 are at Rs 8.74 lakh crore which is 14.1% higher than the gross collections for the corresponding period of last year. Refunds amounting to Rs.1.30 lakh crore have been issued during April-December 2018
12:46 pm: MDMK Chief Vaiko files an appeal before the Supreme Court against the National Green Tribunal's order in Sterlite case
12:32 pm: 3 AIADMK MPs P Venugopal, KN Ramchandran, K Gopal and TDP MP N Shivaprasad suspended for two days by Lok Sabha Speaker Sumitra Mahajan under Rule 374A
12:24 pm: I have received confirmation from HAL that contracts during 2014-18 worth Rs 26,570.80 crore have already been signed with HAL. Orders worth Rs 73,000 Cr approximately are in the pipeline: Defence Minister Nirmala Sitharaman in Lok Sabha
12:15 pm: Rajya Sabha proceedings adjourned till 2 pm after uproar by opposition parties over various issues
12:02 pm: Raj Thackeray in a press note has clarified that MNS as a party has no objection in Nayantara Sahgal attending Marathi Sahitya Sammelan. Also apologises for the statement of an MNS party worker in Yawatmal threatening writer Nayantara Sahgal
11:51 am: BJP's Vijay Shah to be the candidate for the election of Assembly Speaker in Madhya Pradesh
11:39 am: Supreme Court issues notice to Reliance Communications Chairman Anil Ambani and others on contempt petition filed by Ericsson on non payment of dues
11:27 am: Kerala police register case against 4 RSS activists including Nooranad Praveen for hurling a country-made bomb at Nedumangad police station during the state-wide hartal called by the Sabarimala Karma Samithi on January 3 
11:18 am: Triple Talaq Bill is listed in Rajya Sabha, it's not a question of government's reputation. The Bill is meant to get justice for women, so everyone should support it. We all must help in getting the Bill passed: Union Minister Narendra Singh Tomar (ANI)
11:16 am: Supreme Court seeks response from Centre and Election Commission of India on a plea seeking direction to EC to increase the tallying or VVPAT with EVM votes from current 10% to 30% for general elections 2019
11:13 am: Supreme Court dismisses a PIL seeking to make access to clean public toilet a fundamental right
10:51 am: Supreme Court refuses to give an urgent hearing to a mentioning by a lawyer seeking the linking of Aadhaar with Voter ID cards
10:47 am: Delhi High Court changes the date of hearing in National Herald case to February 4 after Subramanian Swamy had requested to change the date
10:43 am: Congress MP KC Venugopal gives notice to move Privilege Motion against the defence minister for misleading the House on contracts given to HAL
10:39 am: Delhi's Patiala House orders former HP CM Virbhadra Singh to appear before it on January 22 in disproportionate assets case; framing of charges on the same day 
10:24 am: Congress's Mallikarjun Khadge gives notice under rule 193 in Lok Sabha on Rafale jet deal, demanding a joint parliamentary committee (JPC)
10:12 am: California highway closed by mudslides, more rainfall expected
09:54 am: 'Bohemian Rhapsody' wins best drama film
09:49 am: Rami Malek ('Bohemian Rhapsody') wins Golden Globe for best drama actor
09:46 am: Glenn Close wins best drama actress Golden Globe for "The Wife"
09:34 am: 20 flight arrivals and departures at Bengaluru's Kempegowda International airport were delayed due to fog between 6 to 9 am
09:28 am: Sensex up by over 290 points in opening trade, currently at 35,994.37; Nifty at 10807.50
09:09 am: Fourth Test: Match draws after Sydney Test called off due to rain. India win series by 2-1 for the first time in Australia
08:58 am: Trinamool Congress gives notice under Rule 267 in Rajya Sabha to take up discussion on 'Parliament being bypassed and legislative scrutiny being ignored', today (reports ANI)
08:52 am: All flight arrivals and departures at Delhi's IGI Airport delayed due to fog conditions
08:31 am: 13 train arrivals in Delhi delayed due to fog conditions/poor visibility
08:17 am: Christian Bale wins best actor Golden Globes award in musical/comedy for "Vice"
08:02 am: Petrol priced at Rs 74.16/litre in Mumbai, Rs 68.50/litre in Delhi. Diesel at Rs 65.12/litre in Mumbai, Rs 62. 24/litre in Delhi 
07:46 am: Mahershala Ali wins best supporting actor Golden Globes award for "Green Book"
07:31 am: Regina King wins Golden Globe for best supporting actress for "If Beale Street Could Talk"
06:29 am: US confirms death of militant involved in USS Cole bombing
06:26 am: 'Calling upon 168-Thiruvarur Assembly Constituency to elect an MLA stands rescinded forthwith. All steps taken by Returning Officer, Dist Election Officer and electoral authorities concerned are hereby declared null and void': EC directs Chief Electoral Officer, Tamil Nadu