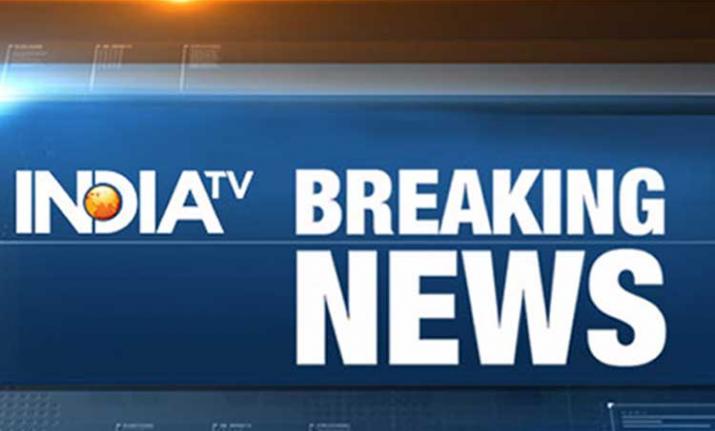 Daily dose of news plays very important role in our daily life. For some people, the morning is incomplete without knowing about what's happening across the world. Some digital-savy people have a habit of consuming news even when they are travelling or in their free time. In today's world, where people rely on news websites for everything that's happening around, IndiaTV News provides you all breaking news, latest news, breaking story videos, Live TV and top shows of IndiaTV, country's leading news channel on a single platform to ensure you don't miss anything important.
Internet, Twitter, Facebook are buzzing with breaking news and news alerts from India and rest of the world. You can find here the LIVE COVERAGE of all breaking news alerts and latest news updates on just one page. IndiaTV Digital covers all top news as and when it happens and ensures its readers don't miss anything important.
Breaking News January 3:
03:55 pm: Congress has rewarded people involved in anti-SikhRiots with CM post says PM Narendra Modi in rally in Gurdaspur​.
03:40 pm: Chennai: Income Tax department conducts raids at offices of Grand Sweets, Hot Breads, Saravana Bhavan and Anjappar group following complaints of tax evasion.
03:30 pm:  Chennai: Income Tax raids on top Kannada actors, producers which included Shivarajkumar, Puneeth Rajkumar, Sudeep and Yash.
03:25 pm: CBSE to come up with artificial intelligence courses for classes 8, 9, 10
03:20 pm: TNDTE Diploma Result 2018: October 2018 result announced today.
03:02 pm: First free and fair election in Kashmir was held in 1977 when Congress was not in power, it was under Morarji Desai ji. Everyone knows how election processes were done and how governments were formed in the Valley during Congress rule: FM Arun Jaitley in Rajya Sabha
02:50 pm: Kerala: Three BJP workers injured at Vadanappally in Thrissur district during clashes with Social Democratic Party of India workers(ANI)
02:47 pm: BJP Parliamentary board meeting to be held later today
02:29 pm: Lok Sabha adjourned till tomorrow after uproar from Opposition benches. Defence Minister Nirmala Sitharaman was to reply to Rahul Gandhi's allegations over Rafale deal
02:08 pm: One Army jawan dead, another injured in avalanche in Poonch district of Jammu and Kashmir, say Army sources
02:05 pm: External Affairs Minister Sushma Swaraj attacks Congress on allegations over Rafale Deal in Rajya Sabha, says there is no controversy in the deal and the same has been clarified by the Supreme Court
01:58 pm: Five arrested in connection with Bihar's Nalanda case in which protesters had thrashed a 13-year-old son of man accused of shooting dead a local RJD leader Indal Paswan on January 1; the boy had later succumbed to his injuries
01:57 pm: I call upon the Prime Minister's Science, Technology and Innovation Council, to discuss these issues in detail and formulate an action plan in consultation with the Ministry of Human Resource Development, to boost research in our colleges and state universities: PM Narendra Modi
01:56 pm: Our strengths in R&D are built on the backbone of our national laboratories, central universities, IIT, IISc, TIFR & IISER. However, over 95% of our students go to state universities and colleges. A strong research ecosystem must be developed in these Universities and Colleges: PM Modi
01:53 pm: We need strong path-ways to commercialisation, that leverage our Research & Development achievements, through industrial products. The future is about convergence and connected technologies. We should catalyse, harness and manage change for the nation's prosperity: PM Modi
01:49 pm: 2018 was a good year for Indian science. Among our achievements this year are: Production of Aviation Grade Biofuel Divya Nayan - a machine for visually impaired Inexpensive devices for diagnosis of Cervical Cancer, TB, Dengue A real-time landslide warning system: PM Modi 
01:47 pm: Supreme Court says NCDRC will consider report of CFTRI, Mysore on Maggi samples in Nestle case before it. The top court had earlier stayed proceedings in Nestle's case before NCDRC
01:42 pm: The life and works of Indian Scientists are a compelling testament of integration of deep fundamental insights with technology development and nation-building. It is through our modern temples of science that India is transforming its present & working to secure its future: PM
01:37 pm: South Korean spy agency says North Korea's acting ambassador in Italy has gone into hiding
01:34 pm: Prime Minister Narendra Modi speaking on 'Future India: Science and Technology' at the 106th Indian Science Congress in Punjab's Jalandhar
1:01 pm: Inputs from intelligence was being collected. He has been arrested on basis of the information we have. Questioning underway. His statements are being recorded, will be presented before court: SSP P Chaudhary on Yogesh Raj's arrest, main accused in #BulandshahrViolence case (ANI)
12:25 pm: Lok Sabha speaker Sumitra Mahajan suspends TDP MPs under rule 374A; house adjourned till 2 pm
12:24 pm: Defence Minister Nirmala Sitharaman to reply in Lok Sabha during the debate on Rafale Jet deal, today
12:17 pm: Death toll in Russian apartment block explosion rises to 37
12:09 pm: "Then, why are they not successful?", asks Supreme Court; tells Meghalaya government we are not satisfied with the rescue operations
12:04 pm: 'The state is taking steps to rescue the trapped miners. 72 NDRF personnel, 14 Navy personnel and Coal India personnel are working since December 14,' Meghalaya government submits before Supreme Court, on 15 miners trapped in illegal flooded coal mine in East Jaintia Hills​
11:57 am: Supreme Court asks Meghalaya government about the steps taken to rescue the 15 miners, who are trapped in an illegal flooded coal mine in East Jaintia Hills since December 13 last year
11:45 am: LIC agent shot dead by armed assailants at his residence in Bihar's Samastipur; investigations underway 
11:39 am: Special CBI court in Panchkula grants bail to former Haryana CM Bhupinder Singh Hooda and Senior Congress leader Moti Lal Vohra in AJL Panchkula plot allotment case; next hearing on February 6
11:38 am: 7 police vehicles, 79 KSRTC buses destroyed and 39 police personnel attacked, till now. Most of the persons attacked were women. Women media persons were also attacked: Kerala CM Pinarayi Vijayan in Trivandrum on Sabarimala temple women entry issue (ANI)
11:36 am: Supreme Court refuses to give an urgent hearing on a plea filed by CPI seeking direction to Election Commission to postpone Thiruvarur by-election, scheduled to be held on January 28, as the election would affect relief work undertaken in the region following Cyclone Gaja
11:32 am: It is government's responsibility to give protection to women. The government has fulfilled this constitutional responsibility. Sangh Parivar is trying to make Sabarimala into a clash zone: Kerala CM on Sabarimala temple issue (ANI)
11:13 am: Supreme Court to hear the Thoothukudi Sterlite plant re-opening matter on January 8 
10:54 am: Supreme Court to hear on January 8, the BJP's appeal against Calcutta High Court order stopping Rath Yatra in West Bengal
10:52 am: NK Premachandran, KC Venugopal and Suresh Kodikunnil, PK Kunhalikutty move adjournment motion in Lok Sabha over entry of women in Sabarimala temple ​
10:46 am: Congress leaders Mallikarjun Kharge, Jyotiraditya Madhavrao Scindia, Sunil Kumar Jakhar and Rajiv Satav move adjournment motion over the order of Ministry of Home Affairs allowing 10 central agencies to monitor any computer resource
10:38 am: Woman who was allegedly shot at by former JDU MLA Raju Singh during new year's celebrations on December 31, 2018 at a Delhi farmhouse passes away during treatment, say police (reports ANI)
10:21 am: Kerala police detain two people in connection with yesterday's violence and stone pelting incident in Pandalam over entry of women in Sabarimala temple​
10:02 am: Encounter breaks out between security forces and terrorists in Jammu and Kashmir's Gulshanpora, Tral. 2-3 terrorists believed to be trapped, exchange of fire underway
09:51 am: Death toll in Kendrapara boat capsize incident in Odisha's Mahanadi river near Nipania in Kendrapara rises to 9 after 8 more bodies were recovered late last night
09:49 am: China lands probe in world's first mission to far side of the moon
09:35 am: Pir Panjal mountain range in Jammu and Kashmir's Rajouri district receives fresh snowfall; snow clearance work underway
09:29 am: Sensex drops over 80 points in early trade, currently at 35,802.12; Nifty at 10759.25
09:23 am: All departures at Delhi's IGI Airport put on hold due to bad weather/fog conditions
08:55 am: Bulandshahr violence main accused Yogesh Raj arrested by Uttar Pradesh police
07:34 am: Kerala: United Democratic Front to observe 'black day' in the state in connection with Sabarimala Temple women entry issue
07:28 am: 12 trains to Delhi running late due to fog/ poor visibility
06:46 am: Brazil stock market hits record level as Bolsonaro takes charge
06:45 am: Apple cuts outlook over "challenges" in China, emerging markets
06:24 am: Boko Haram raids military posts in northeast Nigeria