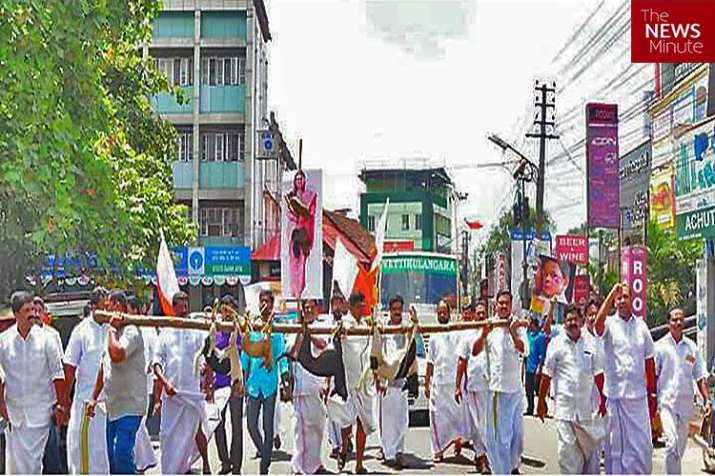 In a barbaric incident, youth activists of Kerala Congress (M) killed around 10 stray dogs, tied their carcasses to a pole and marched down the roads in Kerala's Kottayam district on Monday.
The mass killing was a reaction to the increasing dog menace in the state and that led to the death of a woman last week.
The protest was held two days after Union minister Maneka Gandhi appeal to state DGP Loknath Behra in Kozhikode to save strays.
After their march, they left the dead dogs in a pile outside the post office facing the offices of the municipal body.
"We have killed these dogs. And it's a warning that this will continue if the central and the state government do not control the stray dog menace," Saji Manjakadambil, who was heading the protest told reporters.
Accusing Maneka Gandhi of adopting a negative approach towards the menace, the activists also sent letters to Gandhi asking her to change her stand on the issue.
Police said they have registered a case against 15 activists of Youth Front (M), an offshoot of Kerala Congress (M) led by former state minister K M Mani, under section 429 (committing mischief by killing the animals) of the Indian Penal Code (IPC).
Vetenerary chief surgeon Mohana Chandran Nair performed postmortem of the dead dogs and their internal organs have been sent for forensic examination, police said.
Animal rights activists condemned the incident, calling it as "disgusting".
"These people who are beating and using dogs to their advantage and political opportunity will do the same to people they are trying to impress. This is completely barbarian way to deal with a situation...is it leading to a solution? No way!!," Delhi-based animal rights activist Khushboo Gupta said.
Gupta said solution for the problem is dog sterilisation, garbage management and shaping peoples attitude for co-habiting with animals.
"Kerala is perfect example of how sensible actions has no connection with your literacy level," she wrote on her Facebook page.
Gandhi has criticised the governments proposal to take stern measures, including culling, to check the continuing stray dog menace which came to sharp focus recently after an elderly woman died after being attacked by a pack of street dogs near Thiruvananthapuram.