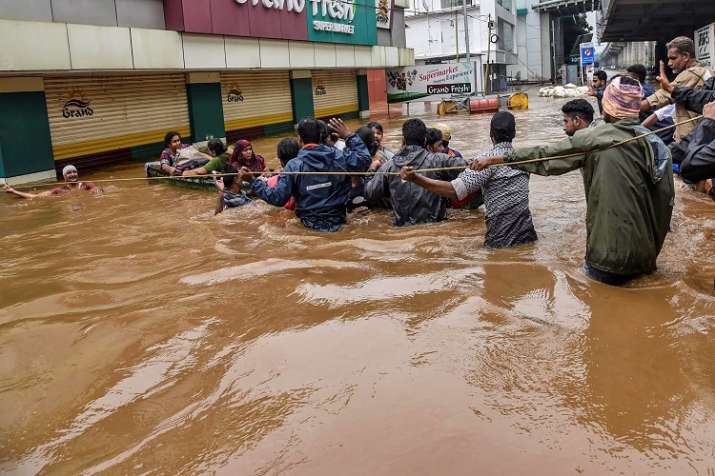 Kerala flood Updates: Kerala is witnessing worst floods in decades forcing the Centre to launch relief and rescue mission on war footing. All the three defence forces and other agencies have been mobilised in the flood-ravaged southern state where over 300 people have been killed so far.
The death toll in rain-battered Kerala touched 324 on Friday as a red alert continued in 12 districts, with the authorities continuing rescue operations after rains subsided and evacuated more survivors to relief camps.
Chief Minister Pinarayi Vijayan had on Friday morning confirmed the death toll to be 164, but the figure was revised to 324 later. 
Prime Minister Narendra Modi has left for the state to take stock of the situation arising out of the floods.
Leaving for Kerala to take stock of the flood situation in the state, tweeted PM Modi
The Centre has rushed 35 more NDRF teams comprising nearly 1,000 personnel to shore up relief and rescue operations in rain-battered Kerala. More units have been put on operational readiness to be sent at a short notice to Kerala.
To help flood-affected people of Kerala, you can make donations to Chief Minister's Distress Relief Fund. Click here to make donations.
With the weather department predicting more rains in the coming rains, authorities are battling a tough battle against the nature. 
Panic-stricken people in marooned buildings and high-rise flats sought help using social media platforms and patients, including those in ICUs, from various hospitals were shifted to safer places
EMERGENCY NUMBERS: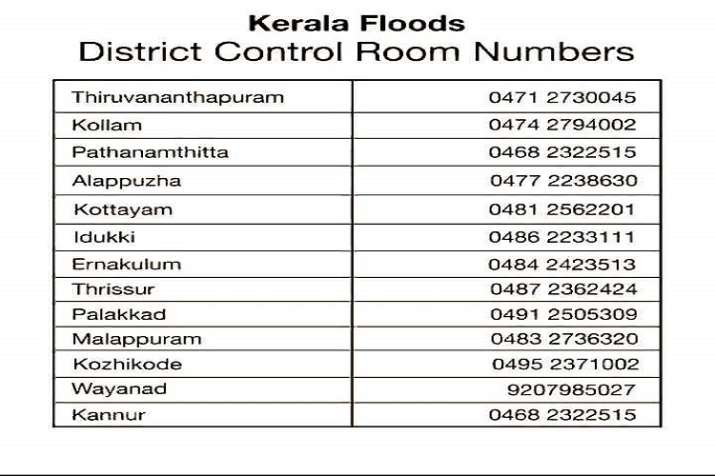 As it happened:
08:15 pm: Southern Railway dispatches 7 BRN wagons with syntax tank carrying 2.8 lakh litre drinking water from Tamil Nadu's Erode at 4 pm. 15 BRN flat wagons with Syntax water tanks being moved from Chennai to Erode. Water will be dispatched to the Government of Kerala
08:13 pm: Rescued over 3,600 persons in flood-hit Kerala, the Defence Ministry said
08:09 pm: Spoke to Kerala CM. Delhi government is making a contribution of Rs 10 Cr. I sincerely appeal to everyone to donate generously for our brothers and sisters in Kerala, tweets Delhi Chief Minister Arvind Kejriwal
08:01 pm: Death toll due to floods in Kerala has risen to 324. 223139 people are in about 1500+ relief camps, tweets Kerala Chief Minister Pinarayi Vijayan
07:23 pm: Leaving for Kerala to take stock of the flood situation in the state, tweets PM Modi
02:45 pm: Kerala Flood Fury: Torrential rains, overflowing rivers, landslides kill over 160; thousands cry out for help, relief operation continue war-footing on | READ
02:43 pm: 
A pregnant lady with water bag leaking has been airlifted and evacuated to Sanjivani. Doctor was lowered to assess the lady. Operation successful #OpMadad #KeralaFloodRelief #KeralaFloods2018 pic.twitter.com/bycGXEBV8q

— SpokespersonNavy (@indiannavy) August 17, 2018
01:23 pm: Kerala flood - The ghost of past environment policy returns | READ
01:22 pm: Reliance Jio, BSNL, Airtel announce free services for customers flood-hit state | READ
12:10 pm: Kerala CM Pinarayi Vijayan says the death toll from devastating floods has reached 167. 
11:20 am: Four Capital Ships of Indian Coast Guard have reached Kochi and joined the Disaster and Relief Team. 24 teams are already working in flood affected villages. Indian Coast Guard so far has rescued 1764 people and guided 4688 people to safer locations.
10:41 am: Red alert has been issued in all 13 districts except Kasaragod for Friday. Red alert has been issued also in Ernakulam and Idukki districts for Saturday. 
09:12 am: Had a telephone conversation with Kerala CM Shri Pinarayi Vijayan just now. We discussed the flood situation across the state and reviewed rescue operations. Later this evening, I will be heading to Kerala to take stock of the unfortunate situation due to flooding: PM Modi tweets
07:58 am: 
Indian Coast Guard's rescue&relief team from Vandiperiyar has been shifted to the flood affected Manjumala village. The team has rescued 16 stranded people from the village. Food & dry ration has been distributed among them, rescue operation is underway. #KeralaFloods pic.twitter.com/K42bszAiHT

— ANI (@ANI) August 17, 2018
07:55 am: Jio, BSNL, Airtel announce free services for customers in Kerala. Reliance Jio has announced free services for seven days while BSNL is offering unlimited free calls within its network and data services along with 100 SMS per day for a week to customers. Telecom major Bharti Airtel has offered Rs 30 talk-time credit and free 1GB data for pre-paid customers for seven days. 
07:54 am: The Supreme Court Bar Association (SCBA) has donated Rs 30 lakh to the relief fund for Kerala flood victims. In a circular issued by the SCBA, it also called up on its members to contribute "generously" towards 'SCBA Calamity Relief Fund' that has been set up for this purpose.
#WATCH: Aerial visual of submerged Kochi airport due to incessant rains. The airport has been shut till August 18. #KeralaFloods pic.twitter.com/0P3sNY2Jq1

— ANI (@ANI) August 17, 2018
07:42 am: All flight operations at Kochi airport have been suspended till further order as flood waters have reached the runway rendering it unusable.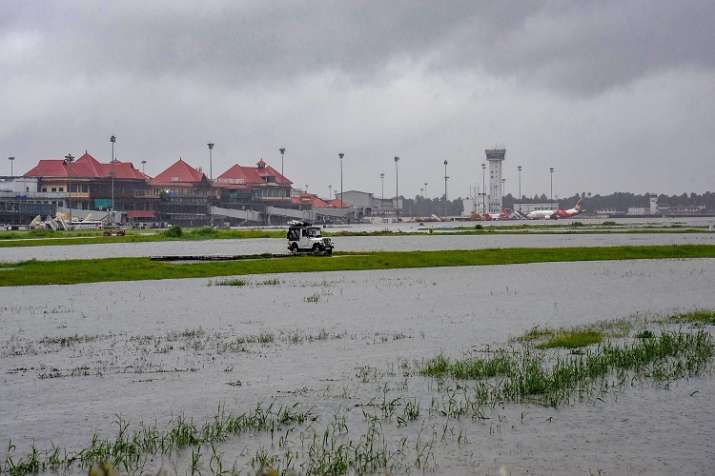 Meanwhile, the Supreme Court termed as "grave" the flood situation in Kerala and agreed to hear a plea seeking Centre's mediation between Kerala and Tamil Nadu governments on the issue of the Mullaperiyar Dam crossing the 142 ft threshold.
The plea seeks a decision on disaster management steps in the background of the floods, opening of 33 dams in Kerala, confusion between Kerala and Tamil Nadu Chief Ministers as water in the Mullaperiyar Dam has crossed the 142-ft threshold.