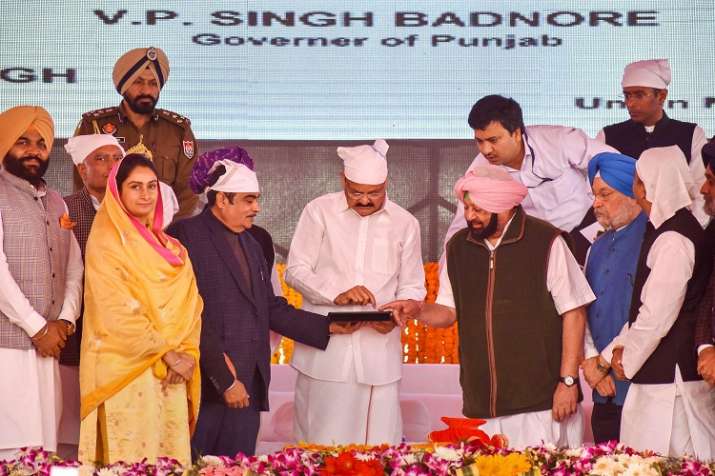 In a historic ceremony, Vice President M Venkaiah Naidu along with Punjab Chief Minister Captain Amarinder Singh laid the foundation stone of the Kartarpur Corridor on Monday.
Hailing the opening of the Kartarpur Corridor opening as a 'beginning of a new chapter' in India-Pakistan ties, Naidu said that the project will act as a 'unifier' to 'build bridges across old chasms'.
Meanwhile, CM Amarinder Singh who had declined to visit Pakistan for the inaugural ceremony on November 28 due to its support to terrorist groups suggested that there should be no visa for pilgrims travelling via the corridor to visit the historic gurdwara in Pakistan. He added that he will accompany the first 'jatha' to Kartarpur via the corridor next year.
Lashing out at Pakistan over the recent grenade blast in Amritsar, Amarinder Singh said the country will face serious consequences if it did not put an end to the violence perpetrated against India. He adde that India was a large Army and is fully prepared to fight all sort of infiltration.
Prominent leaders including Union Ministers Nitin Gadkari, Harsimrat Kaur Badal, Hardeep Singh Puri, Vijay Sampla, Punjab Governor V P Singh Badnore, Cabinet Ministers Tript Rajinder Singh Bajwa, Sadhu Singh Dharamsot, Charanjit Singh Channi, Aruna Chaudhary were also present at the event. 
Punjab Governor V P Singh Badnore also attended the event. He, along with Naidu and Chief Minister Singh, planted saplings to mark the state government's ambition to plant 550 saplings to mark the 550th birth anniversary of the Sikh Guru.
Speaking at the event, Gadkari assured to expedite the construction works of the corridor within four to four-and-a-half months.
KARTARPUR CORRIDOR PROJECT BEGINNING OF NEW CHAPTER IN INDIA-PAK TIES: M VENKAIAH NAIDU
Heaping praise on the landmark Kartarpur-Corridor Project, Vice President Naidu said that it will act as an 'unifier' to promote deeper understanding and a new resolve to connect the people of India and Pakistan through love, empathy and invisible threads of common spiritual heritage.
Underlining that it was the Indian government which urged the Government of Pakistan to develop the corridor, he said Indians are happy that Pakistan has accepted their long-pending demand.
"This momentous, historic occasion has been made possible by the Government of India's decision to build this corridor from Dera Baba Nanak to the International Corridor on our side," he said.
This is a corridor to the shrine of peace, harmony and humanism, to the universal vision of a world as one family, to the sublime ideal of service to humanity, he added.
He, however, added that "some people" make terrorism their policy.
"India never attacked any country. We want good relations with our neighbours. It was unfortunate that some people make terrorism their policy. We cannot tolerate terrorism and killing of innocent people on our soil," Naidu asserted.
AMARINDER SINGH HITS OUT AT PAKISTAN, ARMY CHIEF OVER TERROR ATTACKS IN PUNJAB
Launching a blistering attack on Pakistan government and its Army chief over the recent Amritsar grenade attack on Nirankari Bhavan in which three people were killed and over 20 injured, CM Amarinder said that they should be ashamed of their act of 'cowardice' and such attacks will not be further tolerated in the future. He also urged Prime Minister Imran Khan to rein in his army.
Addressing gathering after laying the foundation stone of the Kartarpur Corridor at the village Mann near the Indo-Pak border, CM Amarinder said; "by firing bullets at innocent people and killing them with grenade what they get out of it…they should be ashamed of themselves".
"If they try to foment trouble in Punjab then Bajwa (Pak army chief) should remember that we have Punjabi blood, we will not tolerate it," said Amarinder while pointing out that his government after coming to power had busted 17 terror modules and recovered several ammunitions and weapons.
"If such people think of fomenting trouble here and try to weaken our Punjab, then Bajwa should know it that I will protect people of Punjab till the last drop of my blood," he said.
"The Pakistan PM should rein in his army as ISI which works under army works against us..Such army chiefs (referring to Pak army chief) should understand that we have bigger army than they have and we are fully prepared. There is a limit to it …if you do it repeatedly (provoke) then India will also have to think," said Amarinder adding, "Nobody wants war. We want peace and development."
SIDHU'S VISIT TO PAKISTAN IS HIS WAY OF THINKING: AMARINDER SINGH
CM Amarinder Singh on Monday said that his minister Navjot Singh Sidhu's decision to visit Pakistan for the ground-breaking ceremony of Kartarpur corridor was "his way of thinking" but he could not think of doing that when Indian soldiers and civilians were being killed by them.
Sidhu, a cabinet minister in Punjab, on Sunday accepted Pakistan's invitation to attend the ceremony on Wednesday, while Singh declined the invite, citing continuous terrorist attacks in his state.
On Sidhu's decision to go to Pakistan for the ground-breaking ceremony there, Singh told reporters after the foundation stone-laying ceremony of Dera Baba Nanak-Kartarpur Sahib Corridor in Gurdaspur, that it was "his way of thinking".
On the central government's decision to send its ministers to Pakistan for the ceremony, the Punjab chief minister said it was for them to do what they deem fit but, he added, they should have been more sensitive to the feelings of Indian soldiers and citizens.
"The Centre cannot close its eyes to what is happening in India as a result of Pakistan's policy and support to terrorist groups," Singh said.
He said the world knows Pakistan supports terrorist activities in India, and cited as examples the attacks in Pathankot (2016), Mumbai (2008), Dina Nagar in Gurdaspur (2015) and the trouble in Jammu & Kashmir.
Singh said he would not travel to Pakistan until it stops unleashing the cycle of violence in India.
"If you think (Pakistan Prime Minister) Imran Khan can stop it, that won't happen. Governments work under the army in Pakistan. Army is a power in itself. It is for Pakistan Army chief Gen Bajwa to understand that such things should not happen (again)... Armies don't fight innocent women and children, armies don't throw grenades on religious congregation, armies are there to defend the country," he said.
CONTROVERSY ERUPTS DURING INAUGURAL CEREMONY, FOUNDATION STONE REPLACED AMID ROW OVER CREDIT
In a massive political slugfest during the inaugural ceremony of the Kartapur Sahib Corridor, the actual foundation stone was removed by the authorities just three hours before the event after Punjab cabinet Minister and local legislator Sukhjinder Singh Randhawa objected to the names of former Chief Minister Parkash Singh Badal, Shiromani Akali Dal President Sukhbir Singh Badal and Union Minister Harsimrat Badal on the foundation stone.
A clearly upset Randhawa announced that he would 'boycott' the foundation stone ceremony and even put black tape on the stone where the names of Chief Minister Amarinder Singh, Punjab PWD Minister Vijay Singla and his own (Randhawa) were put on the foundation stone along with the names of the Badals.
Officials of the National Highway Authority of India (NHAI), sensing that the situation could get unpleasant in the presence of dignitaries, removed the foundation stone and replaced it with the digital one.
The foundation on the screen carried the names of Vice President Naidu, Punjab Governor V.P. Singh Badnore, Chief Minister Amarinder Singh and Union Road Transport and Highways Minister Nitin Gadkari.
Though the ceremony was to celebrate the approval of the governments of India and Pakistan to allow the Kartarpur corridor to enable people to pray at the gurdwara in Pakistan, leaders of the Akali Dal and its ally BJP on one side and Punjab's ruling Congress on the other not only indulged in running each other down and claiming credit for getting the project cleared but even raised slogans against each other in the presence of the Vice President.
The gurdwara, on the banks of Ravi river, has historical significance for Sikhs as Guru Nanak Dev, the founder of Sikhism, spent 18 years there. Established by the first Sikh Guru in 1522, the shrine is about three-four km from the international border.
The opening of a corridor was a long-pending demand of the Sikh community.
The decision to build the corridor — from Dera Baba Nanak in Gurdaspur district to the international border — was taken by the Union Cabinet on November 22. Pakistan is to build it on its side of the border and it has planned a ground-breaking ceremony for Wednesday.
The proposal to open the cross-border passage for Sikh pilgrims comes at a time when India-Pakistan ties have nosedived and all bilateral engagements postponed following a number of terror attacks by Pakistan-based groups since 2016, including on Pathankot Air Force Station.
WATCH VIDEO: