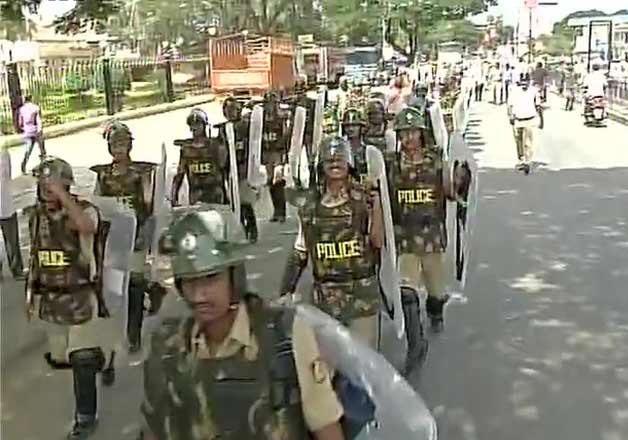 Uneasy calm prevailed on Tuesday in Bengaluru, where one person was killed in police firing on Monday night as parts of the city was still under curfew and heavy security cover.
Metro services continued to be suspended. No major incidents of violence were reported.
Union minister Venkaiah Naidu has appealed for calm in Karnataka and Tamil Nadu and asked media to show restraint in showing visuals of Cauvery protests.
Dubbing the incidents of violence in two states as disturbing, Naidu said such acts of violence can't be justified on any ground.
However, curfew has been relaxed in many parts of the IT city.
"We have, however, relaxed curfew in many areas for Muslims to offer prayers on Eid at mosques and in open grounds," a police official told IANS here.
Though schools, colleges, government and private offices and banks have holiday for Eid fest, several IT firms and back offices, which are working, advised their employees to work from homes in view of the simmering tension across the city.
Shops, markets, malls, hotels, eateries and commercial establishments are observing an undeclared shutdown across the city due to fear of being attacked by protesters.
Buses, taxis and three-wheeler auto-rickshaws are also off the roads, while metro rail service has been suspended till late evening.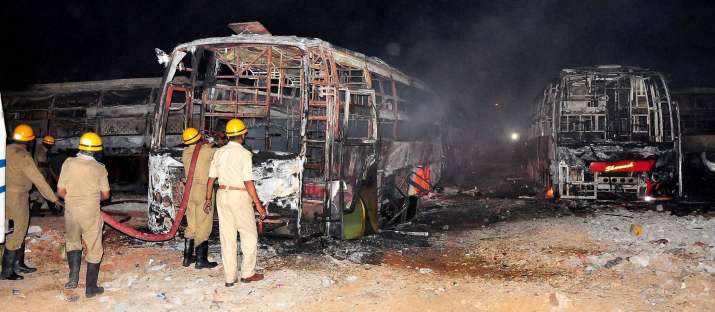 Hundreds of passengers alighting at railway stations in the city and at the airport on the outskirts had a tough time in reaching homes or workplaces in the absence of taxis, autos and buses.
A Rapid Action Force platoon staged a flag-march in the city's north-west suburb to instil confidence in the people that the situation is under control.
Earlier, one person was killed and two others received injuries after police opened fired at an unruly group of protestors in Bengaluru's Rajgopalnagar area on Monday evening. 
By late night, curfew was imposed in 16 sensitive localities of the IT-city as violent protests erupted in southern Karnataka over the Supreme Court's latest order to release 12,000 cusecs of water from the Cauvery river to Tamil Nadu till September 20.
"The victim (Umesh) succumbed to bullet injuries he suffered when police fired to disperse a mob attempting to torch a patrolling vehicle after ransacking a provision shop in the city's northern suburb," said a police official early on Tuesday.
Though police initially resorted to caning and lobbing tear gas shells to prevent the enraged mob of about 50 people from becoming violent, 12 rounds were fired by a platoon of the Karnataka State Reserved Police to disperse it from the troubled spot.
According to preliminary inquiry, Umesh, 25, working at a petrol retail outlet, was unfortunately present at the spot where the mob gathered.
Umesh hailed from Kunigal in Tumakuru district, about 70km from Bengaluru.
The other two injured, whose names police did not disclose, were rushed to a district hospital at Tumakuru for treatment and recovery from bullet wounds on the leg.
In a related development, police imposed curfew for three days from early Tuesday in the city's north-west, south-west, north east and central areas to maintain peace and prevent untoward incidents in the festival week, beginning with Bakrid on Tuesday, Onam on Wednesday and immersion of Ganesha's idols on the 10th day (Thursday).
"Curfew has been clamped in 16 areas across the city and ban order issued under Section 144 of the CrPCA across the city to maintain law and order and prevent angry protestors from indulging in violence, arson or loot during Eid and Onam," said city Police Commissioner N.S. Megharikh.
Among the jurisdiction areas are Rajagopalanagar, Kamakshipalya, Vijayanagara, Byatarayanpura, Kengeri, Magadi road, Rajajinagar, Chandra layout, Yeshwantpura, Mahalakshmiu layout, Peenya and Nandini layout.
IANS inputs