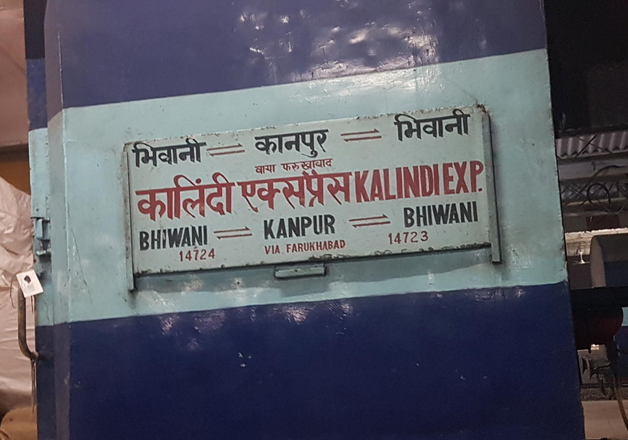 Bhiwani bound Kalindi Express (14723) met with an accident in the wee hours today near Tundla in Uttar Pradesh. According to reports, the train derailed after it collided with a goods train en route to Delhi. 
Initial reports suggest that the accident took place at around 1:40 am when the train had left Tundla station. No casualties have been reported in the mishap so far.
The engine and the first general coach of the train, which runs from Kanpur Central to Bhiwani Junction in Haryana, derailed in the incident. The train left for its destination at 5:20 am, the Ministry of Railways said in a tweet.
Delhi-bound Kalindi Express collided with a freight train at Tundla junction at 2 AM affecting rail route b/w Delhi & Howrah, no casualties pic.twitter.com/41MXAoo9xJ

— ANI UP (@ANINewsUP) February 20, 2017
#14723 derailment, No casualties and no injuries to passengers:Sr officers are at site,GM & DRM left Allahabad for site.Up trains diverted

— Ministry of Railways (@RailMinIndia) February 20, 2017
Meanwhile, the accident has affected train traffic on Delhi-Howrah route.
"Tundla-Ghaziabad main rail track up and DN blocked, DN trains are diverted via Ghaziabad, Lucknow and up train diverted via Agra," the Ministry of Railways said in another tweet.
2/#14723 derailment TUNDLA Ghaziabad Main rail track up and DN blocked,DN trains are diverted via Ghaziabad lko & up train diverted via Agra

— Ministry of Railways (@RailMinIndia) February 20, 2017
4/ #14723 derailment No casualties & No injuries trains diverted up train via Agra and down train via Lucknow pic.twitter.com/7GGSUcqX8a

— Ministry of Railways (@RailMinIndia) February 20, 2017
2/#14723 derailment TUNDLA Ghaziabad Main rail track up and DN blocked,DN trains are diverted via Ghaziabad lko & up train diverted via Agra pic.twitter.com/FYtvwIOso5

— Ministry of Railways (@RailMinIndia) February 20, 2017
The Indian Railways has issued helpline numbers for those seeking information – 
Help line no. Tundla 05612 - 220337 , 220338 ,220339, 1072 | Hathras 05722 – 1072 | Kanpur 0512 - 2323016, 2323015, 2323018