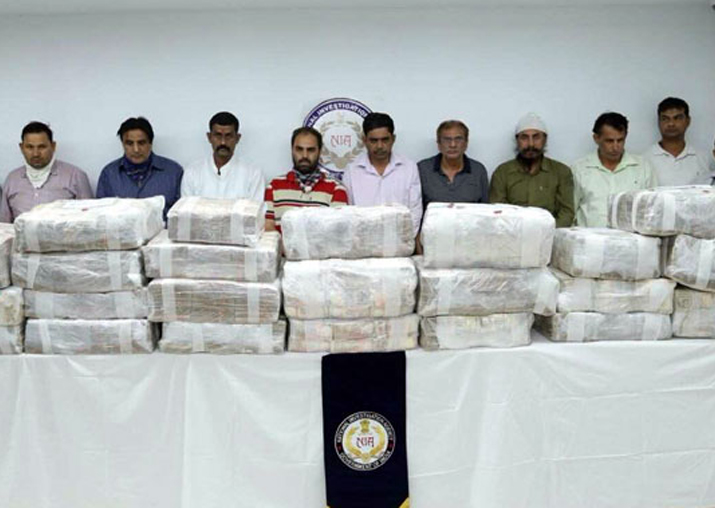 A special NIA court in Delhi today sent all nine persons arrested by the investigative agency in connection with the seizure of Rs 36.5 crore in demonetised currency to NIA custody till November 21.
During in-camera proceedings, District Judge Poonam Bamba allowed the National Investigation Agency to quiz the accused after the agency sought their custody to unearth the entire conspiracy.
The NIA said it wanted to probe the involvement of others, including bank officials trying to help them convert the demonetised notes into legal currency.
On Monday, an NIA team had seized the currency on Jai Singh Road near Connaught Place -- a business and financial hub of Delhi situated not more than 8-km from the counter-terror agency's headquarters.
Seven gang members were initially apprehended while carrying 28 cartons filled with the demonetised notes in four luxury vehicles. Their other accomplices were apprehended later in the evening. The agency had in total seized Rs 36,34,78,500 from their possession.
According to NIA, the nine were arrested on Tuesday in the Jammu and Kashmir terror funding case. Those held were Pradeep Chauhan, 47, Bhagwan Singh, 54, Vinod Shreedhar Shetty, 47, Shahnawaz Mir, 45, Deepak Toprani, 60, Majid Yousuf Sofi, 27, Ejajul Hassan, 38, Umar Mushtaq Dar, 27, and Jaswinder Singh, 53.
Three accused hail from Jammu and Kashmir, two from Delhi, two from Mumbai, and one each from Uttar Pradesh and Nagpur.
NIA investigators said they received inputs about persons/entities having links with separatists/terrorists and still in possession of a significant amount of demonetised currency, which they could not deposit or convert during the period earmarked by the government. NIA officials said that the surveillance was mounted, which led to unearthing of a conspiracy wherein these persons were trying to convert the demonetised money into valid currency.
With the arrest of the nine persons the total number of arresting in the terror funding has now reached 19. 
Since June, the agency has so far arrested 7 separatist leaders, one businessman, and two stone-pelters for receiving funds from Pakistan to sponsor terror activities and stone-pelting in Jammu and Kashmir.