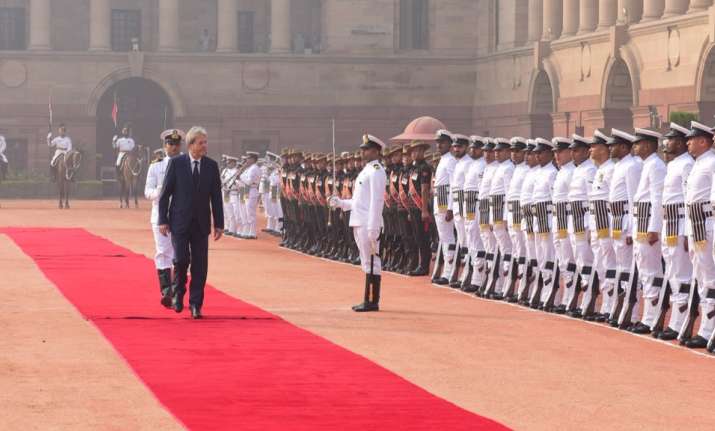 Italian Prime Minister Paolo Gentiloni, who arrived on a two-day visit to India on Sunday, was accorded a ceremonial welcome at the Rashtrapati Bhawan today. Gentiloni was welcomed by President Ram Nath Kovind and Prime Minister Narendra Modi. 
Later in the day, Modi will hold delegation-level talks with Gentiloni today following which a number of agreements are expected to be signed.
Gentiloni arrived here on Sunday, the first such visit in a decade, in a bid to boost ties between New Delhi and Rome after the faceoff over two Italian marines. 
His visit to India is the first such visit in a decade. Romano Prodi was the last Italian Prime Minister to visit India in February 2007.
The Indo-Italy diplomatic ties were hit badly after two Italian marines -- Latorre Massimiliano and Salvatore Girone -- on board a ship named Enrica Lexie, were arrested for allegedly killing two Indian fishermen off the coast of Kerala in 2012. 
Italy claimed the ship was in international waters and that only the International Tribunal for the Law of the Sea (ITLOS) should apply. It also moved the international court. 
While Latorre returned to Italy in September 2014 following an order of the Supreme Court issued on health grounds, Girone was allowed to go in May 2016. They are now in Italy, pending the verdict by the arbitration court at the Hague. The Indo-Italy diplomatic row also impacted the European Union's relationship with India. 
The stand-off between New Delhi and Rome affected the talks for a free trade pact between the European Union and India.
Indo-Italian ties got a breather when External Affairs Minister Sushma Swaraj visited the Vatican in September last year for the canonisation of Mother Teresa.
Gentiloni is accompanied by his wife and a 15-member Italian CEOs delegation. 
An interaction between the CEOs of the two countries is also being planned, the Ministry of External Affairs (MEA) said. 
Italy is India's 5th largest trading partner in the EU with a bilateral trade of USD 8.79 billion in 2016-17, as per official figures. 
India's exports to Italy are at USD 4.90 billion, while its imports are at USD 3.89 billion, resulting in a trade imbalance of USD 1 billion in favour of India. In the first four months of fiscal 2017-18, bilateral trade has reached USD 3.22 billion. 
Italy is the 13th largest investor in India with cumulative investments worth $2.41 billion from April 2000 to June 2017. Over 600 Italian companies are active in India covering various sectors such as fashion, garments, textile and textile machinery, automotive, automotive components industry, infrastructure, chemicals, energy, confectionery, insurance etc. 
The top five sectors in India that attract Italian investments are automotive industry, trading, service sector, industrial machinery and food processing industry.
A number of Indian companies are also present in Italy mainly in IT, electronics, engineering, automotive, pharmaceuticals and railway sectors. 
In the EU, Italy has the third largest presence of Indian community (estimated at 180,000) after the UK and the Netherlands.
(With PTI inputs)