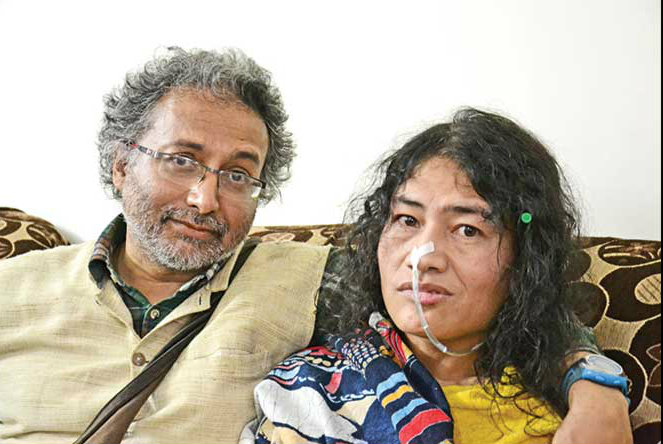 Manipur's 'iron lady' Irom Sharmila who was on a fast for 16 years to demand the repeal of the Armed Forces (Special Powers) Act, plans to get married after the upcoming Assembly elections in Manipur in March.
Sharmila made the announcement while speaking to reporters here on Thursday.
Sharmila had launched her fast-unto-death on November 4, 2000, demanding the repeal of the AFSPA.
Desmond Coutanho, an NRI originally from Goa, and Sharmila have been in love for a long time. He used to rush to Imphal to be with her whenever she was presented before a local court where she was tried for attempting to commit suicide.
On one occasion, Coutanho was beaten up by the angry women activists on the court campus after he was seen holding Sharmila's hand inside the courtroom.
One woman activist said: "In Manipur it is socially not acceptable." Since then Coutanho had stopped coming here.
Manipur has been demanding the implementation of the Inner Line Permit system to restrict the entry and stay of non-locals.
Some sections questioned Coutanho's presence and also how Sharmila was provided a cell phone and laptop inside her prison room and why.
After his manhandling in the court complex, Coutanho has been critical of journalists, human rights activists and many others who were extending a helping hand to her during the protracted campaign.
Sharmila on Thursday apologised for Coutanho's rude behaviour.
She said: "On behalf of Desmond, I tender my apology and seek forgiveness."
Vitriolic attacks by Coutanho were posted in the social media which are expected to affect the upcoming polls here on March 4 and 8.
Sharmila is contesting the polls, among others, against Chief Minister Okram Ibobi. She has said that she plans to become the Chief Minister to repeal the AFSPA.
When Sharmila ended her fast on August 9, 2016, she had no place to stay here, as the womenfolk, including her mother, did not welcome her. In fact, she had to return to her "home" for 16 years -- the security ward in a hospital here.
There are no signs to suggest that the powerful women activists in Manipur have forgiven her.
(With inputs from IANS)