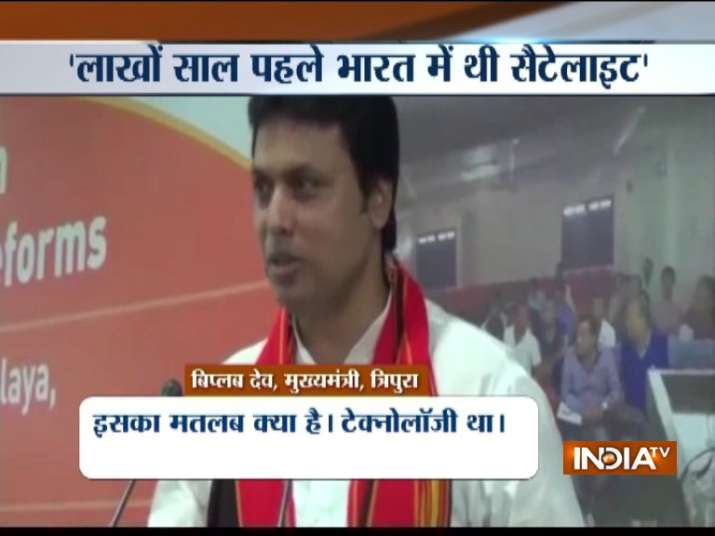 Internet and satellite existed since the Mahabharata era, said Tripura CM Biplab Kumar Deb while speaking at a regional workshop on computerisation and reforms at Pragna Bhawan in Agartala. 
"Internet and satellite communication had existed in the days of Mahabharata. How could Sanjaya (the charioteer of King Dhritarashtra) give a detailed account and description to the blind king about the battle of Kurukshetra? It means internet was there, the satellites and that technology was there in this country at that time," he said.
The BJP leader even said that even today in internet and software technology India is ahead. "Internet and satellite system had existed in India lakh of years ago. The richest culture belongs to our nation and I feel proud of it. Even today in internet and software technology, we are ahead. See Microsoft, it may be a US company but most of its engineers are all from our country," the Tripura chief minister added.
"But, again today India has regained its position in technology in the world and it can be proved from the fact that a large number of software engineers play a vital role in the US companies," the BJP leader said.
The Tripura chief minister even said that the prime minister has given a big push to digitisation by making it accessible to citizens across the country.
"Our prime minister himself is active on social networking sites and he asks the MPs and even the chief ministers about their presence on social media. We are lucky enough to have a guardian-like prime minister," he added.
WATCH VIDEO | Internet existed during Mahabharata period: Tripura CM Biplab Kumar Deb