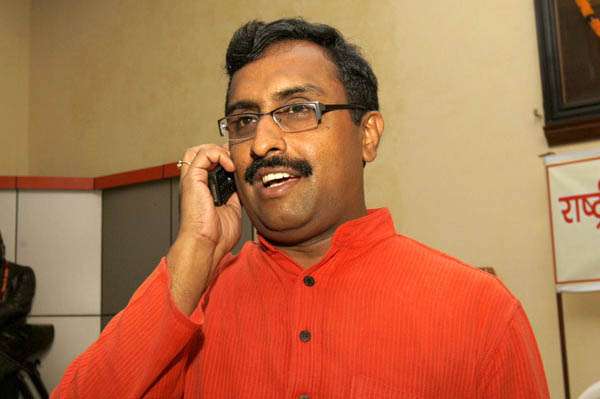 Senior BJP leader Ram Madhav on Wednesday said that the border talks between India and China are going well, adding both countries have resolved disputes in large parts of their contentious frontiers.
Madhav, the BJP general secretary, added that India's neighbours were happy about increasingly growing friendly ties between New Delhi and Beijing.
He also pointed out that PM Modi and President Xi have developed a personal bond after their April meet in Wuhan which can help overcome "irritants" in Sino-India ties
"Border talks are moving in the positive direction. As far as I know, disputes in large segments of our borders have been resolved. There are a few areas where negotiations are still going on," Ram Madhav said in Beijing.
Major issues were in the western sector, said Madhav, adding that some areas were yet to be delimited.
He said that India's neighbours were happy about increasingly growing friendly ties between New Delhi and Beijing.
India and China have a 3,448-km-long undefined boundary over which the two countries went to war in 1962. Both the countries have had 20 rounds of border talks and the 21st is slated in Beijing later this year. 
The Sino-Indian boundary has three sectors: East, Middle and West.
India's northeast state Arunachal Pradesh is claimed by China as South Tibet. In the West, India claims Aksai Chin held by China.
In the Middle Sector, opposite Uttarakhand and Himachal Pradesh, there is a great chunk of territory claimed by China.
The 1962 Sino-Indian war occurred in the Eastern sector.
Madhav said it was pro-active diplomacy by the Indian government which helped resolve the 73-day military stand-off at Doklam in 2017.
"Even when Doklam happened, the policy adopted by our government was pro-active diplomacy. Together with strong ground positioning, this combination has helped us in achieving a good result in Doklam issue.
"Wuhan spirit is a new phrase now between our two countries," he said, adding that Modi and Xi "enjoy very strong personal bond a that helps." 
"The understanding between the leaders is always helpful in overcoming any such irritants that exist between neighbours. In fact, our neighbours tell us that they are very happy that the two countries are having such good relationships at the summit level," he said.
(With IANS inputs)